Palestine Foundation to observe mourning day to protest closure of al-Quds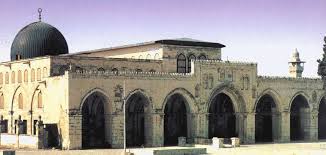 Palestine Foundation of Pakistan (PLF) has announced it will observe mourning day on Friday to protest against the closure of al-Quds, one of the key holy sites of Islam.
"Racist terrorist Zionist regime of illegitimate state of Israel has closed the al-Quds and al-Aqsa
mosque denying the entry right to Palestinian Muslims and we condemn their anti-Islam action," said a joint statement of the PLF Pakistan's central patron committee on Thursday.
Muzaffar Hashmi, Allama Qazi Ahmed Noorani, Allama Sadiq Raza Taqvi, Sahibzada Azhar Hamedani, Mehfooz Yar Khan and Sabir Karbalai appealed to the political parties in their joint statement that they all must announced support to the mourning day.
They asked political parties to staged protest rallies and demonstrations or join the PLF Pakistan's protest programs. PLF appealed to people to register protest after Friday prayers outside the mosques where they offer Friday prayers.
PLF also condemned the pro-Israeli exhibition at International Islamic University Islamabad. The PLF officials said that like the Zionist closure of al-Quds, the said exhibition also angered pro-Palestine people across the world. They asked why such an exhibition was allowed because Pakistan doesn't recognize Israel as a state.