Palestine Foundation urges political, religious parties & civil society to protest oppression of Palestinians by Israelis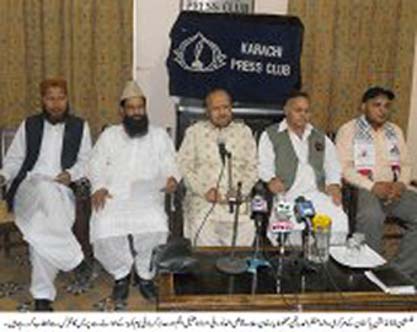 Palestine Foundation (PLF) of Pakistan has urged political, religious, social organisations and civil society to voice protest against oppression of Palestinians by Zionist Israelis.
Speaking at a joint press conference, PLF office bearers said that Palestine is homeland of only Palestinians therefore international community must play an active role for immediate return of Palestinian refugees to their homeland.Those who spoke press conference were: Muzaffar Hashmi (Jamaat-e-Islami), Allama Qazi Ahmed Noorani (JUP),  Mehfooz Yar Khan (AML) and Sabir Karbalai, central spokesman of PLF.They said that 64 years have passed since May 14, 1948 that Palestine and Palestinians are still under illegitimate occupation and under oppression by Zionist Israeli regime and its supporters.They asked what the sin of Palestinians is: is it their sin that they are Palestinians and want to live in their homeland?The PLF office bearers recalled that Britain and France played a dirty game in the Middle East that gave birth to a cancerous but illegitimate entity. They said that establishment of Israel on Palestinian land is tantamount to a dagger in the heart of whole humanity, let alone Islam.They cited that millions of Palestinians are leading miserable lives of refugees for more than 6 decades. They said that United States, Europe and international community have proved them by their actions and policies that they are enemies of Palestine and Palestinians. They said that US, EU and international community always patronized Zionist regime taking side of the brutal regime.To express solidarity with oppressed Palestinians, they announced countrywide programmes Nakba Day (Catastrophe Day) on May 15 in Karachi, Lahore, Multan, Islamabad, Hyderabad and Quetta and other cities.They said that in Karachi, a demonstration would be staged outside Memon Masjid after Friday prayers on May 11. They said that students organisations and PLF would hold another demonstration outside of United Nations offices in Karachi on May 14. They said that on Nakba Day on May 15, a seminar on "Palestine, a country of Palestinians" would be held in Federal Urdu University in Karachi and another seminar would be held in Islamabad. Palestinian ambassador to Pakistan would preside over the seminar. They said that PMLN's chairman Raja Zafar ul Haq, ANP's Senator Haji Adeel Khan and Christian leader J Salik and other known figures would speak there.The PLF office bearers further said that they are not pro-war activists but they demand return to Palestine is right of all Palestinians. They demanded that world governments including of Pakistan's should play their role for return of Palestinian refugees to their homeland. They said that Palestinians should decide the future of whole Palestine through a referendum.