Palestine Solidarity Day observed in Pakistan by PLF-P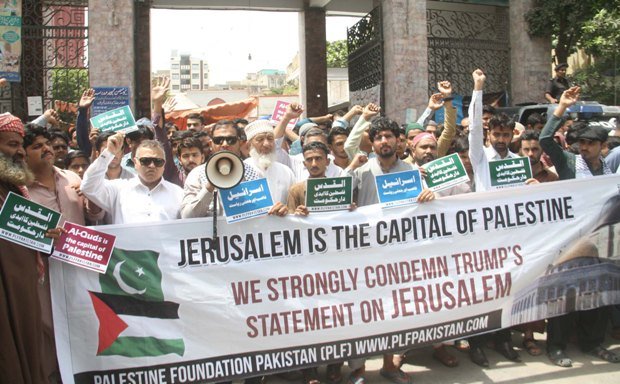 KARACHI (PNIC)
:-Masses took to the streets after Friday prayers in Karachi par Palestine Foundation Pakistan (PLFP) call to show their solidarity with the subjugated Palestinians in the recent US / Israeli coercion.
People were in awe and rage due the recent advent by Israel in Palestine, killing numbers as they protested the US embassy move. They all took to the streets across Karachi in varied areas after Jummah Prayers while holding placards and banner against the US and Israeli regime and their atrocities.
The largest gathering was at the new memon masjid where PLFP leadership was present themselves to include Sabir Abu Maryam, Mehfooz yar Khan, Muhammad Hussain Mehanti etc.
They pledged allegiance to the cause of Palestine and strongly condemned the recent onslaught of Israel killing innocent people voicing their rights not to bring US embassy to Jerusalem.
The enraged audience torched flags of the US, Britain and Zionist regimes chanting pro-Palestine slogans demanding al-Quds as Palestine's capital.