Palestine Solidarity March held on Nakba Day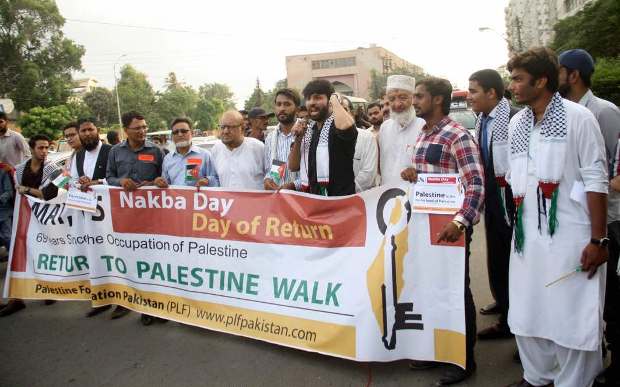 PAKISTAN (PNIC):-Thousands of supporters of the Palestinian Cause participated in the Palestine Solidarity March organized by Palestine Foundation Pakistan in Karachi on Youm-e-Nakba (Catastrophe Day).ÂÂ 
The participants included human rights activists, civil society members, workers and leaders of political and religio-political parties, students and professionals. They were carrying the Palestinian national flags and raising slogans against the Zionist regime of fake State of Israel, the occupier of the sacred land of Palestine. They were also lifting placards and banners inscribed with the slogans in support of the oppressed Palestinians.
Those who represented their parties at the Palestine Solidarity March included Sabir Abu Maryam of PLF, former Member of National Assembly Muzaffar Hussain Hashmi, incumbent member of Sindh Assembly Mehfooz Yar Khan, Pirzada Azhar Ali Hamedani of PML, Faisal Shaikh of PPP, Israr Abbasi of PTI, Allama Qazi Ahmed Noorani and Aqeel Anjum of Jamiat Ulema-e-Pakistan, Maulana Baqir Zaidi of Majlis-e-Wahdat-e-Muslimeen, Mohammad Hussain Mehanti of Jamaat-e-Islami, Matloob Awan Qadri of All Pakistan Sunni Tehreek, Tariq Hassan of PMLQ, Shabbar Raza of Jafaria Alliance, Karamat Ali of PILER, Adeel Farooqi and Qazi Bashir of Peoples Lawyers Forum, Owais Rabbani of Youth Parliament, Rao Nasir of Interfaith Harmony, Ibrahim Amr, president of Palestinian students studying in Pakistan, Asad Iqbal Butt of Human Rights Commission of Pakistan, Naeem Qureshi of Karachi Bar Association, Khalid Nawaz Marwat, Laeeq Ahmed of Tanzeemul Ikhwan, Haris Mithani and Uttam Parkash of business community, Sardar Ramesh Singh, chief of Sikh community, Abdul Ghaffar Khanani of All Pakistan Tajir Ittehad, Fareed Memon of Peoples Students Federation, Owais Ali of Imamia Students Organisation, Sher Afridi of Pakhtun Students Federation, Kazim Ali of Wahdat Youth, Mohammad Aijaz of Jamaat-e-Islami Youth, renowned scholar Dr Talat Wizarat, Qazi Zahid Hussain, Imran Shehzad, Dr Khalid Akhtar of Human Rights Network and others.
Speaking at the PLF March they urged the Muslims around the world not to forget the burning and life and death issue of Muslim Ummah that is Palestine. They appealed to all the Muslims and in particular the Muslim regimes to play their much-needed active and leading role to end the occupation of the illegitimate state of Israel. They lamented that Al-Quds and Aqsa Mosque, the third holiest site of history of Islam have also been under the illegitimate occupation of the Zionist regime of fake state of Israel. They vowed that Pakistani youths, professional and political and human rights activists would continue to express solidarity with the Palestinian brethren. They vowed that struggle to liberate Palestinian would be continued.
They also burnt flags of the Zionist regime and of the United States for its all our support to the Israeli crimes against humanity in Palestine
PAKISTANI POLITICIANS CONDEMN ISRAEL AS FAKE AND ILLEGITIMATE STATE
KARACHI (PNIC):- Speakers at al-Quds seminar in Islamabad have condemned the Zionist regime of Israel over its crimes against humanity and some declared that Israel is nothing but an illegitimate and fake nation-state. (more…)
Hamas Leader thanks Pakistani nation over support to Palestine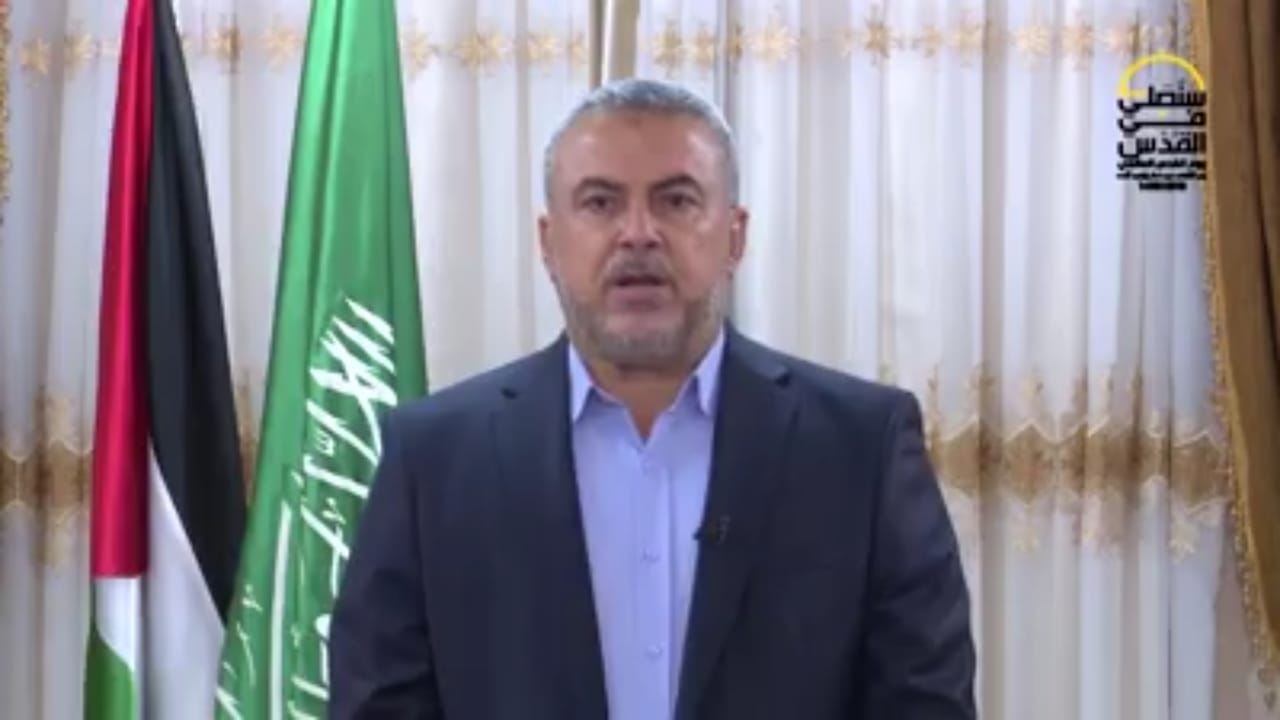 GAZA (PNIC):-Hamas deputy chief Ismail Ramzan thanked Azadi-e-Quds Tehreek and Palestine Foundation Pakistan over their support to the Palestine cause and huge participation of Pakistanis in the Intrenational Quds Day rallies across Pakistan.
PLF's Two Day Pictorial Exhibition held on Quds Day
KARACHI (PNC):-A 2-day pictorial exhibition was held on main M.A. Jinnah Road Karachi on Quds Day on Friday where thousands of people visited and expressed solidarity with Palestinians.
The Quds Day Return Exhibition was organized by Palestine Foundation Pakistan (PLF).