Palestinian children in Beita send message to world to end Israeli occupation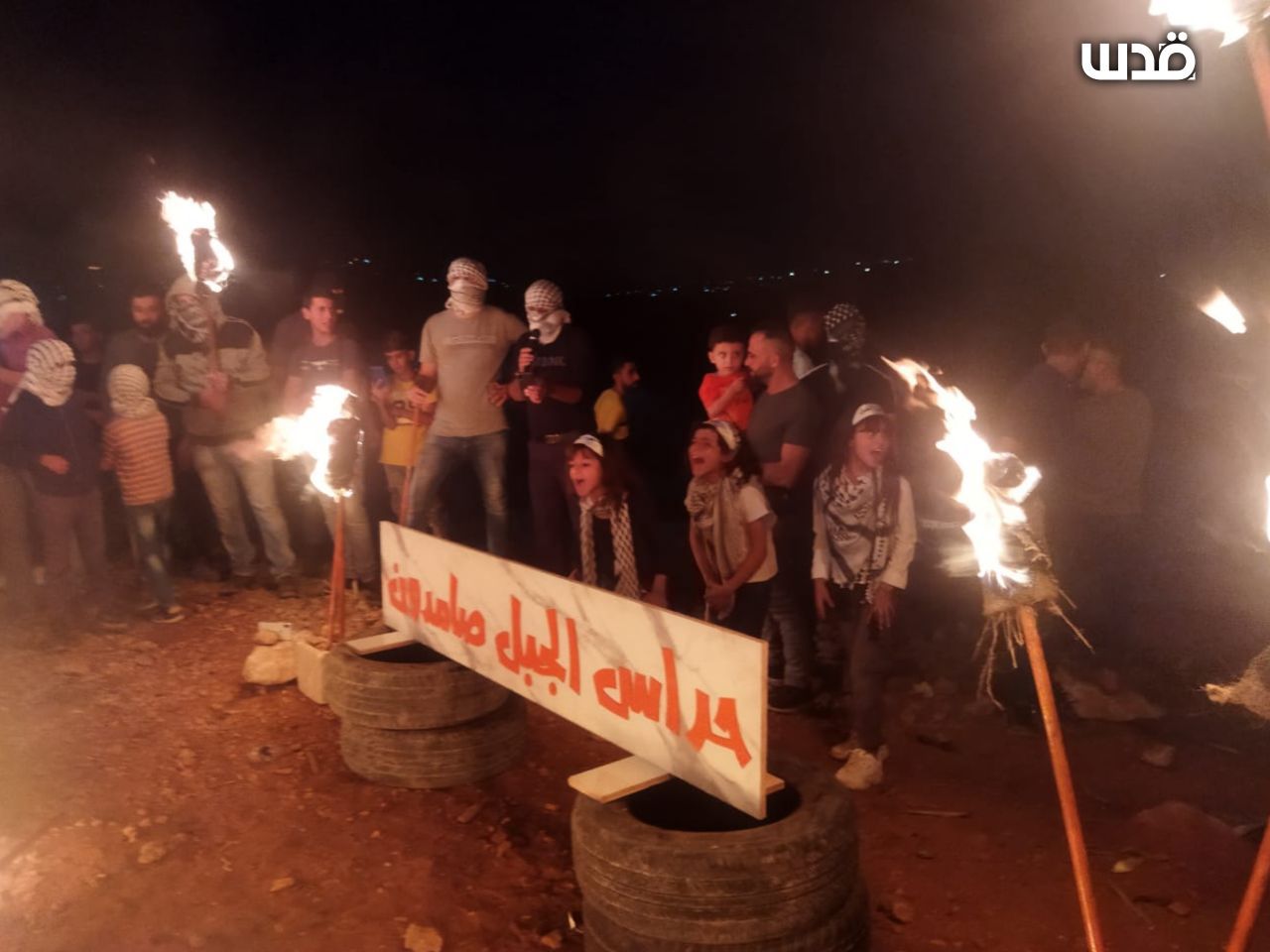 Nablus – Dozens of Palestinian children in Beita village in Nablus in the occupied West Bank on Thursday night sent a message to the international community and the world to end Israeli occupation.
While wearing uniform and holding torches, children went up Jabal Sabih in Beita village and sent a message in four languages to the world and the international community to intervene to end Israel's occupation and settlement expansion.
Beita village becomes a site of weekly protests against the Israeli occupation and settlement construction, which are often suppressed by Israeli occupation forces.
In early May, a group of Israeli settlers set up caravans on Jabal Sabih, which lies on the southern outskirts of the village and comprises an estimated 30 percent of Beita's entire land area, with the help of Israeli forces have since prevented any Palestinian access to the area.
Within days, settlers installed mobile houses, built roads and raised an Israeli flag over the settlement of Evyatar in Beita.
The livelihoods of at least 17 Palestinian families – more than 100 people – are threatened as they depend on harvesting their olives on land they have owned for generations.
Later, the occupation authorities evacuated dozens of Israeli settlers from the illegal settlement of Evyatar after a deal was reached between a settler leader and the occupation government of new Prime Minister Naftali Bennett.
Yossi Dagan, head of settler organisation the Shomron Regional Council, struck a deal with Israel's defence minister, Benny Gantz, and interior minister Ayelet Shaked, that will turn the illegal outpost of Evyatar into a religious school and a military base for the Israeli forces.
'Israel' will keep about 50 caravan houses settlers installed in May on Palestinian lands belonging to the residents of the occupied West Bank village of Beita, while settlers would "return" to the land when Israeli occupation authorities designate it as "state-owned."
Since then, Beita has witnessed several protests and night-confusion activities against the new settler outpost of Evyatar on Jabal Sabih.
The Israeli forces, however, have suppressed, detained, and assaulted the protesters, resulting in injuring hundreds and killing others as they have fired rubber-coated metal bullets, teargas canisters, and live ammunition.
Since the start of the protests, 7 Palestinians were killed by the Israeli forces while defending their land: Issa Barham, Tariq Sanbar, Ahmed Bani Shams, Shadi Shurafa, Emad Dweikat, Mohammed Hamayel, and Zakaria Hamayel.
On Thursday, June 12, Palestinians in Beita village marked the 100th day of protests and resistance against Israeli occupation and settlement expansion.