Parliamentarians reject any talk of recognition of Israel: Webinar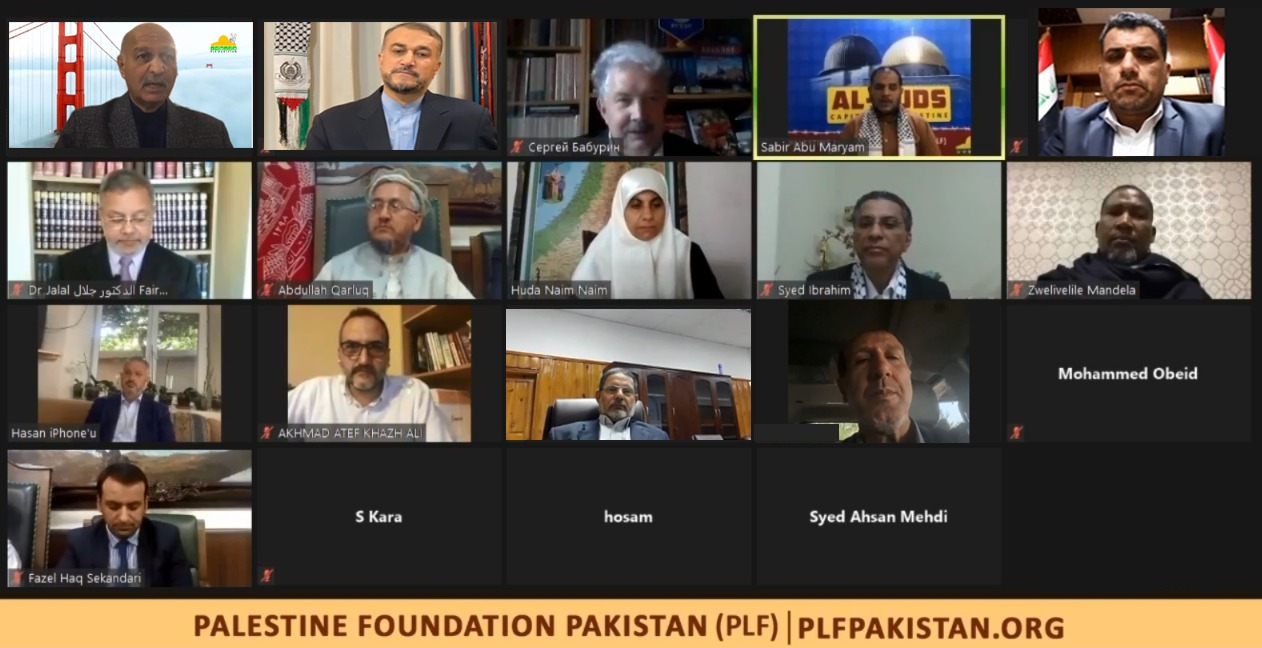 KARACHI (PNIC)  Joint efforts needed to resolve the issues of Palestine, Kashmir, Yemen, Lebanon, speakers at an Online Conference on "Creating Global Resistance Movement to Expose, Resist and Defeat Zionists plans for Global Hegemony".
The conference held under the aegis of Palestine Foundation (PLF) Pakistan.
Secretary General PLF Sabir Abu Maryam hosted over the meeting.
Those members of parliaments from 13 different countries shared their views on the topic through videolink included: Chairman Senate foreign affairs of Pakistan Senator Mushahid Hussain Syed, Former MP and Presidential candidate of Russia Sergey Baburin, Advisor of Iranian Speaker of the parliament Ameer Hussain Abdullahiyan, grandson of Nelson Mandela and MP of South Africa Nkosi Mandela, MP of Hamas from Palestine Ms Huda Naim, MP from ruling party of Turkey Hasan Turan, MP from Malaysia Syed Ibrahim, MP from Popular Mobilization Iraq Hamed Abbas Mousawi, Senator from Afghanistan Molvi Abdullah Qarluq, MP of Hezbollah Lebanon Ebrahim Mousawi, former MP of Bahrain Dr Jalal Fairoz and MP of Ansarullah Yemen Yahya Badruddin Houthi and others.
Senator Mushahid Hussain Syed said that we have to stand by Palestine and its oppressed people and we reject any talk of recognition of Zionist regime Israel because that is legitimizing the illegal occupation of Palestine and al-Quds. They said that we stand with justice and justice can only be achieve through peace with honor that respects international law. There is great hope and faith in the future that unacceptable status qou will be change and join struggle of the people of the world in support of Palestine. Long live resistance movements of Palestine. He added;.
Ex-MP of Russia said that, Israel is a hotbed of racism and a blood-sucking leech. Palestinian tragedy as a source of the Zionist movement. The Israeli hotbed of racism in the Middle East remains that bleeding wound on the body of humanity that hinders peace and mutual trust among peoples.
Advisor to the Speaker of Iran's parliament Hussain Amer Abdullahiyan said that, Iran supports all the oppressed, including Palestine and Kashmir. The UAE-Israel agreement is a US conspiracy to sabotage peace in the region. The sacrifices of al martyr including General Qasim Sulemani will not be in vain.
The Grandson of Nelson Mandela, Nkosi Mandela, MP of South Africa during the webinar expresses his views and said that, How do we create a global resistance movement to expose, resist and defeat Zionist plans for global hegemony? As a precondition, we must build unity and solidarity of the oppressed of the world. That is how the global anti-apartheid movement cut the lifeline that global imperialism was extending to Apartheid South Africa.
MP of Islamic Resistance Movement Hamas, Huda Naim from occupied Palestine stated that, the people of Gaza are in the worst situation at the moment. The occupying Zionist state continues its atrocities against the Palestinians. The Zionist enemy has illegally occupied more than 60% of Palestinian land and the Palestinians are being evicted from their homeland. We are from occupied land standing with our oppressed brethren Kashmir, Yemen and Lebanon.
Addressing the webinar, Hassan Turan, Member of Parliament from Turkey's ruling party, thanked the Palestine Foundation Pakistan and expressed his condolences to those killed and injured in the horrific blast in Lebanon. He said that, unfortunately, the United Nations has become a useless institution. Humanity is sobbing in Yemen. Atrocities are on the rise in occupied Palestine he added. Turan went on saying that, we will not abandon to supporting the oppressed Palestinians. We will continue to fight with our people and at the political level for the liberation of Palestine and the provision of Palestinian rights.
The Malaysian MP said that, Malaysia has always openly supported countries that are in the grip of occupying their own land. Malaysia respects all countries sovereignty including Syria, Yemen, Kashmir, and support the sovereignty of Palestine including diplomacy, to find a solution.
The Iraqi Parliamentarian, Hamed Abbas Mousawi said that, The Palestinian people and all free people of the Islamic nation are facing a new wave of Zionist plans supported by the US and implicitly from the Arab and Gulf normalization regimes, which are represented by the scheme to "annex" parts of the occupied West Bank to the authority of the usurping Israeli entity, in a blatant and illegal terrorist from and with immoral support from the US administration and US president Donald Trump which offers everything to Zionists.
Hezbollah MP from Lebanon Ibrahim Mousavi said that the parliamentarians of all countries should do their utmost to stop the persecution in Palestine and Kashmir. Hezbollah will not leave other oppressed nations, including Palestine, Kashmir, Yemen, Iraq and others, alone.
Ansarullah MP from Yemen and Education Minister Yahya Badruddin Houthi said, "We strongly condemn the ongoing atrocities and barbarism in Palestine and Kashmir. We are with our Kashmiri brothers."
Dr. Jalal Feroz, a former member of parliament from Bahrain, said that the Bahraini people and members of parliament are against the rulers' relations with Israel.
Addressing the gathering, Senator Maulvi Abdullah Qarlaq from Afghanistan said that the Muslim Ummah must unite to resolve the issues like Palestine and Kashmir, Iraq and Yemen. Afghanistan always supports and stand by with the oppressed nations.''
Secretary General of Palestine Foundation Pakistan Sabir Abu Maryam in his conclusion speech said that, Pakistani nation stands by oppressed humanity and top of them are oppressed Palestinian brethren. And then comes Kashmiris.
Unfortunately, non-representative and unelected regimes have been playing dirty role against the interests of oppressed Palestinians and other nations.
Here, I mean so-called Arab Muslim regimes who always compromised legitimate Arab Muslim interests. These monarchies and dictatorial regimes played active role in protecting the interests of US-led Western bloc while the latter always preferred Israeli interests.
Western bloc and mainly U.S. administration damn care human rights and democracy. Because, Democratic principles require them to recognize a sovereign nation-state of Palestine.
Palestinians were majority in their ancestral land since millennia. Non-Palestinian Jews were brought here under Zionist plot. Zionism is a racist ideology and international law forbids racism.