People of the world unite to unoccupy Jerusalem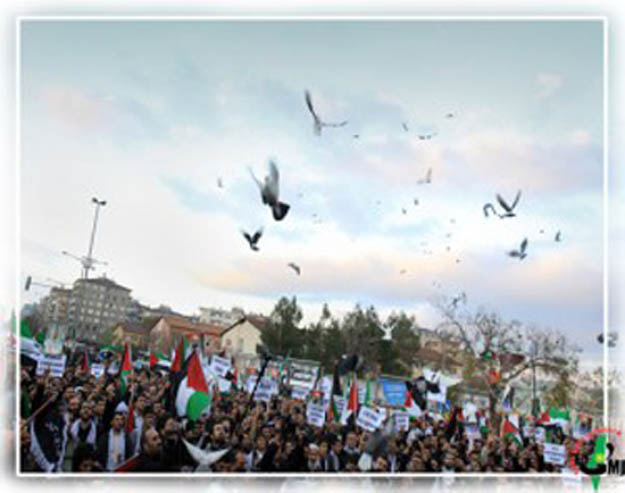 "Settlements built on the (city's) outskirts also dissect the continuity between the northern and southern West Bank, jeopardizing the feasibility of a future Palestinian State. As second class residents, the right of East Jerusalem Palestinians to their increasingly occupied city keep eroding, including to their own homes." While Israel's Master Plan 2020 declares its goal to plan for the long term fate of East Jerusalem, "it has been prepared with no consultation of any kind with the Palestinian community." As Stephen Lendman, in one of the few articles which discusses the plan put it, "Why? Because exclusion is eventually planned, though not explicitly stated in 2020′s language." http://sjlendman.blogspot.com/2010/12/israels-jerusalem-master-plan-2020.html
International Accountability in the Face of Israeli Aggression?
The US officially takes a position against Israeli settlement expansion and future construction projects in East Jerusalem. However, with strong ties to the American Israel Public Affairs Committee (AIPAC), Barack Obama, has also said that Jerusalem should be the capital of Israel during his campaign in the Democratic primaries for the presidency and has since reiterated that there would be no limits on Jewish construction activity in a "united Jerusalem". It is well known that right-wing Jewish groups in the US, directly finance the construction of Jewish settlements in East Jerusalem. Attempts by Israeli right-wing extremists to storm the mosque, are growing by the number and frequency each week. Awqaf officials also blame Arab states' for the emerging crisis by failing to bring the case to the international community's attention."
People of the world taking action, where governments have failed.
For over 64 years, the state of Israel has been obsessed with one racist goal; demographics and keeping a Jewish majority. Some call it apartheid, others ethnic cleansing, I think a more accurate term is ethnocracy or ethnocide. Yet one thing is clear, every Israeli government has created policies with one goal in mind – to get, and keep Palestinians out of their homeland – and make way for a purely Jewish state. Meanwhile Europe and the UN, who created this problem, stand idly by and watch as Palestinians endure systematic dispossession and displacement.
Today, humanity is at a crossroads–people of the world are beginning to understand that we are the 99% and have far more in common, then our so-called leaders. We have an unprecedented opportunity to choose a new path, and join the millions world wide who have decided to take their destiny into their own hands. In the absence of governmental officials to do what's legal and moral, Palestinians are calling on global citizen's of conscious, to take a stand – before it's too late.
The GMJ has heeded this call, and "inspired firstly by our convictions, secondly by the justice of our cause and thirdly by the spirit of the Arab spring revolution will peacefully march from surrounding countries, to the borders" – to fulfill a dream that lies in the center of every refugees heart, to return home. What makes this journey especially meaningful is not only do Palestinians have the oldest and longest running refugee population in the world, their home is at the center of the deeply contentious struggle to liberate Jerusalem, the capital of the world's three religions – and quite literally the conscious and soul of humanity.
2. Amidst Jewish calls to 'storm Al Aqsa', Arabs 'largely silent' Jordan Times; Rafiq A. Tschannen, February 25th, 2012 –
http://www.themuslimtimes.org/2012/02/countries/israel/amidst-jewish-calls-to-storm-al-aqsa-arabs-largely-silent
3. Israeli forces clash with worshipers at Al-Aqsa, Maan News, February 24, 2012 –
http://www.maannews.net/eng/ViewDetails.aspx?ID=462853
4. West Bank settlement housing gets initial approval Daniel Estrin, Associated Press, February 22, 2012: http://www.chron.com/news/article/West-Bank-settlement-housing-gets-initial-approval-3349564.php
6. Jordan warns Israel over Al Aqsa as tensions reach boiling point: Jordan Times, February 20th – http://www.menafn.com/qn_news_story_s.asp?StoryId=1093485000
7. Israel's Jerusalem Master Plan 2020 – by Stephen Lendman – Thursday, December 16, 2010 http://sjlendman.blogspot.com/2010/12/israels-jerusalem-master-plan-2020.html
8. From the Global March to Jerusalem, int'l campaign website: