PLF & ATI organize Pictorial Exhibition at Islamabad
Palestine Foundation Pakistan (PLF) Islamabad & Rawalpindi Chapter and Anjuman Talaba Islam (ATI) has jointly organized a "Pictorial Exhibition" to express solidarity with Oppressed Palestinian People at International Islamic University Activity Center on 8th & 9th March 2011.
Thousands of visitors including professors, non-academic staff and students (Boys and girls) visited the Exhibition and watched the pictures of Oppressed Palestinian, who was suffering and the victims of Occupations and brutalities of Zionist regime from last six decades. The pictorial exhibition was inaugurated by Pakistan Muslim League (Nawaz) central leader Raja Zafar-ul-Haque, while Sunni Tehreek Pakistan Leader Allama Haider Alavi, Jamiat Ulma Pakistan Leader and PLF Guardian Council member Noor-ul-Mustafa Noorani,Director General Tobbaco Control Program of WHO Dr Ziauddin,Dean faculty of Sharia and law (IIU) DR Zia-ul-Haque, Former Student advisor of University Dr Rizwan faiz, Islamabad Bar Council President Haroon Rasheed,Palestine Foundation Pakistan Central Spokesman Sabir Karbalai,Former Central President Anjuman Talba-e-Islam and Member of Guardian Council of PLF Islamabad Syed Jawad-ul-Hassan Kazmi,Syed Rashid Gardezi,and PLF Islamabad Chapter activist Muhammad Ali, Atif Jafri ,Ali Muqtadir, Shahryar Khan, Imran Khan,Abdul Mateen sheikh,Saif-ur-Rehman and A.T.I President of the University Akmal Kiyani and others were also presented.
Raja Zafar ul Haque (PML-N) in his address appreciated the struggle of Palestine Foundation Pakistan (PLF) for the raising the voice of oppressed Palestinian in Pakistan saying that the Defense of Palestine is the Defense of Pakistan.
He said that people of Pakistan are and will remain with Palestinian people and will continue the moral, social and religious support for the land of Messengers "Palestine".
Central spokesman of Palestine Foundation Pakistan (PLF) Sabir Karbalai thnaks the activists of Anjuman Talba Islam and Palestine Foundation Pakistan Islamabad Chapter for their services in organizing such a well organized Pictorial Exhibition in support of the people of Palestine."
Meanwhile, Thousands of notables and students of the Islamic University record their comments to express solidarity with Palestinian brothers and demanded freedom of Al-Aqsa and Al-Qudas from the Zionist regime.
IntroductionIn Pakistan, Palestine Foundation Pakistan (PLF) is a voice of oppressed Palestinian people; the basic object of the Palestine Foundation Pakistan (PLF) is to promote the awareness in the Pakistani society, about the issue of Palestine, because people of Palestine are being forced to face Zionist Brutalities and Oppression from last 64 years. He added;
======================================================
Pakistan's Palestine Policy: We will never abandon Father, of Nation Jinnah's footsteps. Mamnoon Hussain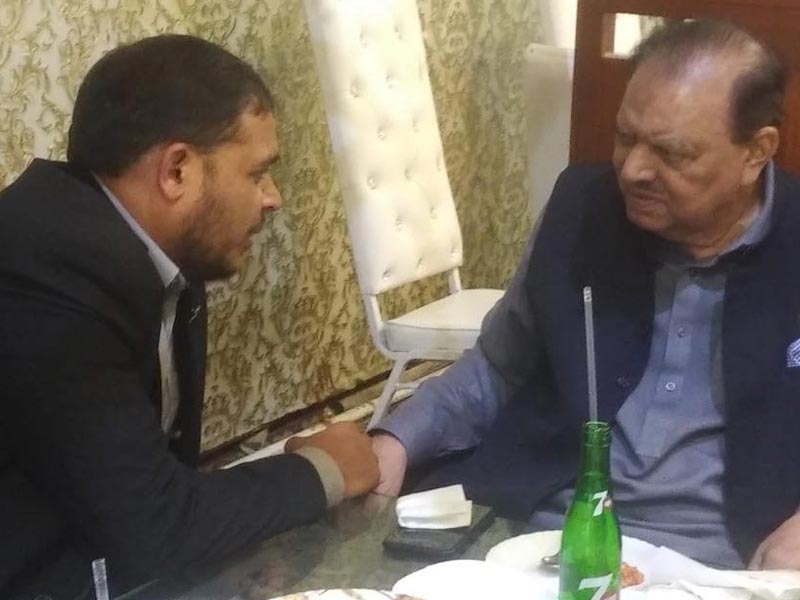 KARACHI (PNIC):-Former President of Islamic Republic of Pakistan Mr.Mamnoon Hussain says that we are bound to follow the path of great founding father of the nation Qauid e Azam Muhammad Ali Jinnah and his stance on Palestine.
Pakistan always Standing with oppressed nation of Palestine and will remain. Mamnoon Hussain says.
PLF General Secretary Mr.Sabir Abu Maryam Met with former President of Islamic Republic of Pakistan Mr.Mamnoon Hussain and discussed various things about the issue of Palestine and Pakistan's stance in it.
Former President Mr.Mamnoon Hussain expresses his fully support with oppressed people of Palestine and categorically said that that Israel is an illegitimate state and we always followed Founding Father Qauid Azam Muhammad Ali Jinnah's stance on Palestine and will never get back even an inch from that stance.
He appreciated Palestine Foundation's great struggle in Pakistan and assure his Cooperation with PLF too.
Israel is an ideological threat to Pakistan: accepting Israel equal to no question of Kashmir. Gen (r) Ghulam Mustafa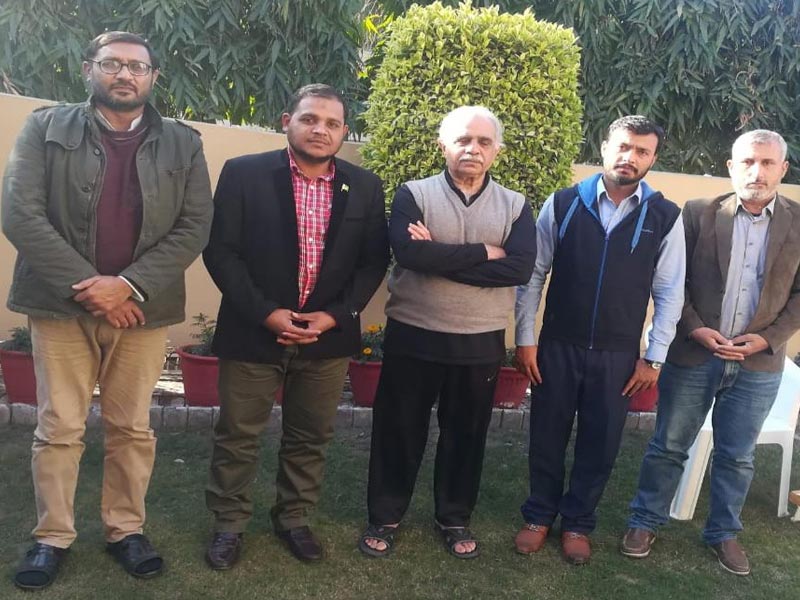 LAHORE (PNIC):-Former Army General Ghulam Mustafa expresses his fully support to Palestinian cause. According to Report during a meeting with Palestine Foundation Pakistan (PLF) delegation he said that Israel is not only threat for Palestinians but for whole region of Middle East and Golf.
Palestine Foundation Pakistan's delegation led by General Secretary Sabir Abu Maryam along with Ansar Abbas, Zahid Murtaza and Yasir Habib met with former army Gen Mr.Ghulam Mustafa at his residence on 16 December Sunday.
During the meeting PLF's Secretary General informed him various issues about Palestine and policy of Arab and Muslim regimes specially developments in Pakistan. He also discuss about some efforts of pro-Zionists factors in Pakistan to normalisation with Zionist regime and Pakistan.
A defence analyst and well known Army Gen Ghulam Mustafa categorically stated that those people are thinking that Israel is friend of Pakistan are in wrong side.
Israel is an ideological threat and enemy of Pakistan and will never benefit to Pakistan: he said.
Gen (r) Mustafa said that if Pakistan accept and protect in tel Aviv but in next step Israel never tolerate Pakistan so normalisation with Zionist regime mean no question of Kashmir.
Even if my head is cut off, I will not accept Israel: Gen (r) Ghulam Mustafa stated. He also affirmed his full support for Palestine Foundation Pakistan.
Pak-Palestine solidarity: cultural show "DABKAH" held at Centaurs Mall Islamabad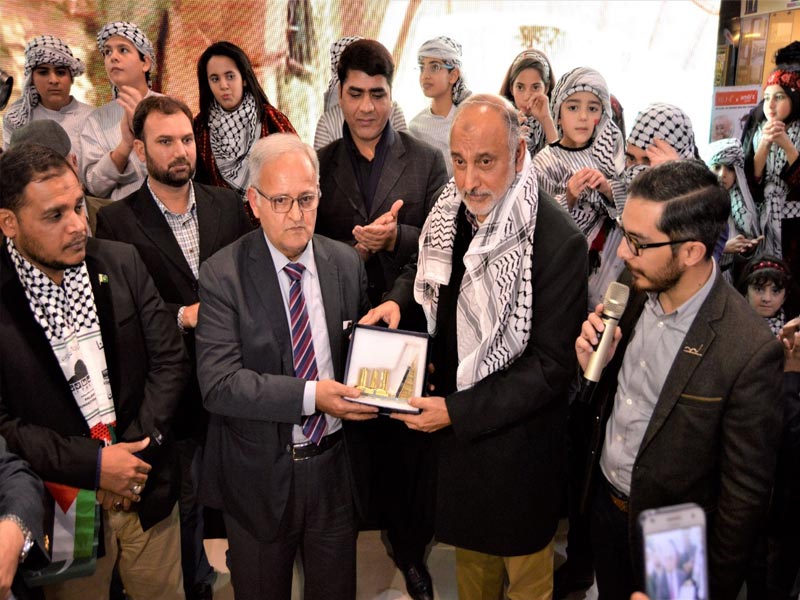 IALAMABAD (PNIC):-Palestinian citizens living in Islamabad capital of Pakistan observed International solidarity day of Palestine at Centaurs Mall Islamabad.
Palestinian cultural show Organized by Palestinian embassy with the collaboration of Centaurs Mall administration on December 15 Saturday.
Hundreds of Palestinians in Pakistan gathered along with thousands of Pakistani citizens to marked an international solidarity day of Palestine.
Palestinian children wearing Kofiya (Palestinian symbolic cloth) performed DABKAH (cultural activity) and also they sand Pakistani National songs too.
A delegation of Palestine Foundation Pakistan (PLF) led by General Secretary Sabir Abu Maryam participated as per special invitation of acting ambassador of Palestine H.E.Mr.Hussni.