PLF announces fully supports Kashmir and Palestinian intifada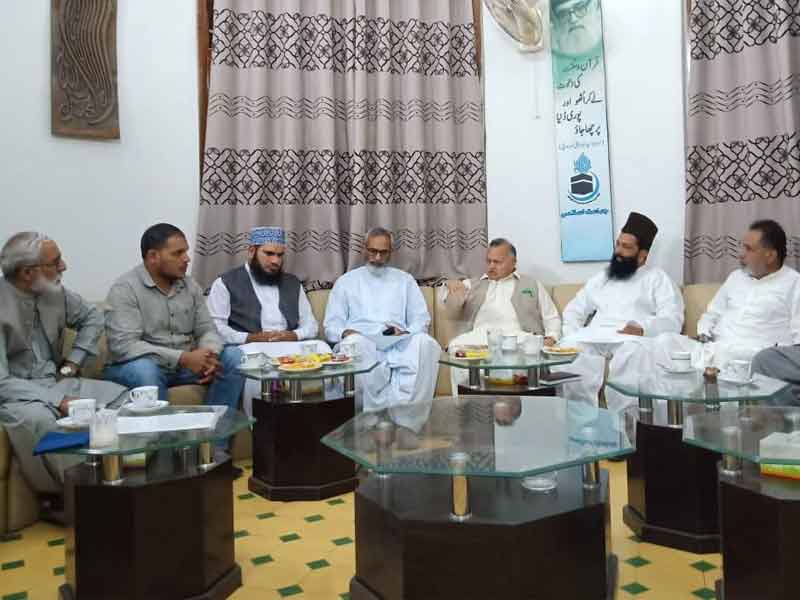 Karachi:- The meeting of the core members of the Central Guardian Committee of the Palestine Foundation Pakistan was held on Sunday, October 13 in the Noor Haq Jamat-e-Islami office Karachi.
The meeting was attended by members including Jamaat-e-Islami deputy Amir Muslim Pervez, former member of the Sindh Assembly Mahfooz Yar Khan, Jamiat Ulema-e-Pakistan Sindh President Allama Qazi Ahmed Noorani, Pirzada Azhar Ali Hamdani of the PML-N. Matloob Awan Qadri, the chief of All Pakistan Sunni movement, Mufti Mukarram Qadri, leader of Minhaj-ul-Quran International, Qazi Zahid Hussain of PMLN, social worker Imran Shehzad and Palestinian Foundation Secretary General Sabir Abu Maryam were present. It was decided in the meeting that all possible resources would be utilized to highlight the issue of Palestine and Kashmir, and programs would be set up for solidarity with the oppressed Palestinians and the Kashmiri people and to raise awareness among the people of Pakistan. Leaders say that Government should continue to support Palestine and oppressed Kashmiris. The issue of Palestine is the most important and first issue of the Muslim world. The people of Palestine, Kashmir, Yemen, Rohingya are oppressed. As such, the UN has uncovered oppressive and Zionist forces to solve the problems. The Indian atrocities on Kashmiris are a blur on the face of so-called human rights claimants, including the United States. Is with Highlighting the Indian atrocities committed on the Kashmiris is by far the most important duty. The leaders of the Palestine Foundation of Pakistan appealed to the scholars and sermons, saying that the scholars and sermons should inform the religious and private gatherings on the Israeli and Indian atrocities taking place in Palestine and Kashmir. At the Qibla First Congregation The Zionist attacks and the Indian atrocities in Kashmir should be strongly condemned. He added that the United States and Israel are playing a bloody Holi in Kashmir, including Syria and Iraq and Afghanistan, to end the Palestinian problem. They condemned the atrocities in Kashmir, Yemen and Rohingya At the end of the ceremony, the martyrs and late leaders of the Palestine Foundation of Pakistan, including Shaheed Aftab Jafri, Shaheed Adeel Abbas, the late Muzaffar Ahmad Hashmi, and Yar Khan, were honored with the fatal meal.