PLF announces nationwide program in 29 November to mark International Solidarity day of Palestine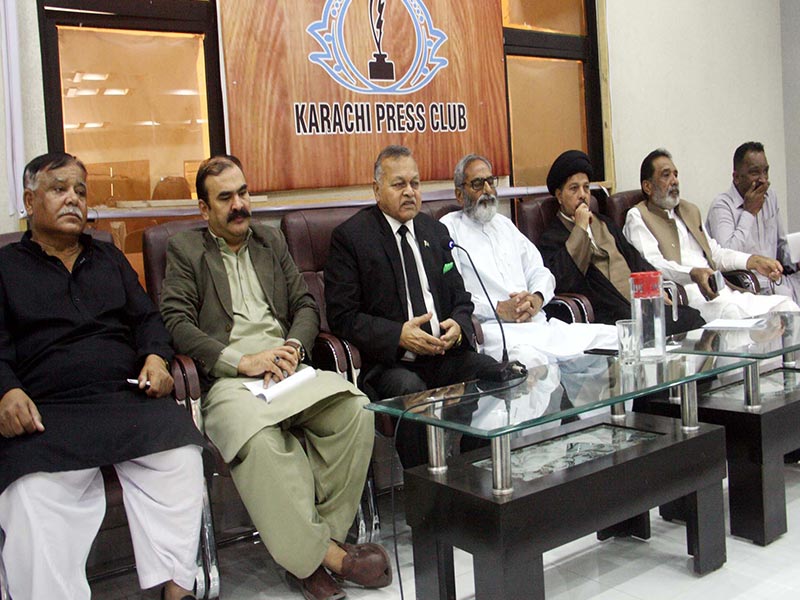 KARACHI: Palestine Foundation Pakistan (PLF) announces 29 November nationwide International day of solidarity with Palestine.
During the addressing to a joint press conference at Karachi press club on Tuesday PLF's guardian council members including Former Member of the Sindh Assembly Mahfooz Yar Khan, Vice President of Jamat-e-IslamibMuslim Pervez, Israr Abbasi of PTI,Maulana Baqir Zaidi!from MWM, Major (R) Qamar Abbas, Matloob Awan Qadri, Molana Siddiq Qadri, Imran Shehzad and Secretary General of Palestine Foundation Pakistan Sabir Abu Maryam stated that country wide solidarity program will be observed on the occasion of International solidarity day or Palestine November 29. Addressing a press conference speakers said that the Palestinian issue is one of the most important issues of humanity and Islamic world.
They announces a cycle ride for Palestine on 29 November in Karachi city to show and express solidarity with oppressed people of Palestine.
Palestine Foundation Pakistan (PLF) appealed to all citizens to must support and participate in the cycle ride for Palestine. November 29 will mark the World Day of Solidarity with the oppressed Palestinians across the country They elaborated that the Solidarity Palestine Cycle Rally will be start from Nursery Shahrah-e-Faisal will begin at 3 o'clock on Friday November 29 at will move towards the Karachi Press Club.
The leaders have strongly condemned the ongoing Indian state terrorism in Kashmir, saying that the only solution to the problem is resistance. Termed the tragic accident of blasphemy in Norway, PLF leaders said that all hate crimes are supported by US and Zionists fake regime of Israel and burning the holy Quran in Norway no doubt US and a Israel are behind them.
They emphasized the importance of the establishment of an independent Palestinian state and of the 1948 Palestinians resettling Palestinians back to Palestine, saying that Palestine is the homeland of Palestinians and that Israel is a fake regime. The state, which is not only the enemy of the Palestinians, but with the support of terrorists around the world, is a dangerous threat to world peace.
They appreciated the struggle of oppressed people of Palestine and their courage and who have martyred and sacrificed their lives for the freedom of Palestine.