PLF condemn Zionist atrocities in Gaza, announced black day in Pakistan on Friday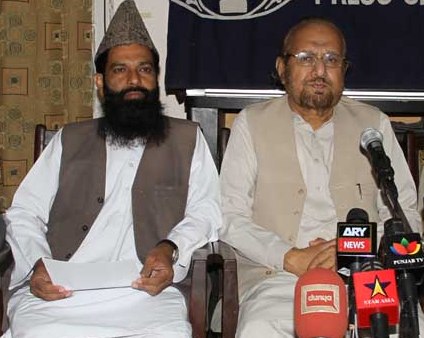 Palestine Foundation of Pakistan's office bearers have said that Pakistani nation must observe Friday as black day against killing of HAMMAS commander Ahmed Al Jaberi.They condemned Wednesday the Zionist "atrocities" in the Gaza Strip, and called for action from the international community.
The office barrier of PLF Muzaffar Hashmi (Former MP & Jamaat-e-Islami), Allama Qazi Ahmed Noorani Siddiqui (Jamiat Ulema Pakistan), Moulana Sadiq Raza Taqvi (Majlis Wahdat Muslameen Pakistan), Mehfooz Yar Khan (Pakistan Awami Muslim League) and Secretary and Spokesman of Palestine Foundation Pakistan Sabir Karbalai stated in a joint statement and urged the international community to "pressure Israel to stop the sinful aggression on people in the defiant Gaza Strip.
PLF leaders denounced the Zionist aerial strikes against the Gaza Strip causing the martyrdom and injury of tens of Palestinians, it condemned the International Community's, and the Human Rights organizations' in specific, silence towards the the Zionist entity's brutality against the Palestinians.
They further considered that "their silence pushes the Zionists to go on with their crimes against humanity in Gaza.
Palestine Foundation Pakistan urged Pakistani nation observe Friday as black day against to the barbaric act of Zionist regime in Gaza PLF leaders said that U.S is the responsible of killing of  Palestinians and specially in Gaza.
PLF leaders stated that United Nation is a is a burden on the world.
 They said that the UN is a puppet of the United States and she don't play active and effective role to help Palestinians get rid of Israeli atrocities.
PLF officials said that it is prime responsibility of Muslim and Arab countries to respond to the Zionist crimes. They said that Muslim Ummah would never pardon Muslim and Arab governments if they don't shoulder this responsibility. They urged Muslim and Arab governments to counter the Zionist crimes. They urged the world nations to boycott the United Nations till this organization is liberated from the control of United States and its allies.