PLF holds the International Palestine Conferences across the country
Palestine Foundation Pakistan (PLF) has announced to hold the "International Palestine Conferences" on the all the major cities of the country to raise the voice of under-siege Palestinians. In a statement issued on Sunday, Central Spokesman of Palestine Foundation Sabir Karabalai while addressing the meeting of Central working committee of PLF at the foundation office Karachi, said that the conferences on Palestine issue will be held at Islamabad, Karachi, Lahore, Quetta and Peshawar to express the solidarity with the oppressed people of Palestine. He informed that Central leader of Islamic Movement Hammas will address the Central "International Palestine Conference" of Karachi via video conferencing. However, Islamic Central leader Osama Hamadan recorded message for the conference will be telecasted in Islamabad, Peshawar, Lahore and Quetta conferences. He further said that leading leaders of the political and religious parties of the country including Senator Mian Raza Rabbani, Senator Mushahid Hussain, Liaquat Baloch, Nawabzada Talal Akbar Butti, Imran Khan, Raja Zafarul Haq, Molana Mohammad Sherani, Sahibzada Abulkhar Mohammad Zubair, Syed Ghous Ali Shah, Allama Abbas Kumaili, Raja Nasir Abbas and others will address the conferences. The PLF leader appealed to the political and religious parties of the country to hold the programs during the holy month of Ramadan to support the struggle of Palestinian people against the Zionist regime Israel. He said that to support the people of Palestine is our religious, social and moral responsibility. PLF leaders Ali Ahmar, Zeeshan Haider, Muzzafar Farooqi, Fakhar Abbasi, Mujtaba Qadri, Zuneer Siddiqui, Yasir Iqbal and others were present on the meeting. The meeting briefly overview the arrangement and finalized the programs of the Palestine Conferences.
Normalization with Israel great betrayal with ideology of Pakistan: President KBA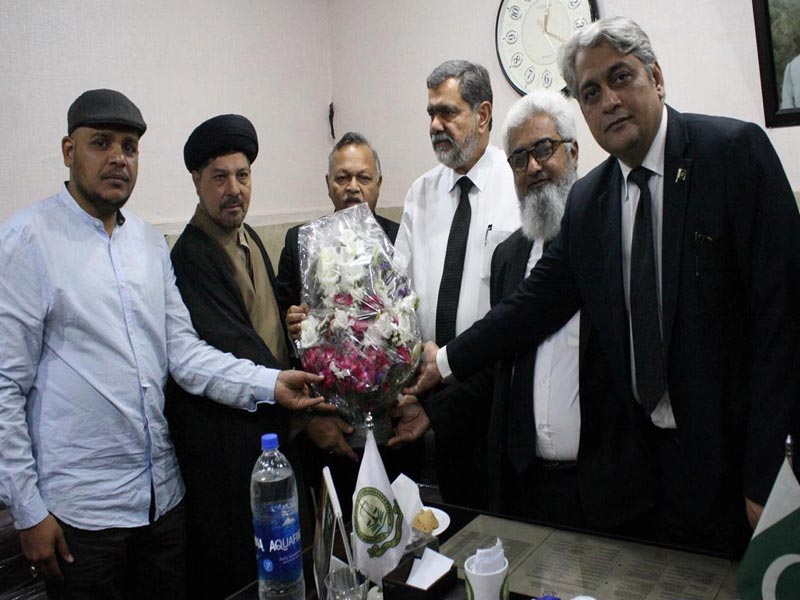 KARACHI (PNIC): President of Karachi Bar Association (KBA) Mr.Naeem Qureshi has strongly condemned normalization with Israel and friendly relation with top ranked enemy of Pakistan. During the meeting with delegation of Palestine Foundation Pakistan (PLF) at Karachi Bar Association office on Thursday; delegation of Palestine Foundation Pakistan led by former member of Sindh Assembly MahfoozUar Khan Advocate along with Majlis Wehdat Muslameen Pakistan's leader Moulana Baqir Zaidi, Israr Abbasi of PTI and Sabir Abu Maryam Secretary general of Palestine Foundation Pakistan met with newly elected president of KBA and other members.
President Naeem Qureshi expressed his deep grievances and reservations about discussion of normalization with Zionist's fake regime of Israel.
President of KBA categorically condemn all those elements are involved to start discussion about normalization between Pakistan and Israel. He said these kinds of theories and elements are great betrayal with ideology of Pakistan. Lawyers will never tolerate any kind of relation with Zionist's fake regime of Israel.
Talking to the delegation of the Palestine Foundation, Karachi Bar Association President Naeem Qureshi and Secretary Amir Saleem said that the lawyer's community has always supported Palestinian cause and has given right and right. To argue that the lawyers and the Karachi Bar Association are with the Palestine Foundation Pakistan and all types of practical measures will be taken for the settlement of Palestinian cause.
They have strongly condemned India's aggression against Pakistan in the past few days and said that "On one side, Israeli backed India's aggression against Pakistan, and then on the other side, the Indian Foreign Minister is invited to the OIC meeting, what are the Muslim rulers Done?
They condemn OIC role top sort out and solving the issue of Palestine and Kashmir.
The leaders of the Palestine Foundation, Pakistan thanked the officials of the Karachi Bar Association, and were also presented to bucket of flowers and Sweets for their success in latest elections of KBA. The large numbers of lawyers on this occasion was present in the Karachi Bar.
PLF holds protest against Israel backed Indian aggression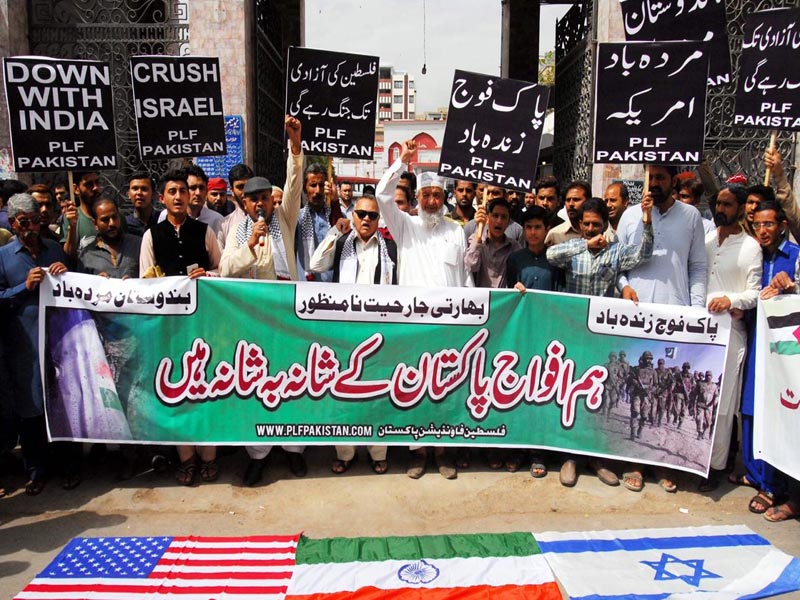 KARACHI (PNIC): Palestinians Foundation Pakistan (PLF) appealed for countrywide protest against the Indian aggression in Pakistan. Countrywide protest demonstration held in support of Pakistan Armed Forces to defending country from the Israel backed Indian terror attacks.
Central protest demonstration by PLF occurred in front of New Memon Mosque on Friday after prayers. Hundreds of citizens participated in protest and they raised banners and pla cards in the hands on which slogans against Indian aggression, Down with America, death to Israel, Down with India, we will continue support for freedom of occupied Kashmir, Palestine is the homeland of Palestinians.
They also chanted slogans against Israel-Indian nexus against Pakistan and supervision of United States of America to destabilize Pakistan. They burned American, Zionist's and Indian flags to show their anger.
Among the protestors Ameer of Jamat-e-Islami Sindh and former member of parliament Muhammad Hussain Mehnati, MQM Pakistan's former member of Sindh Assembly Mahfooz Yar Khan advocate, Matloob Awan chief of All Pakistan Sunni Tahreek, Sabir Abu Maryam Secretary General of Palestine Foundation Pakistan (PLF) and others were present.
Leaders fo different politio-religious parties has striongly condemn the Israel backed Indian aggression against Pakistan and said that Pakistan Armed Forces veery well replied to Indian aggression so that whole nation standing with Paksitan's Armed Forces and ready to reach at borders to sacrifices for soil.
Speakers demanded that India should be strictly punished for continued aggression against Pakistan and occupied Kashmir. Speakers on this occasion appeal to the whole nation that taking steps to keep the moral high and up for Pakistan's Armed Forces and keep unity in their ranks.
PPP Senator Sherry Rehman broke the ice on Musharraf's pro-Israel statements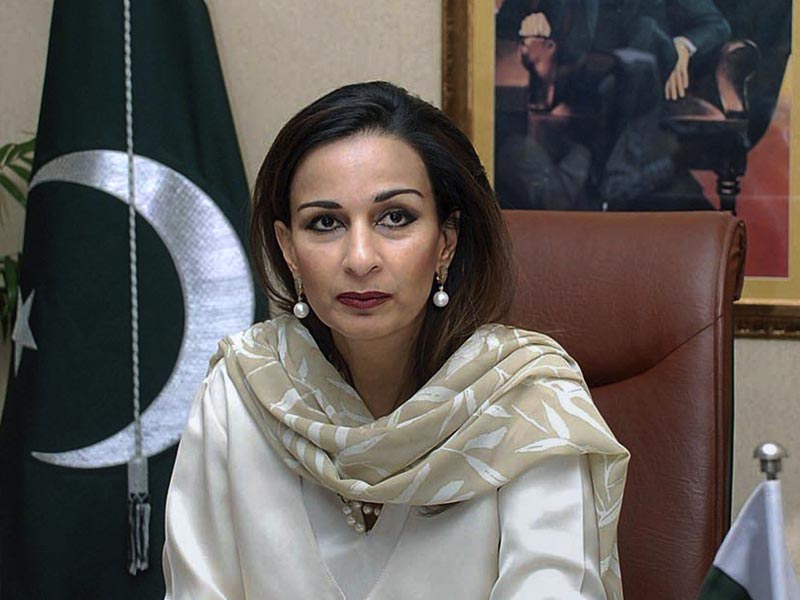 ISLAMABAD (PNIC):PPP senior leader senator sherry Rehman demanded that Musharraf must clarify pro-Israel statements.
PPP Parliamentary Leader in Senate, Senator Sherry Rehman criticized former President Pervez Musharraf over his statements regarding Pakistan's ties with Israel – a state Pakistan has refused to recognize since its inception. Rehman said, "The entire country is shell-shocked over Pervez Musharraf's pro-Israel statements in his press conference. Israel cannot tolerate Palestinian Muslims, how would it ever tolerate a nuclear power like Pakistan?"
Rehman pointed out that the recent pro-Israel statement from Pervez Musharraf is not a first, the former Senate Opposition Leader added, "In 2005, it seemed like Pervez Musharraf's regime tried to break the ice with Israel without any consultation, in what would have been a stark departure from Pakistan's justified stand to support the Palestinian people. Such statements give credence to the controversy over Israeli journalist's tweet that an Israeli jet had flown from Tel Aviv to Islamabad in October. The government must immediately respond and clarify Pakistan's stance".
The former President jumped into a war of words that has escalated since the deadly attack in Pulwama, Indian Occupied Kashmir that took the lives of 44 people. Musharraf warned India over the response it should expect from Pakistan if it were to launch an attack. On this, Rehman said, "What we need right now are suggestions to reinstate peace in the region. Anyone with a platform on both sides should refrain from casually advocating dropping bombs. What is the purpose of a press conference regarding Israel given the current situation? We should avoid statements that may irk our regional allies".