PLF launches "Palestine, a symbol of Muslim Ummah's unity" campaign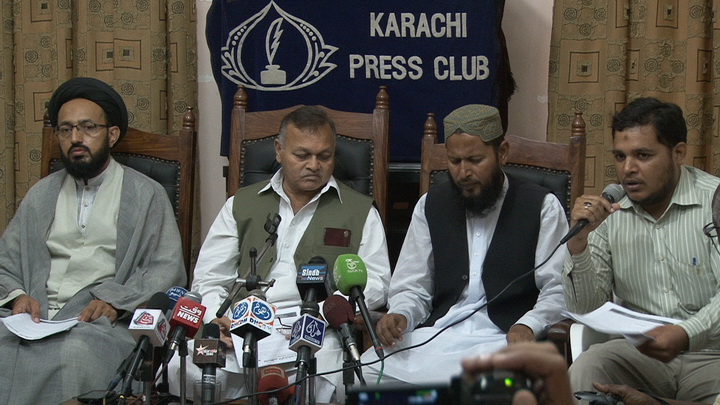 Palestine Foundation of Pakistan has launched "Palestine, a symbol of Muslim Ummah's unity" campaign to express solidarity with oppressed Palestinians.
"PLF Pakistan has kicked off the campaign that will continue throughout the holy month of Ramazan," said Muzaffar Hashmi, central leader of the PLF at a press conference at Karachi Press Club on Monday.
The PLF officials Allama Sadiq Raza Taqvi, Allama Aqeel Anjum Qadri, Shabbar Raza, Mehfooz Yar Khan and Sabir Karbalai were also present.
Muzaffar Hashmi announced that seminars, conferences and photo exhibitions would be held and rallies would be staged in support of Palestinians during Ramazan.
"International Palestine Conferences will be held in Karachi, Islamabad, Lahore, Peshawar, Quetta, Hyderabad, Multan and Faisalabad where national and international figures will speak on the issue of Palestine," he said.
He elaborated that international Palestine conference will be held in Hyderabad on July 21, in Karachi on Monday July 22, in Islamabad on July 27 and at other places on Ramazan 15.
Leaders of the Pakistan People's Party, Pakistan Muslim League-N, Pakistan Tehrik-e-Insaf, Jamaat-e-Islami, Awami National Party, Majlis-e-Wahdat-e-Muslimeen, Jafaria Alliance, Jamaat-ud-dawa and Awami Muslim League would also speak at these conferences.
"The PLF will observe International Quds Day on the last Friday of Ramazan and rallies will be staged in almost all cities of Pakistan on that day," he said.   
The PLF leaders said that Palestine is the most important issue that has to be resolved. They said that Palestinians long for freedom and they deserve liberation from the yoke of Zionist Israeli regime. They said that Zionist entity is an illegitimate state that was imposed on the sacred land of Palestine.
The PLF officials vowed that all Palestinians would return their homeland and no force on the earth could stop their return. They said that all Muslims of the world are united in support of Palestinian brethren and nobody could shake this unwavering unity.