PLF to observe Palestine Week to commemorate the Nakba anniversary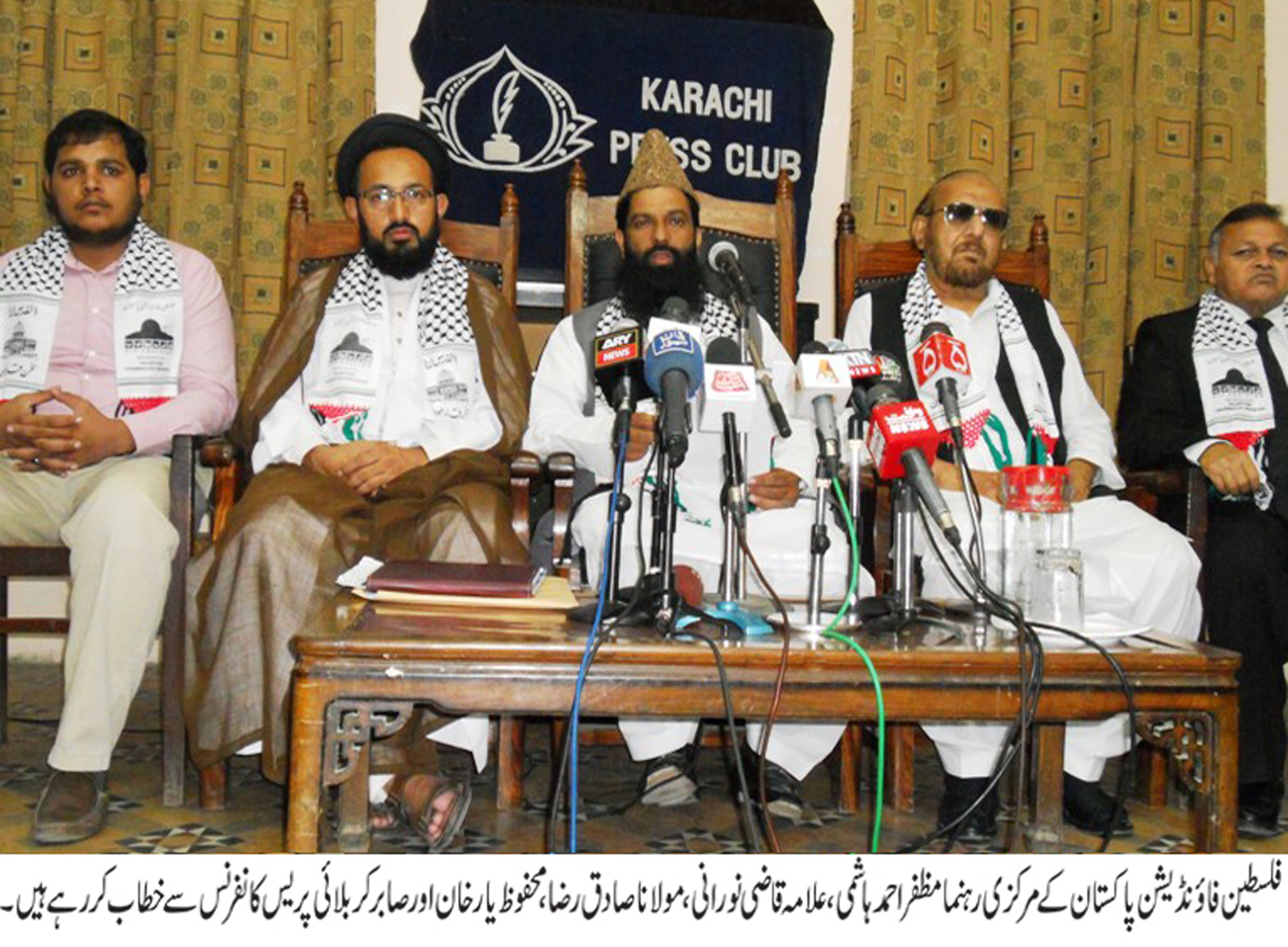 Palestine Foundation of Pakistan has announced it will observe a Palestine Week in commemoration of the anniversary of Youm-e-Nakba when hundreds of thousands of Palestinians were forced to leave their homes.
"Youm-e-Nakba or Catastrophe Day brought massacre and expulsion of innocent defenseless Palestinians, said former MNA Muzaffar Hashmi, member of central patrons committee of the PLF. Along with Allama Qazi Ahmed Noorani, Allama Sadiq Raza Taqvi, Mehfooz Yar Advocate and Sabir Karbalai, he was speaking at a press conference at Karachi press club.
The PLF leaders announced weeklong programmes under the title of support to the Palestinians right to return their homeland Palestine.
Muzaffar Hashmi said that the Palestine Week will be observed from May 10 to May 16 in all over Pakistan.
"We appeal to all Pakistanis to observe Friday May 10 as a day of solidarity with Palestinians," said Allama Qazi Ahmed Noorani.
Allama Sadiq Raza Taqvi said that on the one hand, around 5 million Palestinians have to live outside of Palestine due to Zionist occupier Israel's denial to the legitimate right of Palestinians to return Palestine and on the other international community remains silent over this unpardonable injustice being done to Palestinians.
Mehfooz Yar Khan said that Nakba anniversary is being observed across the world. He disclosed that Palestinians in Jordan, Syria, Lebanon and Egypt will march to Palestine in a bid to enter into their sacred Palestine on the 65th anniversary of Nakba Day.
"PLF Pakistan will hold special programmes such as seminars, rallies and exhibitions in collaboration with Jamaat-e-Islami, Jamiat Ulema-e-Pakistan, Awami Muslim League, Majlis-e-Wahdat-e-Muslimeen and other parties to express solidarity with Palestinians," Sabir Karbalai, spokesman for the PLF said.
The PLF officials demanded of the United Nations, NAM, APU, OAS, AU, European Union, Arab League and OIC to break their silence and voice their support for the right of Palestinians to return Palestine without any delay.
They said that it was unujust and illogical that the racist Jewish terrorists of Hagana and Irgun brought Jews from across the world to Palestine and imposed an illegitimate state of Israel on Palestinian Arabs by massacring the sons of the soil and forced them to leave their abodes.
They said that Palestine is the land that belongs to Palestinian Muslims, Christians and Jews. Non-Palestinians and the illegal migrant Jews brought under Aliyah and Aliyah Bet have no right to live in Palestine. They must be sent back to their homes and Palestinians must be brought back to live in Palestine.
The PLF Pakistan vowed that they would continue their support till the last Palestinian refugee is brought back to the sacred land of Palestine. They said that all countries should use their influence and play their role for Palestinians right to return their homeland. They said that a referendum be held in which the Palestinian Muslims, Palestinian, Christians and Palestinian Jews should decide what sort of state they desire on their motherland and there must be no Israel on the sacred land of Palestine.