Political leaders inaugurated Pictorial Exhibition on Gaza at M.A.Jinnah Road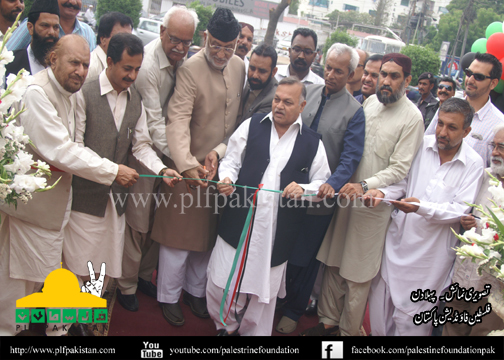 The leaders of various political and religious parties on Thursday inaugurated the 2 days long pictorial exhibition of Palestine Foundation Pakistan on Gaza at M.A.Jinnah Road Karachi highlighting the Israeli war crimes on Gaza Palestine.
The Advisor to Chief Minister Sindh Waqar Mehdi, Mr Rashid Rabbani, PML-N Leader Nehal Hashmi, PML-Q leader Haleem Adil Sheikh, Former Senator Allama Abbas Kumaili, Jamaat-e-Islami leader Muzaffar Ahmed Hashmi, JUP leader Allama Qazi Ahmed Noorani Siddiqui, AML leader Mehfooz Yar Khan Advcoate and Tariq Shadab, PAT leader Qasier Iqbal, ANP leader Noorullah AchakZai, PILER Director Karamat Ali and Palestine Foundation spokesman Sabir Karbalai were inaugurated the "Pictorial Exhibition on Gaza".
The leaders of political and reliogio-Political parties demanded of the government to announce the last Friday of Ramandan as National ALQuds day to support and highlight the issue of Palestine and condemned the illegal occupation of Zionist Israel on Palestine.
They appealed the Pakistani nation to participate in the ALquds rallies without any discrimination of color, races and sect saying that the people of Pakistan are with their Palestinian brothers and condemned the silence of world community over the Israel war crimes on Gaza,
The people from all walks of lives including civil society , doctors, students , engineers and others visited the pictorial exhibition of Palestine foundation Pakistan on first day of its inauguration.
The crimes of Israel in Gaza and the massacre of Palestinian oppressed people were highlighted in the exhibition via portraits and videos to aware about the people about the crimes of Zionist regime Israel with the support of America.
{gallery}plf_exhi{/gallery}