PPP says Hezbollah is a political reality of Lebanon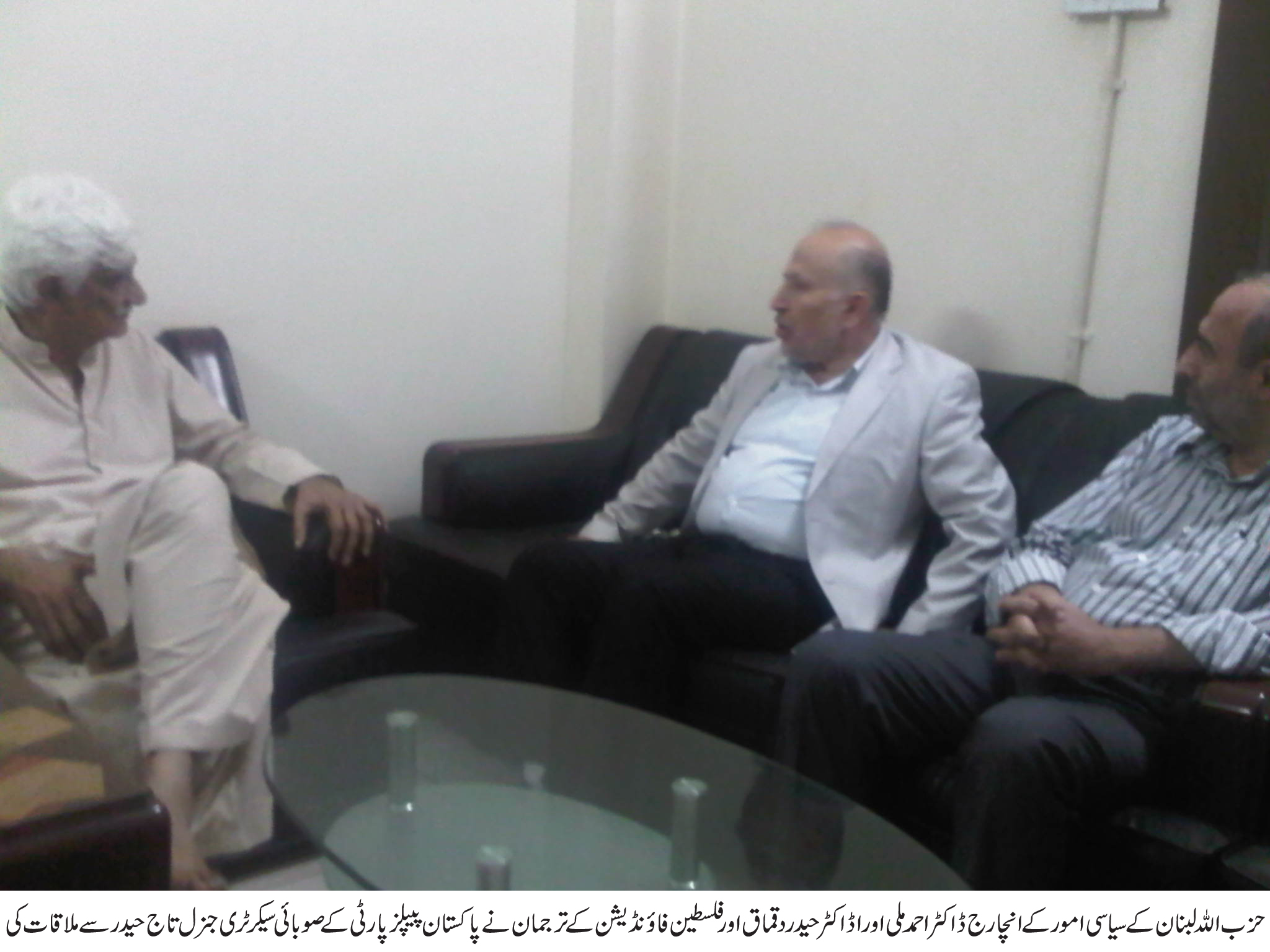 Pakistan Peoples Party's provincial chapter secretary general and former Senator Taj Haider has said on Tuesday that Hezbollah is a political reality of Lebanon.
 The PPP's senior leader expressed these views during a meeting with Dr. Ahmed Malli, Incharge political affairs of Hezbollah and al-Quds Association Beirut's Incharge Dr Haider Deqmaq. Sabir Karbalai, spokesman for Palestine Foundation was also present. 
Mr. Taj Haider said that PPP recognized Hezbollah as a political reality of Lebanon because resistance to foreign occupation is not a crime according to United Nations charter. He said Hezbollah is a legitimate resistance to foreign occupation. The PPP's official further said that hearts of people of Pakistan and Lebanon beat for Palestinian brethren. He said that no Pakistan government has recognized Israeli state so far because of our principled position on Palestine issue.  
Dr. Ahmed Malli paid tributes to PPP's founding chairman Zulfikar Ali Bhutto and slain chairwoman Benazir Bhutto for their support to Palestine issue. He said that when Arab governments were scared of Zionist Israeli regime and their allies, Zulfikar Ali Bhutto boldly raised the issue and defended oppressed Palestinians. He said that Benazir Bhutto followed her father till her last breath. The PPP leader and Hezbollah's officials offered fateha to rest departed souls of Mr. Bhutto and Ms Benazir Bhutto in eternal peace.