The efforts to recognize Israel in Pakistan will never succeed, Senator Siraj ul Haq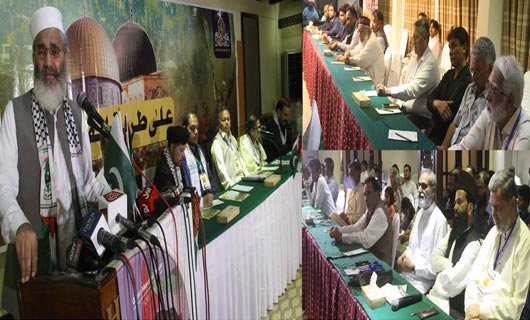 KARACHI – Palestine Foundation Pakistan organized a conference in Karachi's local hotel, leadership from political and religious parties attended.
Speaking at the conference, Jamaat-e-Islami Pakistan's Ameer Senator Siraj ul Haq said that It is part of our faith to support Palestinian.
Many nations of the world support oppressed community of the Palestinian people for the sake of humanity.
He said that Palestine is the only nation that fights with stones rather than tanks of Israeli oppressor.
Today, Palestinians wish to be martyred instead of getting educated at school.
He said that Pakistan supports for oppressed Palestinian people are natural.
Right now American navels are in the Arabian Sea and continuously threatened Iran for attack, which creates turmoil in region.
He said that Israel is benefiting from the tension of Iran and Saudi Arabia.
Israel wants that he should establish his domination on the world after fighting the Muslim Ummah.
He said that efforts to recognize Israel in Pakistan will never succeed, if Pakistan recognizes Israel, Israel will not give us importance, because India is more important allay for them, India, Israel and USA are troika.
Addressing the conference, Pakistan Muslim League-N former governor Sindh Muhammad Zubair said that the matter of Palestine is near to our heart, there are relations between Arab countries with Israel.
He said that in order to prevent Iran, the Muslim Ummah is restoring relations with Israel.
He said that if we raise the issue of Palestinians, we can also raise the problem of Kashmir globally.
He said that for us, Palestine is important because of the occupation of the Holy Quds and the Pakistani Foreign Office should be able to make Palestine issue globally.
Additionally, Dr Farooq Sattar said that the Quds Day should be celebrated at the official level in Pakistan. Farooq Sattar said that the crimes of Israel on Palestinians are very sad, the American President are supporter of Zionists' occupation.
He said that the government of Pakistan continued to support the Palestinians with a clear and solid stand.
The leader of the Tehreek-e-Insaf (PTI) Asrar Abbasi, said that the government would raise voice at every level for the sake of Palestinians.
He said that PTI govt was advised on recognizing Israel but Prime Minister Imran Khan categorically rejected this advice.
Addressing the conference, MWM SINDH Secretary General, Mr. Allama Baqir Zaidi "Today Israel is stubborn, Israel has made & supported ISIS,"
He added Israel wanted to capture Syria. All these plans were overturned.
He said that the existence of Israel is going to end.
Imam Khomeini said that the only solution to Palestinians' problem is the resistance.
Senior Leader PTI, Israr Abbasi, said that the Islamic world must refrain themselves from Israel Relationship.
All political and religious parties in the conference unanimously accepted the declaration to celebrate Al Quds Day officially.
The conference was also attended by Palestinian students present in Pakistan Karmat Ali, Ahmed Khan Malik, Imtiaz Faran, Syed Shabbar Raza, Major Qamar Abbas, Aram Butt, Alhaj Mohammad Rafi, among prominent political figures including Naeem Qureshi, Mohammad Aqil, Prof. Haroon Rasheed, Advocate Malik Tahir, Abdul Waheed Younis, Rehan Abidi and others were present.