The International Committees of The GMJ to meet next Sunday in Amman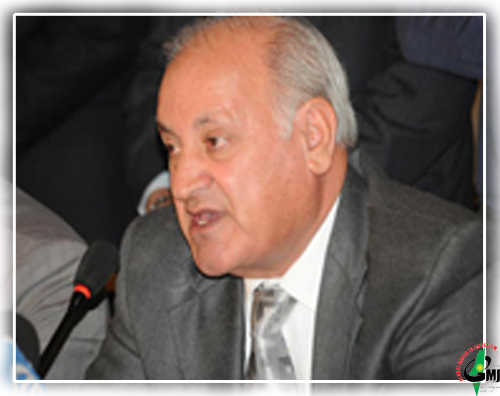 The general coordinator, head of the executive committee for the global march towards Al-Quds, Dr. Ribhi Halloum said that the committee would hold the general meeting in Amman next Sunday to unify and coordinate their efforts. Dr.Halloum said that the meeting will issue the global statement signed by 150 international prominent figures, including human rights advocate Rev. Dsmontutu ,Malaysian President Mahathir Mohammad, former Bishop of Al-Quds, Atallah Hanna, President of Islamic movement in occupied Palestine of 1948, Sheikh Raed Salah, and the international thinker Naom Chomsky, beside other prominent local figures.According to Dr. Halloum , the statement would stress the paramount importance of the Holy City Al-Quds (Jerusalem) on political, religious,and civilization levels for the Palestinian people and for the whole humanity.The statement calls for protecting the holy places and archeological sites, while considering the change of their identities as a crime against humanity.The statement affirms the necessity of defending and liberating Al-Quds , by calling all people of free conscience to contribute in this respect, beside all individual and institutions.It also condemns the ethnic cleansing, and the continued hectic practices to change the demographic, geographical, and political identity of the holy city, while deploring the continuation of the occupation authorities to build the Apartheid Wall, which aims at transforming the Palestinian lands into cantons isolated from each others.The statement affirmed the Palestinian people right in determining his destiny , to liberate his land and to live in dignity, in addition to his right of return to his homeland and properties, as well as to resist the occupation and rejecting all racial laws that differentiate between people on basis of their race or religion.It also indicates that the global march of Al-Quds does not represent any political party or trend, and would be keen to see the participation of all political trends and community forces, while stressing the peaceful nature of the march that does not use violence to achieve its goals.The general coordinator of the Global March of Al-Quds
March preparations
Pro-Palestinian organizations from different European countries intend to hold a meeting on Tuesday to discuss the arrangements to be made for the global march towards occupied Al-Quds (Jerusalem), which will take place on the 36th anniversary of the Palestinian land day.
Dr. Halloum explained that preparations for the global march are afoot in various parts of the world, slated to kick off on 30th of next month of March, coinciding with Earth Day with the participation of all neighboring countries near the border of occupied Palestine or to the nearest possible point.
The participants in this march , which includes members of international committees , from more than 50 countries , pointing that the number of solidarity activists who are interested to participate is constantly doubling.
The global march to Al-Quds would take place to protest the Judaization, apartheid and ethnic cleansing crimes committed by Israel against AlQuds and its people in particular and against Palestinians in the occupied territories in general