The second in 24 hours, Palestinian child shot dead by Israeli forces in Abu Deis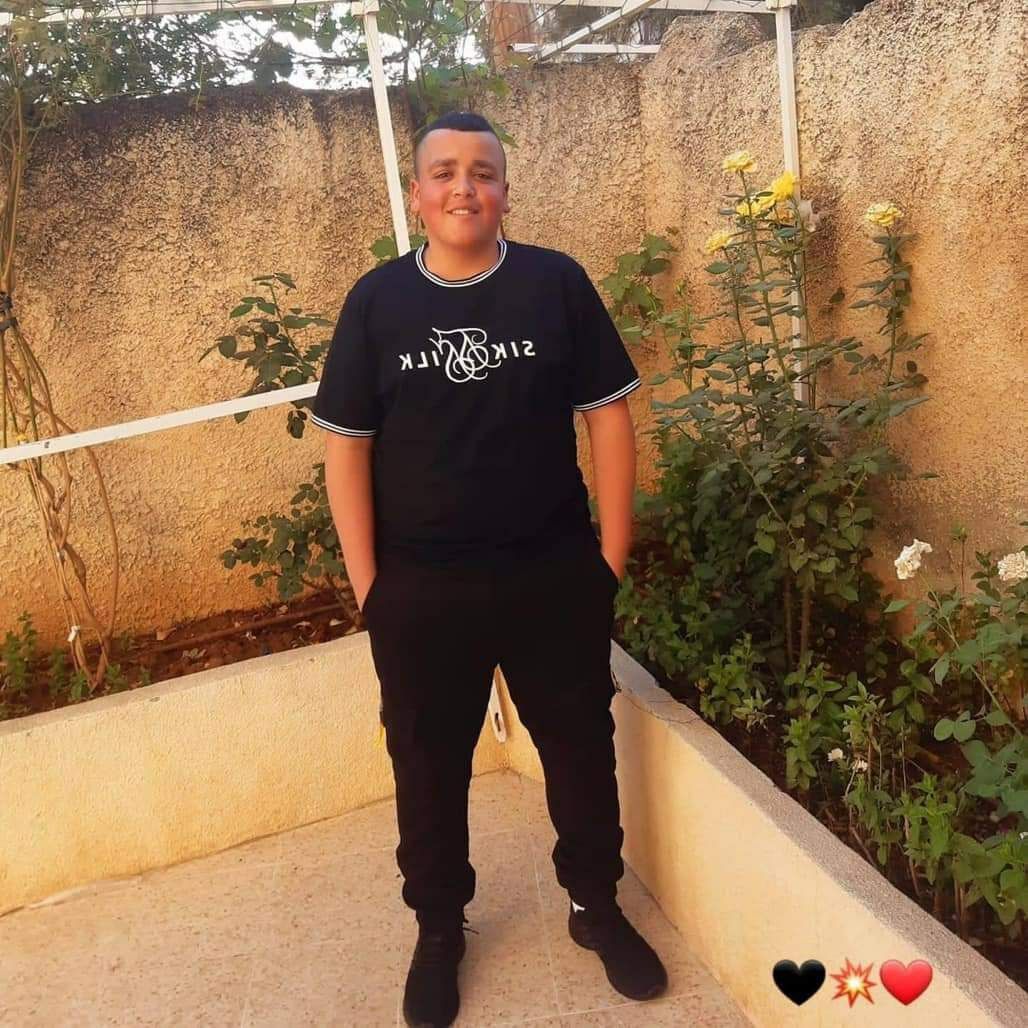 Occupied Jerusalem – Israeli occupation forces shot and killed a Palestinian child in the Abu Deis town, south-east occupied Jerusalem, last night.
The Palestinian Health Ministry announced that 16-year-old Yamen Jafal was shot dead, last night, by Israeli forces' live bullets for allegedly throwing Molotov cocktails at a forces checkpoint.
After shooting him, the occupation soldiers prevented Palestinian medics from approaching him and fired tear gas canisters towards the ambulance before confiscating his body.
Hours later, the Palestinian child was moved to a hospital in occupied Jerusalem and was announced dead.
Following his killing, confrontation erupted between local youths and the Israeli occupation soldiers who attacked the youths by firing tear gas canisters intensively towards them, injuring several.
Yamen is the second Palestinian to be shot dead by Israeli occupation forces on Sunday.
On Sunday morning, 19-year-old Kareem Jamal Qawasmi, from the Al-Tur neighborhood, was also shot dead by Israeli occupation soldiers with live bullets after he allegedly stabbed and lightly injured two Israeli police officers near the Bab Huta Gate, which leads to the Al-Aqsa Mosque. The youth was left bleeding on the ground until he died of his critical wounds.
Israeli forces have killed thousands of Palestinians in the Occupied Territories over the years, and several international human rights groups say Israeli forces have used excessive force in attacking and subduing Palestinians.
"This policy [opening fire] reflects deep disregard for Palestinian lives and property and enables the continued use of lethal force, crucial to enabling Israel to retain its violent control over millions of Palestinians," said Israeli human rights group, B'Tselem.
B'Tselem said it had recorded 77 Palestinian deaths at the hands of Israeli forces in the West Bank last year. More than half of those killed were not implicated in any attacks, it noted.
In February alone, Israeli occupation forces shot and killed six Palestinians in the occupied West Bank. As of 2 March, Israeli occupation forces have shot and killed 11 Palestinians in the West Bank.
With the killing of Yamen and Karem, the number of the Palestinians who were shot dead by Israeli forces in occupied West Bank and Jerusalem, since the start of 2022, rises to 13.