US administration, the biggest violator of international law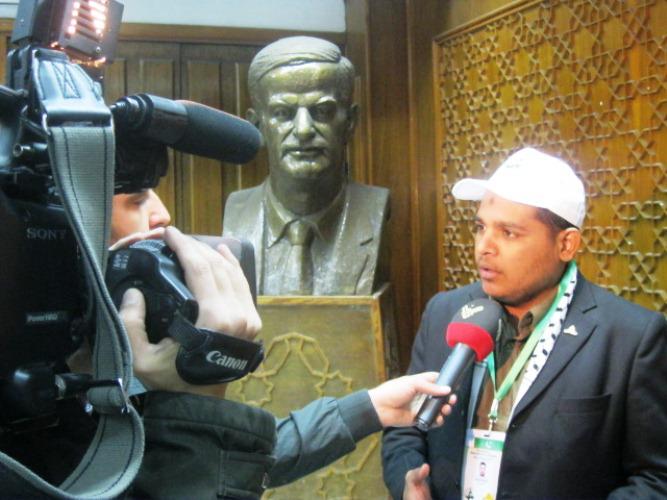 By: Sabir Karbalai
Secretary, Palestine Foundation Pakistan
United States of America deems she is lone and invincible superpower.  But, current world situation is leading the U.S. to the destination where U.S. dreams to remain superpower will never come true.  It is incontrovertible fact that the fall of former U.S.S.R. that was engendered by the U.S., has brought repercussions for the U.S.
The U.S. administration is facing challenges on two fronts. Its allies now pose threat to its interest. On one hand, European Union resorted to Euro currency that has shaken the dollar status in the world market. Euro has weakened dollar and thus the economic position of the U.S.
On the other hand, its allies in the war against former U.S.S.R. have turned against him. Those who worked as U.S. proxy in Afghanistan are now working to harm the U.S interests. Now, U.S. has declared them enemies and fight war on terror against them.
Declaring the past friends as sworn enemies and rallying the world support in the war against the friends of the past, poses a question mark on the credibility of the U.S. administration. The U.S. media made al-Qaeda and Taliban heroes in Islamic world and Europe in 1980s. Now, they demonise them.
As a matter of fact, U.S. has always chosen to enter into marriage of convenience with the violators of humane laws because the U.S. itself is the biggest violator of international law. The U.S. administration is fond of wars and aggressions.
Afghanistan and Iraq are two examples in 21st century. For Afghanistan, the U.S. mustered 41 governments' support before resorting to war on Afghanistan.  In the case of Afghanistan, the U.S. tamed international law in its favour.
In the case of Iraq, the U.S. made a false case and massacred more than 1 million people.  Which law warranted the war and massacre of innocent defence-less people?
In the post-WWII world, the U.S. first imposed war on Korean peninsula that resulted in dismemberment of one Korea into two. The post-dismemberment Koreans are at war with each other because South Korea inherited enmity with North Korea due to its alliance with the U.S. and North Korea pays the price to go against U.S. interests.
The U.S. played havoc with Japanese people by exploding two nuclear bombs. People of Hiroshima and Nagasaki still experience the chemical repercussions of these atrocious bomb attacks. The U.S. is first and last lone detonator of nuclear bombs on civilians in all over the world.
Southeast Asia or far-east again came under U.S. attack when aggression was made on Vietnam. Vietnamese also were made to fight a civil war to serve the U.S. interests.
At first, the U.S. and its allies in the Middle East emboldened and equipped Saddam Hussein of Iraq against Iran in 1980s. Then, the U.S. used Saddam against Kuwait in 1990s. At the end, Saddam was wiped-off the scene.
In all these cases, U.S. meddled into national affairs of other nations and violated international law and human rights. The U.S. administration perpetrated war crimes in these cases.
Pakistan is still paying the price for joining the alliance of war on terrorism. The U.S. constantly violated the airspace of Pakistan. The friendly attack of the United States has claimed lives of Pakistan army, let alone civilians. The U.S. drones fire missiles to hit civilians in tribal areas of Pakistan. All this is against international law.
United States talk of human rights and democracy. But, Latin America and Arab world bear witness to the fact that U.S. was the only hurdle in the way of democracy in these regions. The reason: depots and dictators were and are U.S. allies.   
Zionist regime of Israel is the worst violator of human rights and international law in the Middle East. The Zionist regime always escaped international actions against Israel because the self-claimed champion of human rights U.S. vetoed UNSC moves.
It may be a debatable issue who fights proxy war for who because sometimes Israel seem to be fighting U.S. wars in the region and sometimes U.S. seem to be fighting Israeli wars at the world forums.  
Historians can decide if the Zionist forces wars on Lebanon and Gaza (Palestine) in 2006 and 2008 were Israeli wars or U.S. wars.  Thousands of people have so far been killed in Israeli wars on Lebanon and Palestine.
The world's oppressed people have suffered colossal losses due to violation of international law by the U.S. and its allies. However, world also bear witness to the defeats of U.S. and Israel in the Middle East. Iran shot down U.S. spy drone. Hezbollah's Iran-made spy drone flew in Zionists-controlled Palestine that is called Israel. Hezbollah won 2006 war and Hamas won 2008 war. They got freed their prisoners in exchange for Israeli army personnel who they made hostage.
People of Arab-Islamic world have risen to the occasion. They have peacefully revolted against their rulers who are staunch allies of the U.S. These examples are enough and eye-opener for the U.S.  They should learn lesson. The U.S. should withdraw its naval fleet from Bahrain and leave its airbase in Qatar. The U.S. spies should return homes from the Muslim countries forthwith.
 The un-resolvable crisis of the United States and allied nations has weakened their positions. Should they not stop meddling into internal affairs of other nations, these nations too reserve right to give a tit-for-tat response. 
Pakistan's Palestine Policy: We will never abandon Father, of Nation Jinnah's footsteps. Mamnoon Hussain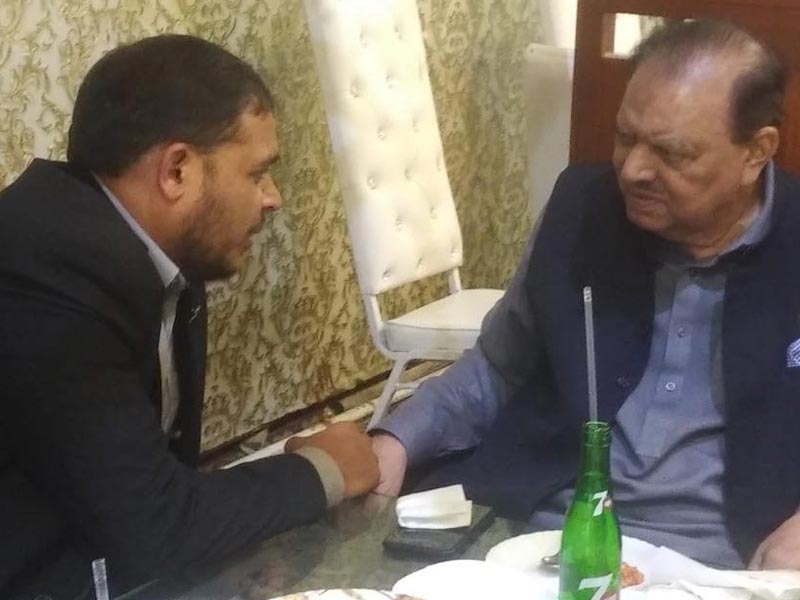 KARACHI (PNIC):-Former President of Islamic Republic of Pakistan Mr.Mamnoon Hussain says that we are bound to follow the path of great founding father of the nation Qauid e Azam Muhammad Ali Jinnah and his stance on Palestine.
Pakistan always Standing with oppressed nation of Palestine and will remain. Mamnoon Hussain says.
PLF General Secretary Mr.Sabir Abu Maryam Met with former President of Islamic Republic of Pakistan Mr.Mamnoon Hussain and discussed various things about the issue of Palestine and Pakistan's stance in it.
Former President Mr.Mamnoon Hussain expresses his fully support with oppressed people of Palestine and categorically said that that Israel is an illegitimate state and we always followed Founding Father Qauid Azam Muhammad Ali Jinnah's stance on Palestine and will never get back even an inch from that stance.
He appreciated Palestine Foundation's great struggle in Pakistan and assure his Cooperation with PLF too.
Israel is an ideological threat to Pakistan: accepting Israel equal to no question of Kashmir. Gen (r) Ghulam Mustafa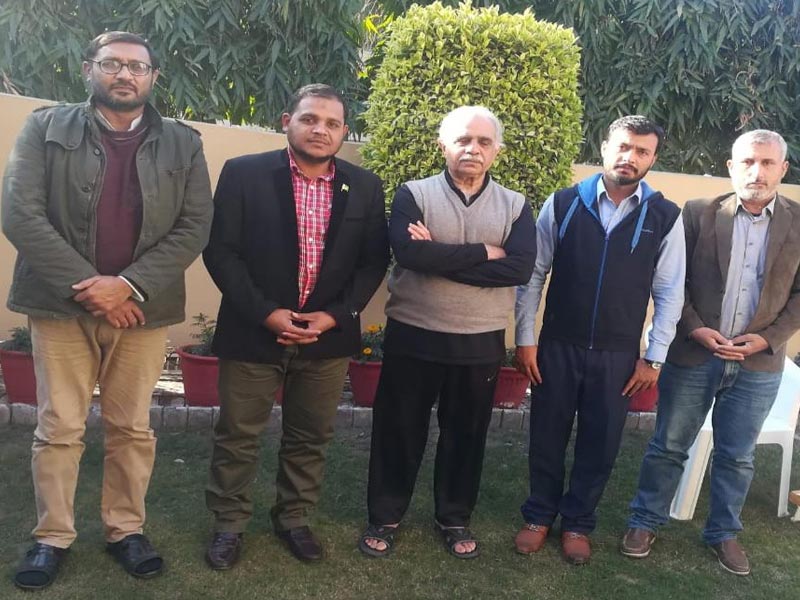 LAHORE (PNIC):-Former Army General Ghulam Mustafa expresses his fully support to Palestinian cause. According to Report during a meeting with Palestine Foundation Pakistan (PLF) delegation he said that Israel is not only threat for Palestinians but for whole region of Middle East and Golf.
Palestine Foundation Pakistan's delegation led by General Secretary Sabir Abu Maryam along with Ansar Abbas, Zahid Murtaza and Yasir Habib met with former army Gen Mr.Ghulam Mustafa at his residence on 16 December Sunday.
During the meeting PLF's Secretary General informed him various issues about Palestine and policy of Arab and Muslim regimes specially developments in Pakistan. He also discuss about some efforts of pro-Zionists factors in Pakistan to normalisation with Zionist regime and Pakistan.
A defence analyst and well known Army Gen Ghulam Mustafa categorically stated that those people are thinking that Israel is friend of Pakistan are in wrong side.
Israel is an ideological threat and enemy of Pakistan and will never benefit to Pakistan: he said.
Gen (r) Mustafa said that if Pakistan accept and protect in tel Aviv but in next step Israel never tolerate Pakistan so normalisation with Zionist regime mean no question of Kashmir.
Even if my head is cut off, I will not accept Israel: Gen (r) Ghulam Mustafa stated. He also affirmed his full support for Palestine Foundation Pakistan.
Pak-Palestine solidarity: cultural show "DABKAH" held at Centaurs Mall Islamabad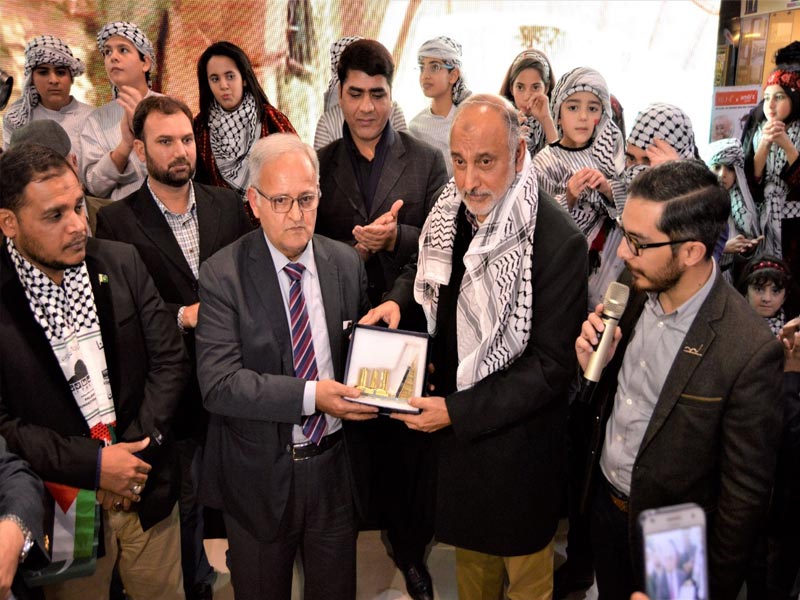 IALAMABAD (PNIC):-Palestinian citizens living in Islamabad capital of Pakistan observed International solidarity day of Palestine at Centaurs Mall Islamabad.
Palestinian cultural show Organized by Palestinian embassy with the collaboration of Centaurs Mall administration on December 15 Saturday.
Hundreds of Palestinians in Pakistan gathered along with thousands of Pakistani citizens to marked an international solidarity day of Palestine.
Palestinian children wearing Kofiya (Palestinian symbolic cloth) performed DABKAH (cultural activity) and also they sand Pakistani National songs too.
A delegation of Palestine Foundation Pakistan (PLF) led by General Secretary Sabir Abu Maryam participated as per special invitation of acting ambassador of Palestine H.E.Mr.Hussni.