US, Israel and their local agents behind the bombing in Turkey, Afghanistan, Quetta and Islamabad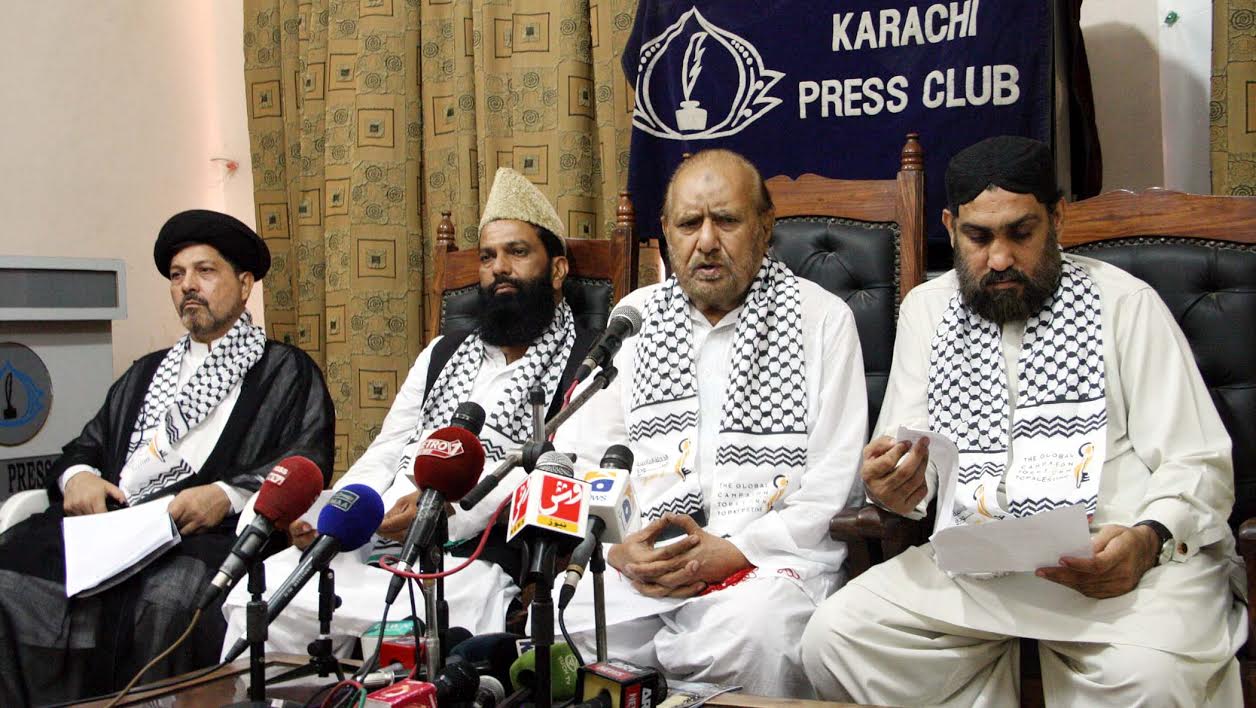 (PNIC) – Karachi: Members of central committee of Palestine Foundation Pakistan including former National Assembly member and leader of Jamat e Islami Muzaffar Ahmed Hashmi, Senator Allama Abas Kumeli, central leader of Jamiat e Ulema e Pakistan Allama Qazi Ahmed Noorani Siddiqui, MWM Pakistan's central leader Molana Baqar Zaidi, Muslim League-N's leader Syed Azhar Hamdani, PML-N women wing's president Zahida Bhand, President of MQM Paksitan's legal ad-committee Mehfooz Yar Khan Advocate, renowned social worker Tariq Shadab and central secretary General of Palestine Foundation Pakistan Sabir Abu Maryam strongly condemned ongoing Israeli oppression upon Palestinians and criticized upon the insensitivity of international community including Muslims rulers and said "Muslim rulers, especially the recently made 34 countries' alliance, needs to take measures to immediately stop Israeli injustices on oppressed Palestinians. They also said that militaries of Muslim countries need to take joint actions against the Zionist state.
Leaders of Palestine Foundation Pakistan said "Muslim Arab rulers should get some sense. Oppressed Palestinians have been suffering from Israeli injustices since 67 years whereas Muslims' first Qibla (worship place) is also under Zionist occupation. Palestinians have recently started the third Intifada and have been sacrificing their lives but it is saddening that Muslim rulers are not supporting the Intifada the way they should have". Leaders demanded all Muslim rulers, especially Arab rulers, to take strong measures against ongoing brutal acts of Israel on oppressed Palestinians.
Leaders also strongly condemned recent bomb blasts in Turkey and Afghanistan and declared the US and Israel as responsible for all similar terrorist activities.