US Stands the Biggest Satanic Power preaching terrorism in the world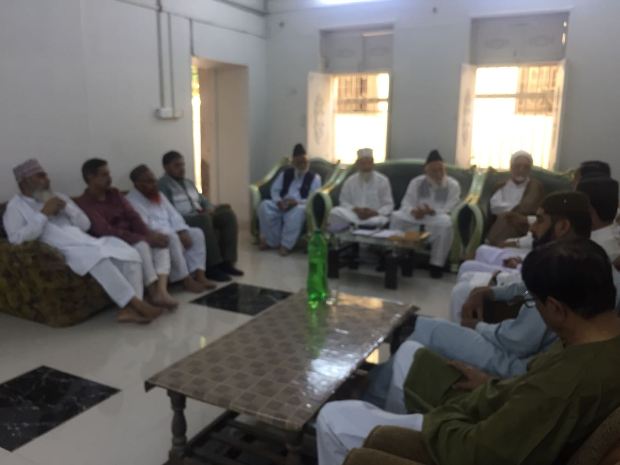 KARACHI (PNIC)
:-Palestine Foundation Pakistan (PLFP) secretary general Sabir Abu Maryam claims the US to be worlds biggest satanic power preaching terrorism across the globe, in a Conference held at Karachi today.
Haji Hanif Tayyeb, leader of Nizam Mustafa Party held an All Parties Conference here at Karachi on Friday, April 20.
Sabir named the militant organizations that terrorize the region lest it be Taliban, Al-Qaeda, ISIS/ISIL, Al Nusra, Jaish ul Islam, Ahrar al Sham and many others have connections to the State and are collaborating directly with the zionist regimes. They all are criminals to the first degree and have massacred masses violating human rights in all aspects.
During the occassion Jamaat-e-Islami ex Member National Assembly Muhammad Hussain Mehanti, Muttahida Qaumi Movement Pakistan Rabita Committee Javed Ahmed and others, Majlis Wahdat Muslimeen Pakistan central leader Allama Mirza Yousef, Inamullah Khan and many others addressed the masses.
They unanimously praised the movement of the Great Return March bringing displaced Palestinians back in the country. They condemned the heinous act of Israel on Palestine day that killed 27 innocent people injuring around 1500. It's a chain of events directly linking terrorism to the US and its illicit child Israel, they narrated Kashmir's event the other day that killed 70 people and then the attack in Afghanistan to be in line with the events in Palestine.
Sabir negated US fake claims of chemical weapons use, warning the masses to beware of new conspiracies arising in Pakistan at the hands of the US. The connivers are in progress bringing a divide in this region through sectarianism and political rift. One such example is the so-called Islamic States emergence in Pakistan's Kurram Agency where Afghan forces tried to give them support. He lauded Pakistani forces for curbing the threat as the same has already engulfed Syria and Iraq lately.