USA, Israel and India are the evil forces of the world. Sabir Abu Maryam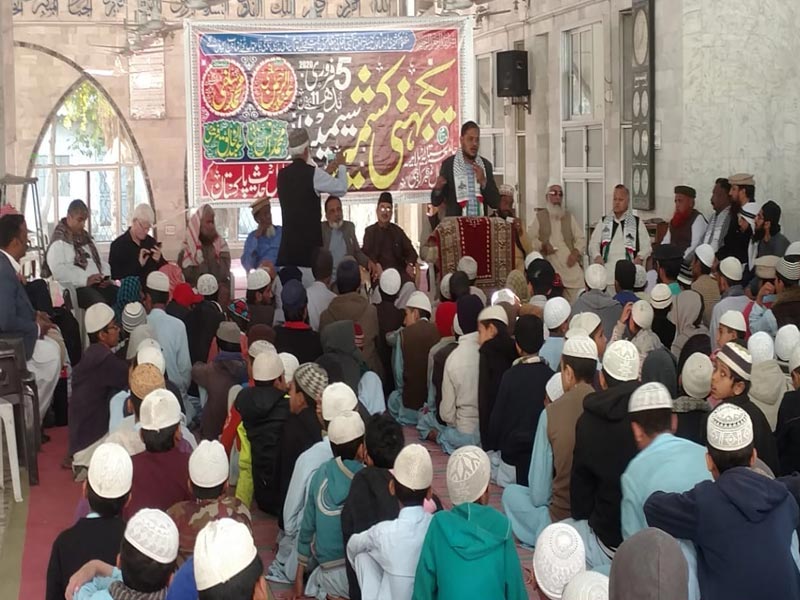 Karachi(PNIC) On the Kashmir soliodarity day, Feburary 5, Secretary General of Palestine Foundation Pakistan Pakistan (PLF) Sabir Abu Maryam Participated in the Kashmir Solidarity Seminar at Sattarya Seminary which was organized by Jamiat Ahley Hadis (JAH) Karachi.
Speaking to the participants of the Kashmir Solidarity Seminar PLF Secretary General Sabir Abu Maryam unity and solidarity of the Muslim ummah is the most urgent need. Saber Abu Maryam said that the United States is the world's largest devil and Israel is its illegitimate child.
During the speech Secretary General of PLF briefes the students of seminary about the creation of fake state of Israel in Palestine. He said that India is invading Kashmir and Israeli occupied Palestine, both of these issues were birth by the British colonial conspiracies.
Maulana Muhammad Salafi chaired the Kashmir Solidarity Seminar organized at the Sattarya Seminary Karachi. The delegation of Palestine Foundation Pakistan participated in the seminar under the leadership of Central Secretary General Sabir Abu Maryam.
The delegation included Mukhtar Ahmed, Imran Shahzad and Hassan Abbasi.
Sabir Abu Maryam mentioned the current situation in Kashmir, including the US and Zionist conspiracies in the region and explained to the youth of the madrasa the difference between being vigilant and oppressive and betraying the international imperial forces with Palestine and Kashmir. He also saluted to Gen Qasim Sulemani and Abo Mahdi Mohandis on their sacrifices for Islam.
The seminar was attended by scholars including Maulana Abdul Khaliq Faridi, Allama Shabbir, Bishop Khadim Bhutto, Saif Yar Khan, Awan Qadri, Shakil Qasimi.