3,698 Israeli settlers broke into Al-Aqsa Mosque in Jerusalem in February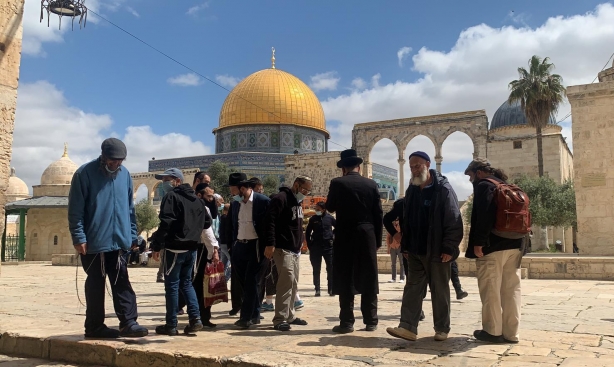 Occupied Jerusalem – 3,698 extremist Israeli settlers broke into Al-Aqsa Mosque in the occupied City of Jerusalem during the month of February 2022, according to a Palestinian network hub for Palestinians in occupied Jerusalem.
Al-Qastal documented that 3,698 Israeli settlers, including Jewish students and employees at the occupation authorities, broke into the holy site, last month.
The settlers were breaking into the holy site daily and in two sessions, the morning and afternoon, except on Friday and Saturday.
They were entering the mosque through the Al-Mughrabi Gate, one of the Gates of the Old City of Jerusalem and is under full-Israeli control, provoking Palestinian worshipers by performing Talmudic prayers and making Talmudic explanations before leaving it through the Al-Silsila Gate.
Al-Qastal also pointed out to the Israeli occupation forces' harassing, arresting and attacking of Palestinians gathering in the the Bab Al-Amud plaza on Feb. 28, 2022 to celebrate the Isra and Mi'raj, a night that marks Prophet Muhammad's (PBUH) journey from Mecca to Jerusalem and ascent into heaven.
That day, thousands of Palestinians from occupied Jerusalem, West Bank and 1948-occupied Palestine headed to the Al-Aqsa to celebrate the Islamic holiday. However, the well-armed Israeli soldiers violently attacked and detained the Palestinians, injuring dozens of them, including women and children. The forces also detained over 10 Palestinians after violently beating them and confiscating the flag of Palestine which they were raising, including a girl and children.
Israeli occupation authorities have allowed settler incursions to the mosque since 2003, under the forces' protection.
In 2021, 34,562 settlers broke into the holy site, setting a new record, as in 2020, 19,000 settlers broke into the mosque and 29,700 settlers in 2019, according to Al-Qastal, a Palestinian network hub for Palestinians in occupied Jerusalem.
There have been repeated objections and warnings by the Palestinian religious authorities as the settlers' incursions provoke Palestinian worshipers of the mosque.
Israeli forces always facilitate and protect the settlers while preventing Palestinian worshipers from entering it, assaulting and detaining them.
The Al-Aqsa mosque is one of the holiest sites in Islam. Jews refer to the area as the Temple Mount, claiming it was the site of two prominent Jewish temples in ancient times.
The complex also includes the Church of the Holy Sepulchre, one of the most sacred Christian sites in the world.