41 days in the Gaza holocaust, the genocide continues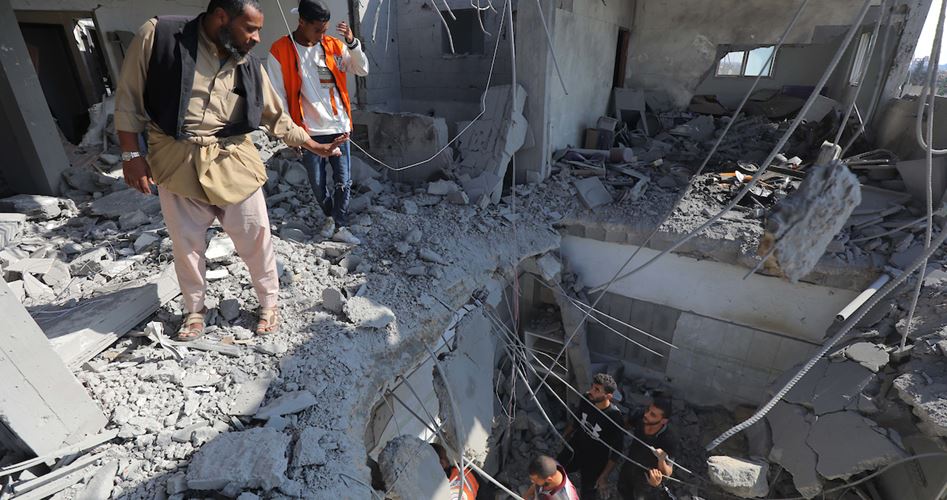 GAZA,(Palestine Foundation Information Center)Israeli occupation forces (IOF) continued on Thursday their holocaust in the Gaza Strip for 41 consecutive days, intensifying airstrikes, targeting residential homes, mosques, communication and internet transmission stations, and wreaking havoc inside the Al-Shifa Medical Complex, and continuing genocide crimes, while escalating ground incursions from multiple axes amid fierce resistance.
The Ministry of Interior reported that Israeli helicopters fired shots at civilians' homes in the eastern part of Khan Yunis, south of the Gaza Strip. An Israeli airstrike targeted a house in Al-Sabra neighborhood in southern Gaza City.
The Israeli warplanes targeted the vicinity of the Indonesian Hospital in the northern part of the Strip, the occupation aircraft dropped smoke bombs on areas in Beit Lahia, northern Gaza Strip.
The IOF carried out continuous artillery shelling east of the Al-Zaytoun neighborhood, east of Juhor Al-Dik, and north of Al-Nuseirat. Israeli warplanes destroyed the Al-Rida Mosque in the Al-Fakhari area and the Al-Amin Mosque in the western area of Khan Younis.
Eleven martyrs fell as a result of the Israeli occupation's shelling of the Central Petroleum Station, which was sheltering hundreds of displaced people. Dozens of civilians were injured, and several are missing.
The IOF continues its presence in the Al-Shifa Medical Complex and carry out attacks and destruction inside it.
Meanwhile, fires are still raging in the western areas of Gaza City, which are witnessing continuous bombardment.
According to the official media office, the number of martyrs due to the Israeli aggression has risen to more than 11,500, including 4,710 children, in addition to nearly 30,000 wounded, with more than 70% of them being women and children.
Ismail Thawabteh, the Director-General of the Media Office, said in a press conference that the number of missing persons due to the aggression reached 3,640, including 1,770 children who are still under the rubble.
He mentioned that the total number of massacres committed by the occupation army since October 7 of last year has reached 1,200, targeting civilians in the Gaza Strip.
He affirmed that the IOF "committed a historic crime by invading the Al-Shifa Complex" and that its soldiers assaulted and beat a number of patients and displaced persons inside the medical complex. He also noted that "25 hospitals and 52 health centers have been forced to close due to the ongoing aggression."