70,000 Muslim worshipers perform Friday prayer at Al-Aqsa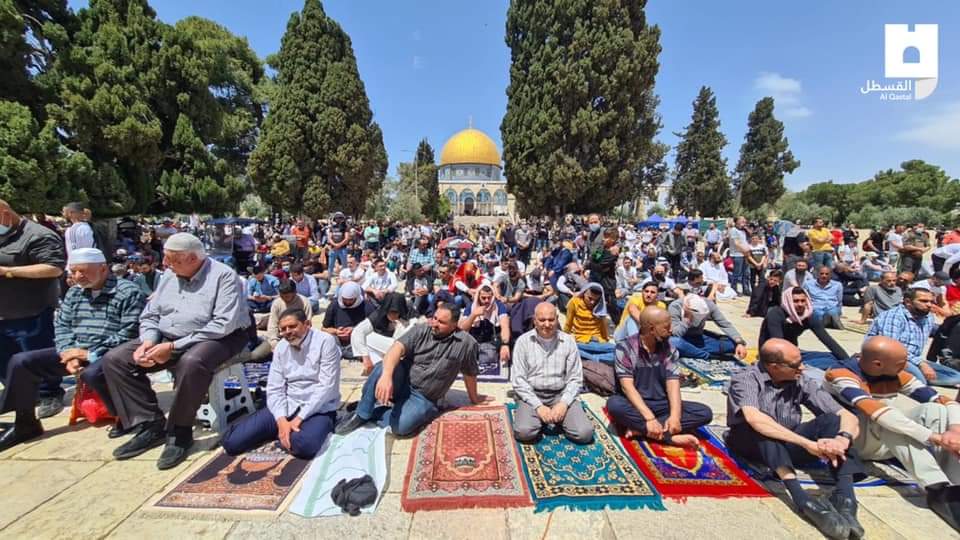 OCCUPIED JERUSALEM (PNIC) Thousands of Muslim worshipers reached the holy Al-Aqsa Mosque in Occupied Jerusalem and performed the first Friday prayer of Ramadan in its courtyards amid strict Israeli measures.
Jerusalemite sources said that 70,000 Muslim worshipers performed Friday prayer at Al-Aqsa while thousands were prevented from entering Jerusalem.
Since the early hours, the occupation police have tightened their measures on citizens, especially West Bank residents who tried to access Al-Aqsa Mosque.
During the Friday Khutba (sermon), Sheikh Ekremah Sabri, the preacher of the Al-Aqsa Mosque, affirmed that these Muslim crowds represent a practical response the normalizers, declaring that there is no bargaining, negotiation, or giving up any part of the Mosque.
He affirmed that the Aqsa Mosque will remain open in Ramadan and after Ramadan for Muslim worshipers despite the Israeli occupation's measures.
Sabri pointed out that the Al-Aqsa Mosque is being subjected to systematic violations by settler groups and the occupation police.
He denounced the occupation police's actions of cutting off the wires of the Mosque's loudspeakers to prevent the Adhan (call to prayer).
The preacher also renewed the call for boycotting those who sold real estate to occupation institutions.