AI & PLF demonstration against Israel to mark Nakba Day anniversary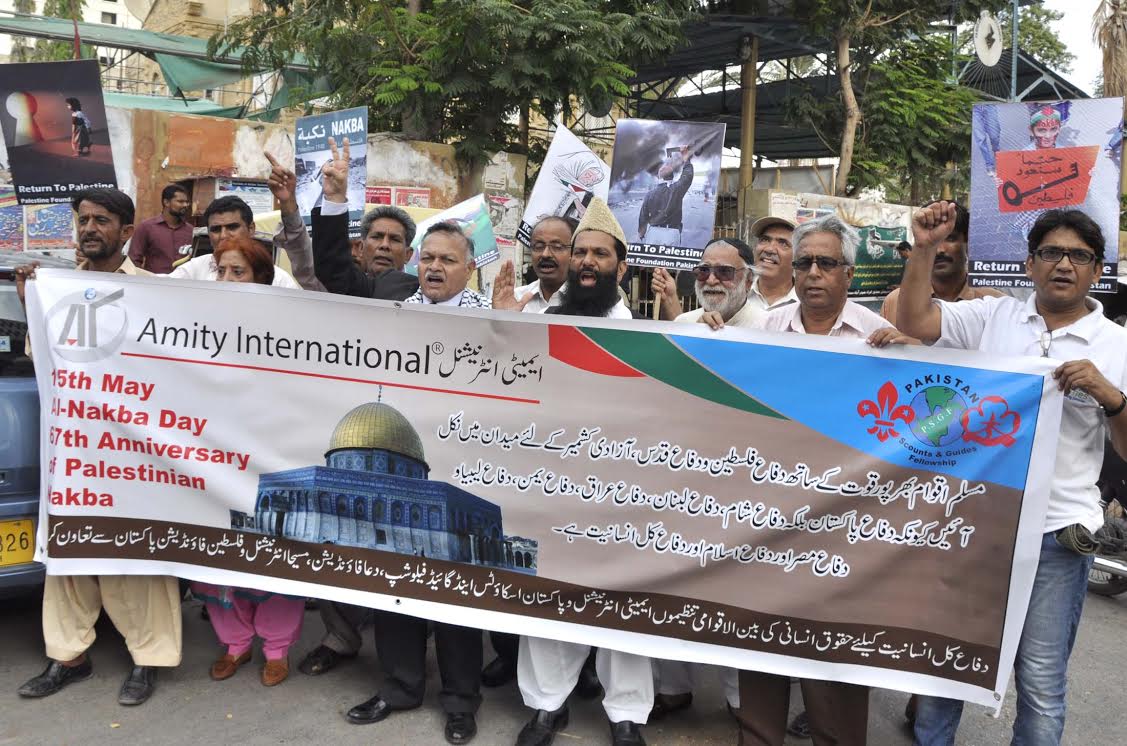 Amity International & Palestine Foundation Pakistan (PLF) on Monday staged protest demonstration against the illegitimate occupation of Zionist Israel on Palestine.
The demonstration was held outside the Karachi press club attended by people from all walks of life to express solidarity with oppressed people of Palestine. Palestine Foundation Pakistan
Secretary General Sabir Abu Maryam , Amity International Pakistan chapter head Mehfooz Yar Khan , Tariq Shadab Of Asian Union, Dua Zaheer Of Dua Foundation, JUP leader Qazi Ahmed Noorani Siddiqui and representatives Of other civil society groups present in the demonstration.
The participants holding the banners and placards inscribed the slogans "We Support return to Palestine", "Palestine for Palestinians", "Stop Zionist Aggression on Palestinians" & "Down with Israel". The participants were chanting the slogans against United States and UK for their support to Israeli occupation and atrocities on people of Palestine.
The leaders in their address condemned the Israeli occupation on Palestine and support the process of return of Palestinians to Palestine. They said that it's the basic right of Palestinians to return to their homelands because occupied Israeli's forcibly evacuated the Palestinians.
"United Nation should assure the return of Palestinians to their homelands" leaders said and demanded of the International Community support to return of Palestinians.
They said that America and United Kingdom are also responsible of the crimes made by Israel in Palestine.
Every May 14, Palestinians hold rallies to commemorate the "nakba," or "catastrophe" – the term they use to describe the displacement, when hundreds of thousands of Palestinians fled or were driven from their homes during the fighting.
Palestine foundation office bearers appealed the Pakistani Media to support the Nakba Day to highlight the crimes and atrocities of Israel on oppressed people of Palestine.