Al Jazeera reporter shot, killed by Israeli forces in West Bank city of Jenin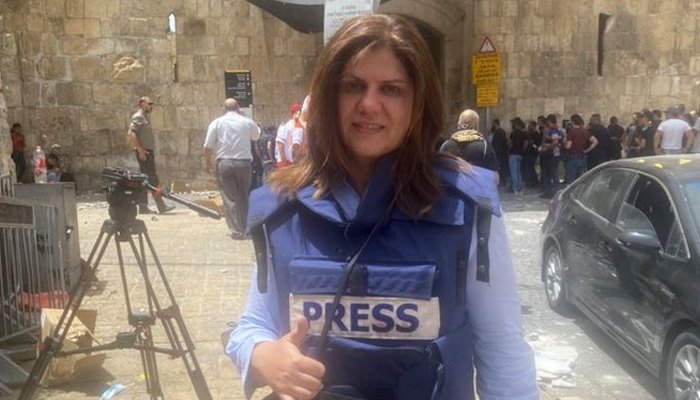 Occupied Palestine (QNN)- Israeli forces shot and killed a veteran Al Jazeera Arabic correspondent during a military raid on Wednesday in Jenin refugee camp in the occupied West Bank.
According to the Qatar-based news channel and the Palestinian Health Ministry, Shereen Abu Aqleh was shot in the head while she was covering an Israeli military raid into the Jenin refugee camp despite wearing a press vest.
She was rushed to Ibn Sina hospital in critical condition and was announced dead soon afterwards.
Another journalist identified as Ali Asmoadi who works for the Jerusalem-based Al-Quds newspaper was also shot in the back by Israeli live bullet during the same raid and he is in a stable condition.
Middle East Eye reporter Shatha Hanaysha said she and a group of six journalists, including Abu Akleh, were together when they came under fire by Israeli occupation snipers and that there was no fighting in the area.
The [Israeli] gunfire didn't stop. Although Shereen was lying on the ground, the gunfire didn't even stop. People also couldn't reach her from the other side," Hanaysha said.
"People were trying to reach her, even the private vehicle that took her to the hospital was hardly able to reach her [due to the continuing Israeli gunfire]"
"One young man jumped off a wall and pulled me out. He then pulled Shereen out. This proved to me that we, journalists, were deliberately targeted," Hanaysha confirmed.
"We were a group of journalists. We were wearing a press vest. Until this moment, I'm still in my press vest. Shereen was even wearing a press-marked helmet. She was wearing a helmet."
"This means he who fired at her was intending to shoot her in an area of her body that's uncovered. I consider what happened an assassination of all of us, journalists."
"If my colleague Mujahed and I had tried to reach her, we would've been directly targeted by gunfire. People were warning us that the [Israeli] snipers were not far away from us. We were opposite to the building where the Israeli snipers were positioned. This man was present there and he told us that the snipers were there. He was seeing them. The Israeli soldiers were opposite to us and were seeing us."
"We were standing in an area where the soldiers could identify us as journalists. I told one of my colleagues: "let's go out of this area.""
"But he insisted that we remained in the same area so that the soldiers could identify us as journalists."
"And then we would advance. We stood in an area opposite to the Israeli soldiers. We stood as a group and then we advanced. The gunfire started after we reached an area where we could not pull back."
"This means that if the gunfire was not aimed at our killing, then the snipers would've started the gunfire before we reached that area," Hanaysha said.
"What we know for now is that the Palestinian Health Ministry has announced her death. Shereen Abu Akleh, was covering the events unfolding in Jenin, specifically an Israeli raid the city, which is north of the occupied West Bank, when she was hit by a bullet to the head," Al Jazeera's Nida Ibrahim said, speaking from the Palestinian city of Ramallah.
"As you can imagine, this is a shock to the journalists who have been working with her."
Speaking through tears, Ibrahim said Abu Akleh was a "very well respected journalist" who has been working with Al Jazeera since the beginning of the second Palestinian Intifada in 2000.
Al Jazeera's bureau chief in Ramallah, Walid al-Omary, said that there had been no shooting carried out by Palestinians, disputing an Israeli statement that claimed the possibility.