Al-Quds conference held in Islamabad, Israel's relations with the Arab is treason against Muslims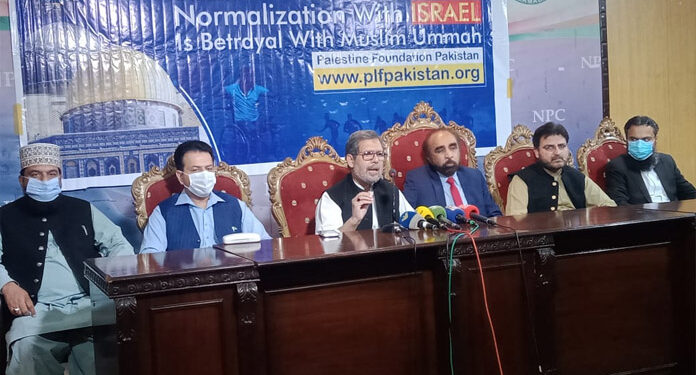 ISLAMABAD (PNIC): A Press conference was held at Islamabad Press Club under the auspices of the Palestine Foundation Pakistan Islamabad chapter on Monday.
Elders from Islamabad city including Siddique Al Farooque, Mufti Gulzar Naemi, Jawad Al Hassan Kazmi, Nasir Sherazi, Saqib Akber, Abdul Hameed Gul, Ali Chuaduary addressed the Press Conference.
Addressing the Press Conference, the leaders of various political and religious parties said that the biggest issue of the world of humanity is Palestine being neglected, the issue of Palestine is going through a critical period in its history. Every possible effort is being made to push back the issue of Palestine in the world where many more problems have arisen due to the Corona epidemic and today more and more internal and external enemies of Palestine are active against Palestine cause than before, USA, Israel. , India and their friends are engaged in conspiracies against Pakistan, the oppressed people in Kashmir have been on the path to justice.
The speakers sharply criticized the diplomatic and economic relations of some Arab countries with the Zionist state, saying that establishing relations with Israel is in fact an American and Zionist conspiracy to tear apart the unity of the Muslim Ummah.
"We believe that the Arab-friendly policy of any Arab or other rulers should not affect Pakistan's foreign policy. Pakistan is an independent and nuclear-capable country, so Pakistan's policy will not be the same as Arab countries," they said. Palestine cause policy belongs to Quaid-e-Azam Muhammad Ali Jinnah and Allama Iqbal. We consider those who have established relations with Israel as traitors of the Muslim Ummah.
The solution to the Palestinian problem is possible only with the unity of the Muslim Ummah. However, we urge the countries and rulers who have established relations with Israel to immediately cut out ties with the fake Zionist state of Israel. They demanded the government to take strict measures to root out the elements who are hurling insults against the Palestine cause and the Kashmir cause in Pakistan.
The speakers appealed to the people to observe the last Friday of Ramadan as Al-Quds Day and support the oppressed Palestinians by participating in Al-Quds Day gatherings across Pakistan.
They demanded from the government that the government of Pakistan should also hold official celebrations on the occasion of Al-Quds Day and continue to support the people of Palestine and Kashmir under the principles of Quaid-e-Azam Muhammad Ali Jinnah.