Al-Quds Round Table Conference, Government to announce State holiday on Juma-tul-Wida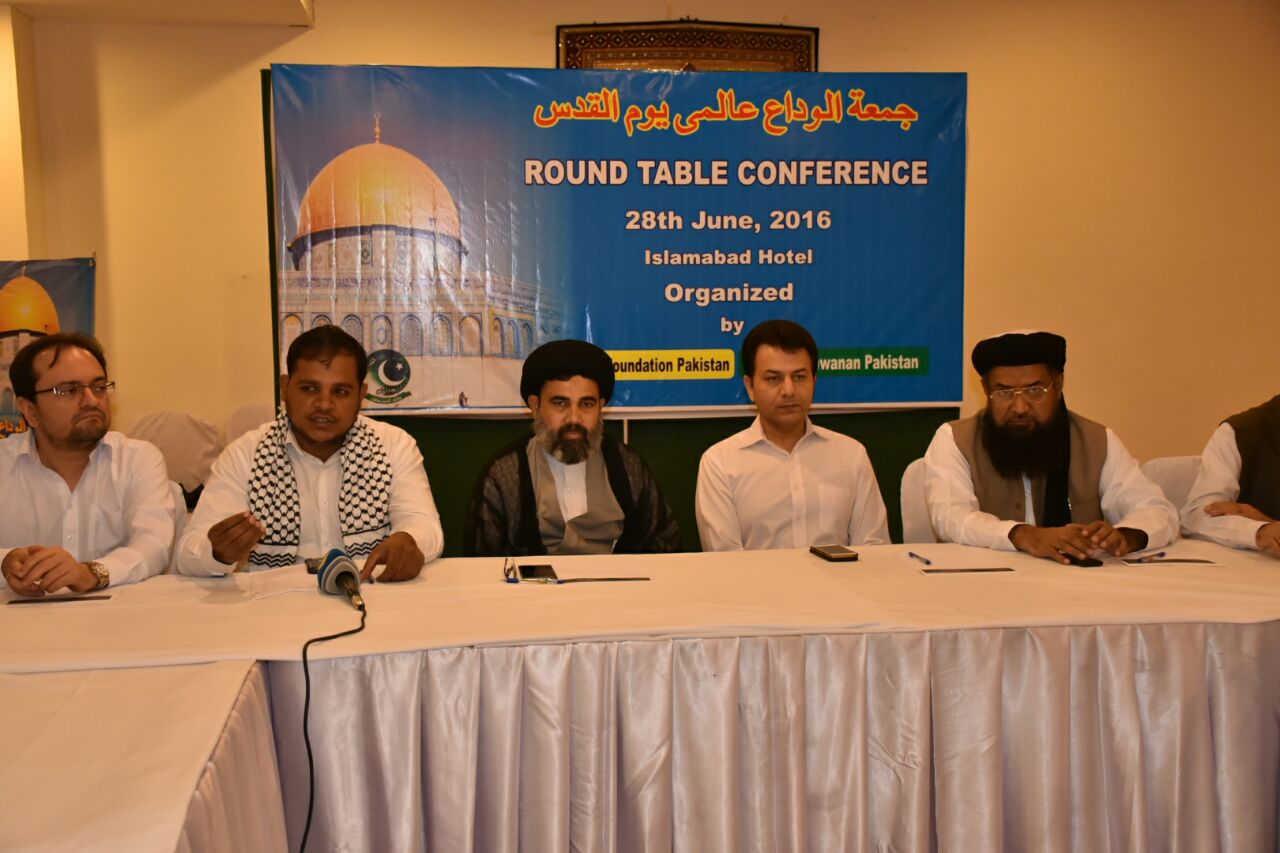 Islamabad: (PNIC) Masses to participate on Quds Day in numbers, Wont leave Palestinians stranded
Senator Zafar Ali Shah, Abdulllah Gul, Maulana Ahmed Iqbal, Mir Waiz, Abu Maryam, Fazal ur Rehman and others were present at the conference
Islamabad: Palestine Foundation Pakistan and Tehreek Jawan Pakistan organized a round table conference under the title of "O' Quds! We are coming" – a nationwide Campaign,
at a private hotel, showing their solidarity with the oppressed Palestinians and the recovery of Qibla-e-Awal.
Pakistan Muslim League-Nawaz (PML-N) leader Senator Zafar Ali Shah, Palestine Foundation Pakistan (PLF-P) Central Secretary General Sabir Abu Maryam, Majlis Wahdat ul Muslimeen (MWM) leader Maulana Ahmed Iqbal,ÂÂ Central Chairman of Tehreek Jawan Pakistan (TJP) Muhammad Abdullah Gul, Pakistan Awami Tehreek (PAT) Leader Mir Waiz and many others indentified the Zionist onslaught at Palestinians, posing a threat to the Islamic World. They appealed to the people of Pakistan to participate in Juma-tul-Wida rally in numbers to not only show their solidarity with the oppressed nation of Palestine but as well their strength and protest against the incursion of Israel in Bait-ul Muqqadas (Quds).
They demanded a state holiday on Juma-tul-Wida (Last Friday in the Holy Month of Ramazan) marking it as 'al-Quds Day' to pledge allegiance with the subjugated nation of Palestine. They suggested that the whole of muslim world to include Palestine, Lebanon, Syria, Iraq, Yemen, Libya, Sudan, Nigeria, and specially Pakistan is not only in the clutches of this Zionist regime but as well under their influence. This day would mark a difference and renew our vows with the exploited muslim world.
TJP Chairman Abdullah Gul urged Pakistani youngsters to voice their concerns against Israels' atrocities over Palestine to crumble the roots of the Zionist regime. Senator Zafar Ali Shah said the government should take heed and work for the interest of the Palestinian nation. MWM central leader Maulana Ahmed Iqbal showed his concern over the International bodies that remain silent over the day to day mayhem spread by Israeli realm. PAT leader Mir Waiz, Ansarul Aimah's Maulana Fazl ur Rehman, General (r) Ejez Aawan, Brigadier (r) Asif Haroon, Brigadier (r) Syed Nazeer, Abdul Wadood Qureishi, Dr Irfan, Arsalam Ayaz and many other addressed the audience.