Al-Quds Solidarity plan discussed by Guardian council of PLF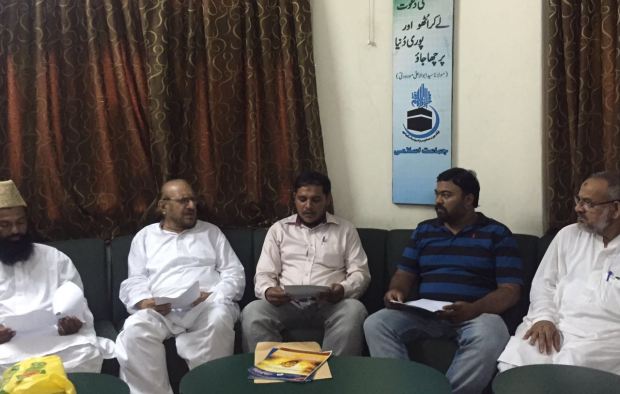 (PNIC) – The Guardian Council's members of Palestine Foundation Pakistan (PLF) including Former Member of National Assembly and Leader of Jamat-e-Islami Muzaffar Ahmed Hashmi, Jamiat Ulema
Pakistan's Central Leader Allama Qazi Ahmed Noorani Siddiqui, Pirzada Azher Ali Shah Hamdani of Pakistan Muslim League (N) , Abdul wahab of JIP, Abo Maryam and Ali Ahmer of Palestine Foundation Pakistan were present in a joint meeting at Idara Noor-e-Haq on Saturday 17 June 2016.
Leaders discussed Al-Quds Solidarity plan 2016 to mark International Al-Quds Day which will be on 25th of Ramadan Al Karim on July 1st.
They decided various programs and activities to observe International Al-Quds Day 2016. They also announced Al-Quds Solidarity campaign and said that more details will be declare in a joint press conference of political and religious parties in next few days.