All Parties Conference demands UN and OIC to stop war on Palestinians in Gaza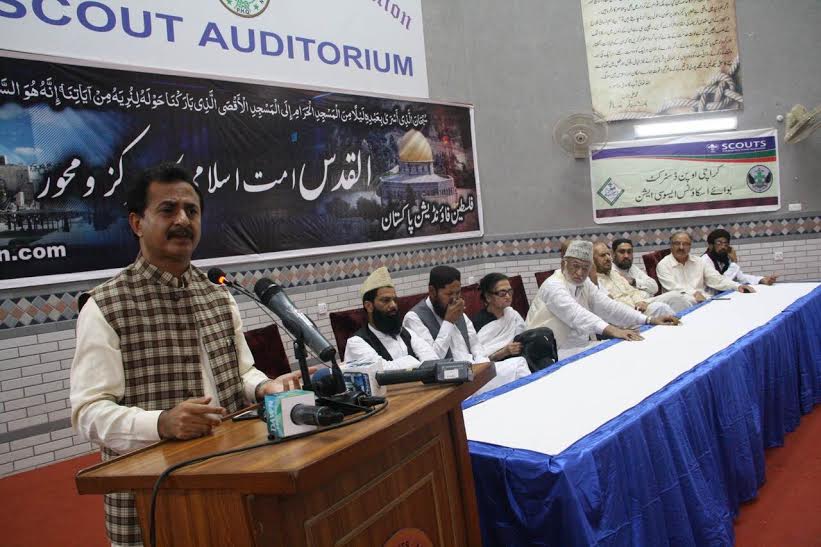 An All Parties Conference on "A Clarion Call of Bleeding al-Quds, O Muslim Wake up for God sake," has demanded of the United Nations and the OIC to play their effective role and stop Zionist regime's war on defenseless people of Gaza.
The APC was held under the aegis of Palestine Foundation of Pakistan at Quetta Press Club.
Allama Maqsood Ali Domki, Agha Hassan Baloch of Balochistan National Party,  Commander Khudai Dad Khan of Awami national Party, Ambrose John Francis, Member of Provincial Assembly Balochistan, Allama Juma Asadi, Ali Baloch of Sunni Tehrik, Jibran Masih of Minorities Alliance, Mohammad Noman of Milli Yakjehti Council, Sajid Shirazi of the ISO, Maulana Wilayat Hussain of Majlis-e-Wahdat-e-Muslimeen, Allama Barkat Ali Mutaheri, Dr Atta Ur Rehman of Jamiat Ittehad Ul Ulema  and renowned Columnist and intellectual Professor Amanullah Shadezai spoke at the APC.
They condemned the bombardment of ferocious terrorist army of illegitimate state of Israel on Gaza. They said that hundreds of children and women were martyred in the bombardments but world bodies and human rights activists failed to come to help Gaza.
They said that United States was scared of Islamic Revolution of Iran and Great Satan pushed the region to Shia-Sunni tension due to fear of revolution. They said that terrorists were hired to topple Bashar al Assad in Syria in a bid to secure Zionist regime of Israel.
They said that U.S. and Saudi Arabia dislodged Muslim Brotherhood's government in Egypt because the U.S.-led alliance is enemies of both Sunni and Shia Muslims. They rejected the artificial tension between Muslims and appreciated those who demonstrated unity and expressed solidarity with Palestinians.
They said that Muslims should join hands to annihilate the illegitimate terrorist racist state of Israel and defend sacred land of Palestine including al-Quds and Gaza.