All religious scholars will continue to support the cause of Palestine. Pir Imran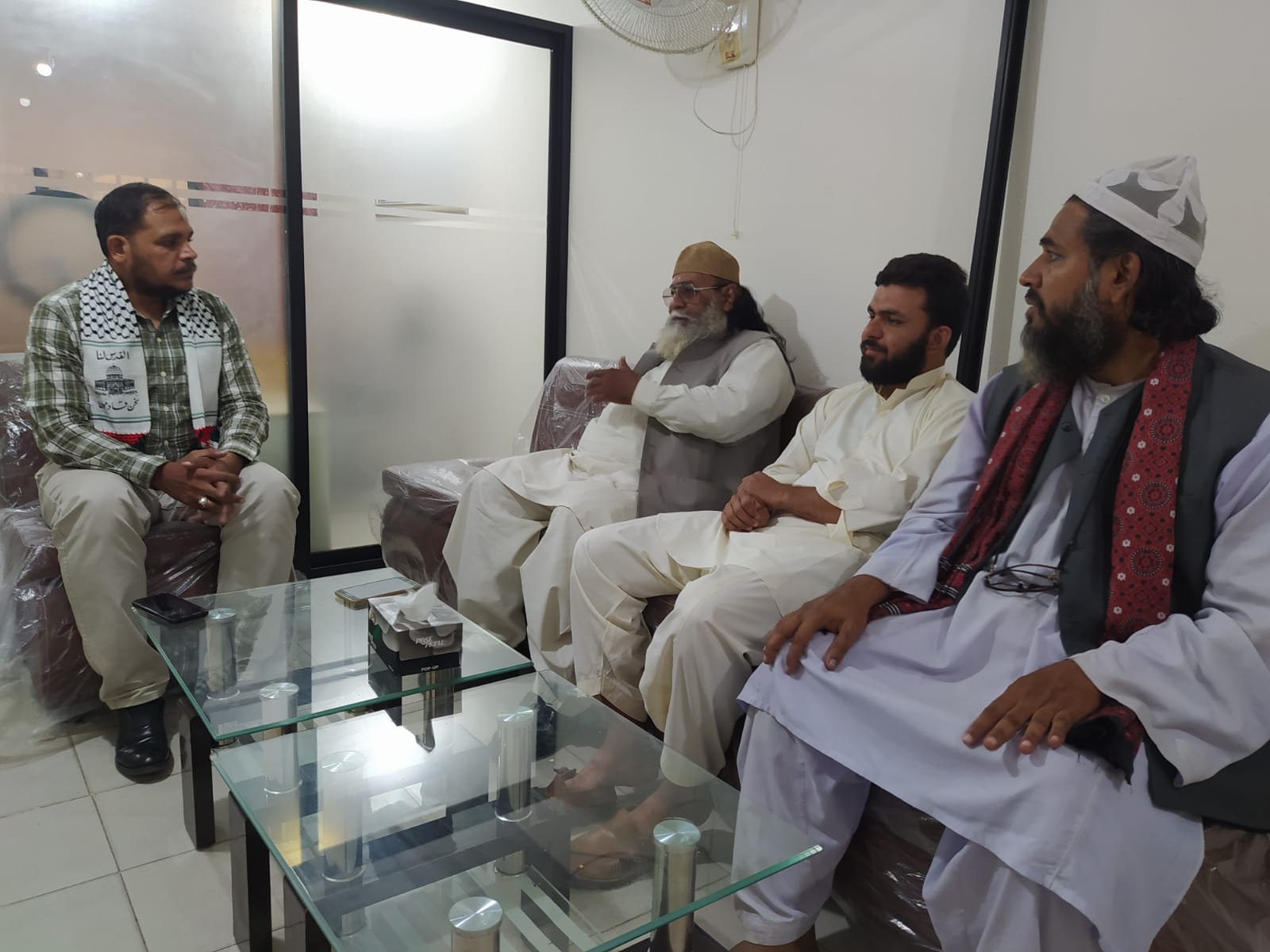 Karachi: (Palestine News-Information Center) Chairman Ulema Mashaikh Federation of Pakistan Pir Sahibzada Ahmad Imran Naqshbandi has said that Ulema and Mashaikhs have always been with Palestine cause and will continue to support Palestine cause.
He expressed these views during a special meeting with Dr. Sabir Abu Maryam, Central Secretary General of Palestine Foundation Pakistan (PLF) on Friday. Leading religious scholar Dr Mahmood Alam Jahangiri and others were present in the meeting.
Dr. Sabir Abu Maryam, Central Secretary General of Palestine Foundation Pakistan, while discussing the current situation in Palestine, told the members of the delegation that Al-Aqsa Mosque, the first qiblah of Palestine and Muslims, is in danger. The Imam of Al-Quds is being targeted by the Zionists. Palestinians are being held in illegal Zionist custody. He added that Palestinian prisoners have been on hunger strike in Zionist prisons for their release. Innocent children and women face the worst Zionist atrocities. Under such circumstances, some Arab states, including the United Arab Emirates, Bahrain, Saudi Arabia and others, are establishing relations with Israel. Zionists have set up exhibitions in the United Arab Emirates. These actions of the Arab world are not only against the Palestinian cause but are tantamount to stabbing the Palestinians in the back.
Pir Sahibzada Ahmad Imran Naqshbandi, Chairman, Ulema-e-Mashaykh Federation of Pakistan, said that the role of Ulema-e-Mashaykhs for the Palestinian issue and Kashmir issue would be further strengthened. On this occasion, he strongly condemned the Islamophobia of the Western countries and said that the Western governments want to distort the face of Islam while supporting the unholy cancerous existence of the usurper Israel. Declared a serious threat to the Muslim world and the world of Islam and humanity.
During the meeting, the leaders pledged to continue their joint efforts to promote mutual unity and solidarity in Pakistan.
Pir Imran Naqshbandi and Dr. Mahmood Alam paid tribute to the continuous struggle of Palestine Foundation Pakistan and said that they will always support Palestine Foundation for this cause.