Anti-Israeli demonstrators demand Muslims control over al-Quds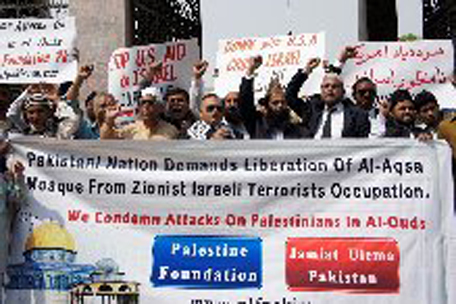 A demonstration was staged outside Memon Masjid after Friday prayers to protest against the attack on Muslims and denial to their entry into al-Aqsa mosque for Friday prayers by Zionist Israeli forces.
Under the aegis of Palestine Foundation (PLF) of Pakistan, the protesters were carrying banners and placards and were raising slogans against the illegal occupation of the Zionists over Palestine and holy sites there.  
Speaking to the protestors, PLF leaders Allama Qazi Ahmed Noorani of Jamiat Ulema Pakistan Karachi President (JUP), Sabir Karbalai of Palestine Foundation Pakistan, Former ameer of Jamat-e-Islami Karachi  (JI) Muhammad Hussain Mehnati, Mehfooz Yar Khan of Pakistan Awami Muslim League (PAML), Allama Mubashir Hassan of Majlis Wehdat Muslameen Karachi (MWM) & Nasir Rizwan Advocate, Qari Shakeel-ur-rehman condemned the Zionist Israeli regime's ban on entry of Muslims below 50 years of age, to offer prayers in the mosque.
 
They demanded of the United Nations, OIC and Arab League to punish the Zionist occupiers for illegal occupation of the sacred land of Palestine. They said that it was a moment of concern for all the Muslims across the world that Palestinian Muslims were being denied entry into the holy mosque for prayers. They urged the Muslims to rise to the occasion and register their protest to their governments.
 
The PLF leaders urged the Palestinian Authority, Hamas, Islamic Jihad and Popular Front of Palestine to join hands and make united efforts and struggle for liberation of Palestine including al-Quds. They asked to bury their differences and resist the Israeli attacks and counter the Zionist plots.
{gallery}plf_demonstrate{/gallery}