APC on Nakba (Catastrophe) Day vows to continue support for Palestine Cause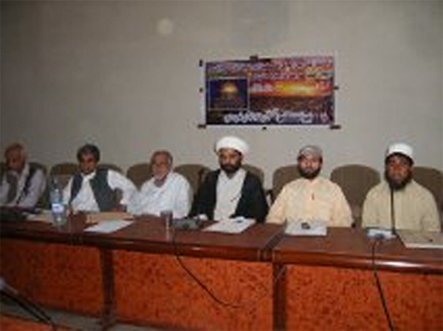 An All Parties Conference (APC) on Nakba Day has vowed on Tuesday that the unwavering support to the just cause of Palestine would be continued.
Palestine Foundation (PLF) Balochistan chapter hosted the APC at Press Club Quetta. Those who spoke at the seminar were: Awami National Party's vice president Commander Khudaidad, Jamhoori Watan Party's Yousuf Notizai and Mir Naseebullah Shahwani, Majlis-e-Wahdat-e-Muslimeen's Maulana Maqsood Domki, Jamiat Ahl-e-Hadees's Maulana Shaikh Mohammad Ismail, Balochistan National Party's Agha Khalid Dilsoz, Jamaat-e-Islami's Amanullah Shadzai, Tanzeem-e-Islami's Iqtidar Khan.
They expressed solidarity with the oppressed Palestinians and vented anger against the United States and so-called international community for their support to Zionist regime of Israel.
The APC said that Palestinians have been expelled from their homeland 64 years ago and till now they are denied their legitimate right to return their homeland. In a resolution adopted unanimously at the APC it was stressed that whole of Palestine from land to sea is of Palestinians and nobody else has any right to claim any part of Palestine. They vowed to continue to support the oppressed people of Palestine and would leave no stone unturned for this just cause.
They said that the world's criminal silence could not help Zionist regime to continue its brutalities. They said that United Nations, UNHCR and UNRWA should help Palestinians instead of making lip-service to Palestinians rights. They said that United Nations and handful countries, allied with the global imperialism were culprits of Palestinians because they helped Zionists claim on the land of Palestine. They said it was totally unfair because world bear witness to the worst conditions of Palestinian refugees and the Palestinians living in Gaza and West Bank.