APC on Palestine demands revocation of Israeli UN membership for Gaza War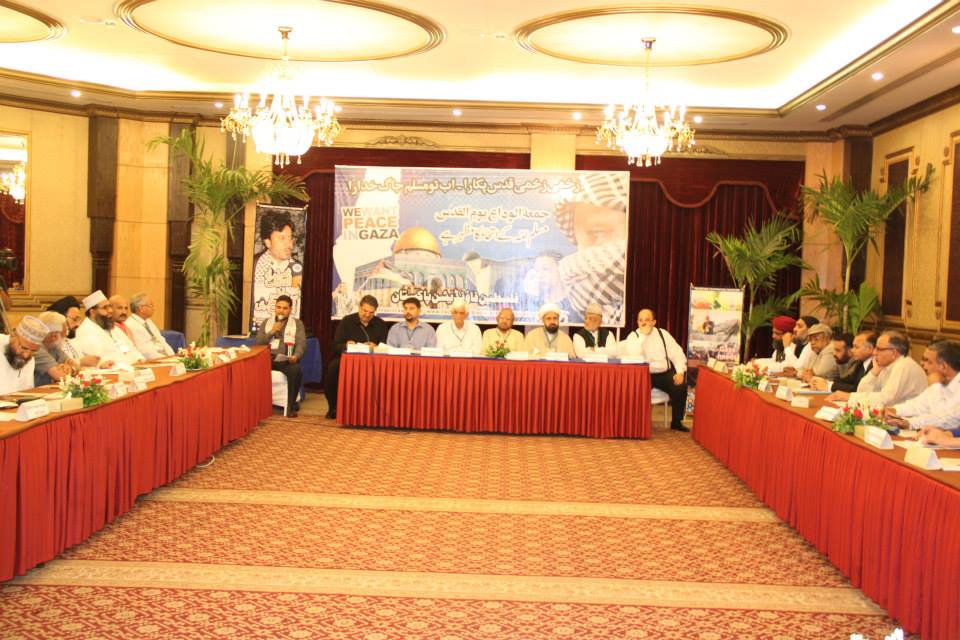 An All Parties Conference on Palestine has demanded on Monday that United Nations should revoke membership of Zionist regime of Israel for its aggression on defenseless Palestinians of Gaza.
The demand was made in a unanimously adopted resolution at the well-attended APC on "A Clarion Call from Bleeding Quds, O Muslim Wake up for God's Sake," that was held at PC Hotel in Karachi under the aegis of Palestine Foundation (PLF) Pakistan.
Those who spoke at the APC included: Pakistan People's Party' Senator Taj Haider, Pakistan Muslim League Nawaz's Salim Zia and Azhar Hamdani,MQM's MNA Ali Raza Abidi, Majlis-e-Wahdat-e-Msulimeen's Allama Amin Shaheedi and Allama Sadiq Raza Taqvi, Jamaat-e-Islami's Muzaffar Hashmi and D Meraj ul Huda, Pakistan Tehrik-e-Insaf's Shamim Firdous Naqvi, Jamiat Ulema-e-Pakistan's Allama Qazi Ahmed Noorani, Qari Mohammad Usman of JUI-F, Shahid Ghori of Sunni Tehrik, All Pakistan Muslim League's Siddique Mirza and Saif ur Rehman, Mehfooz Yar Khan of Awami Muslim League, Muzammil Hashmi of Jamaat ud Dawa, Pakistan Awami Tehrik's Dr S M Zameer and Qaisar Iqbal, Karamat Ali of PILER, human rights activists Mudassir Hussain of the HRDP, Shehzad Mazhar and Dr Salahuddin, Awami National Party's Younus Buneri.
They appreciated Palestine Foundation for gathering different political parties on the issue of Palestine. They also eulogized the role of Imam Khomeini for highlighting the issue of Palestine and expressing support for Palestinians by observance of an international Quds Day.
Senator Taj Haider announced that Israel is an illegitimate artificial state that was imposed on Palestine by the global imperialism. He said that Islamic Summit was held during the tenure of PPP's Zulfikar Ali Bhutto-led government where Islamic leaders pledged to liberate al-Quds. He said that Z A Bhutto gave the idea of oil as weapon due to which Zionists and imperialists got him hanged and Zia usurped power in Pakistan.
PPP would hold a protest against war on Gaza on Wednesday. He asked all political parties to bring their parties flags and join the protest against Zionist regime.
Allama Amin Shaheedi, deputy secretary general of Majlis-e-Wahdat-e-Muslimeen, said that all pages on social media that were highlighting the Palestine issue were being closed because the Zionist Israel wanted so. He said that Pakistan government should also tell nation why she is toeing the Zionist line.
Salim Zia of the PMLN said that Pakistani nation wanted stern action against the Zionist aggressor. He also criticized the West for not playing their role for the oppressed Muslims anywhere around the world. He said that the West was hypocrite on the issue of Palestine.
"OIC should wake up and all Muslim countries should play effective role. We appeal to those Muslim countries who have diplomatic ties with the Zionist regime, they should recall their ambassadors to Tel Aviv," he said.
Ali Raza Abidi, MNA belonging to the MQM, said that his party chief Altaf Hussain had sent a letter to the UN Secretary General seeking practical steps to end Gaza war. He said that all Muslims want action against the Zionist crimes. He said that ISIL and Taliban target Syria, Iraq, Pakistan and Afghanistan in the name of Islam but they didn't go to Gaza to help oppressed Palestinian Muslims there. He said that Zionist regime was testing the patience of the Muslims during the holy month of Ramazan.
Halim Adil Shaikh, an official of Pakistan Muslim League-Q, said that International; Quds Day should be observed at official level and government should hold special events to observe the Quds Day.
"We should not expect anything good from the United Nations. OIC has been dead. Unfortunately, Pakistan envoy to the UN remained silent. Prime Minister should have launched a diplomatic initiative to sort out Palestine issue," he said.
PMLQ official announced that his party would lodge protest against Israeli war on Gaza in Quaidabad on Tuesday. He urged that Israel needs to be punished because Zionists don't understand the language of civility and logic.
Shahid Ghori of Sunni Tehrik said that OIC and Arab League have become misnomers. He said that OIC and Arab League are puppets of U.S.-led Zionists. He criticized the Pakistan media for not highlighting the plights of Gaza.
{gallery}apc_khi{/gallery}