Arab leaders adopt May 15 as Arab and international day to commemorate Palestinian Nakba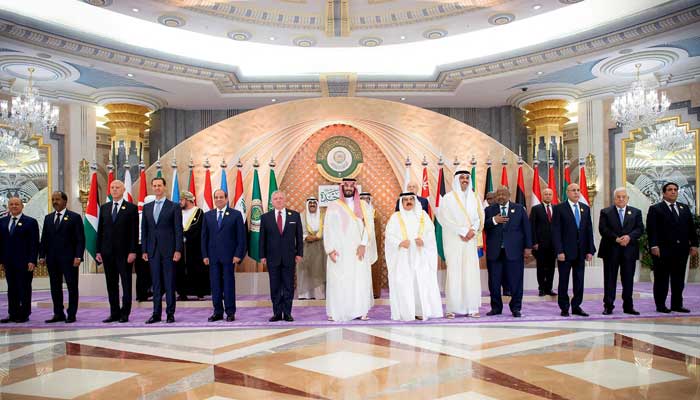 The Arab leaders adopted May 15 of each year as an Arab and international day to commemorate the Palestinian Nakba, or catastrophe, which refers to the mass forced expulsion of Palestinians by Zionist militias to make way for the creation of Israel in 1948.
Convening in Jeddah, Saudi Arabia, for the 32nd Arab League Summit, the leaders of the Arab countries agreed on Friday to take measures at the level of states and international and regional groups to commemorate the Nakba as a basis for ending the suffering of the Palestinians.
They affirmed the right of the Palestinian refugees to return and to compensation in accordance with the resolution of the United Nations General Assembly. No. 194 of 1948.
The Arab leaders condemned the denial of the Nakba in all forms, including questioning the existence and history of the Palestinian Arab people on their land, downplaying the crimes against humanity committed by the Zionist militias in 1948, and the vindication of the Zionist militias and their accomplices of their responsibilities for those crimes.
The Arab leaders urged the International Criminal Court to complete the criminal investigation into the war crimes and crimes against humanity committed by Israel against the defenseless Palestinian people, including settlement and annexation crimes, the aggression against Gaza, the murder of civilians, journalists and paramedics, and the forced displacement of Palestinians from their houses.
The summit also condemned the apartheid regime imposed and practiced by 'Israel', the occupying power, against the Palestinian people, including the systematic policies of persecution, subjugation, forced displacement, unlawful murder, torture, restricting the freedom of movement, detention without charges or trial and deprivation of freedoms and basic rights of the Palestinians.
The Arab leaders slammed the widespread Israeli crimes against the Palestinians, including the recent campaigns of the brutal and continuous Israeli siege and aggression on Jerusalem, Nablus, Jenin, Jerich, the Gaza Strip, and the rest of the occupied Palestinian territories.
The Arab summit affirmed its refusal to recognize 'Israel' as a Jewish state, affirming the right of the Palestinian people to self-determination and the right of refugees and their descendants to return to their pre-1948 homes.