Army Abducts Three Palestinians Near Nablus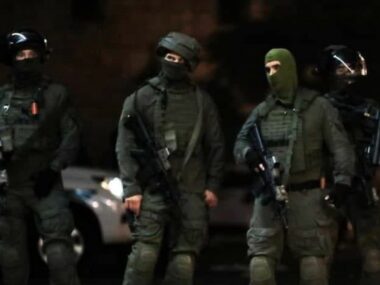 Israeli soldiers abducted, on Tuesday evening, three Palestinians near Nablus in the northern part of the occupied West Bank.
Local sources said several army jeeps invaded Beit Furik town, east Nablus, and searched several homes.
The sources added that the soldiers abducted three young men identified as Karim Bakir, Nour Bakir, and Mustafa Mleitat.
In related news, the soldiers invaded the al-Jalazoun refugee camp, north of Ramallah in the central West Bank city, leading to protests before injuring a young man in the face.
The soldiers also invaded a barbershop in the refugee camp, owned by Ahmad Sharaka and Ahmad Batanja, and ransacked it, causing excessive damage.
On Tuesday night, Israeli soldiers killed a Palestinian child, Mohammad Rezeq Salah Shehada, 14, in the al-Khader town, south of Bethlehem, south of the occupied Palestinian capital city, Jerusalem, in the West Bank.