British-Palestinian MP renews call for UK to recognise Palestinian state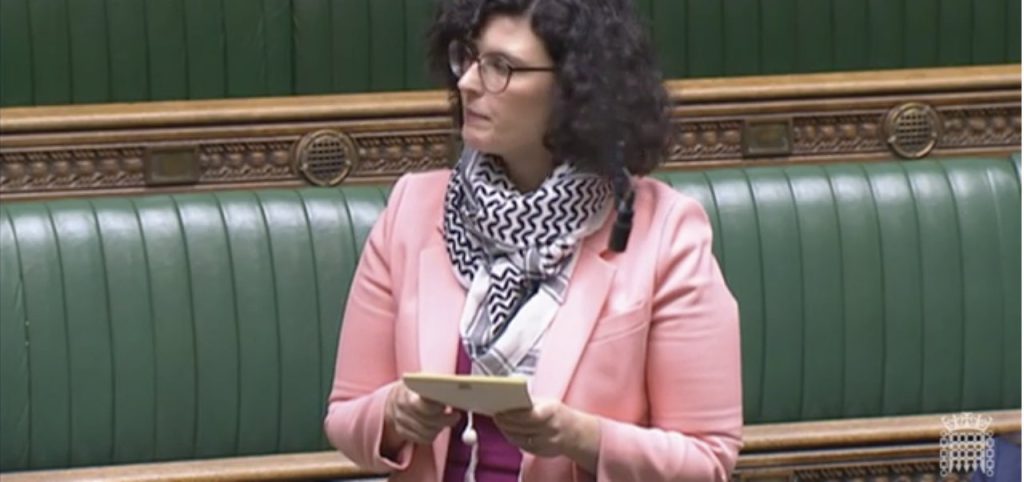 British Liberal Democrats foreign affairs spokesperson of Palestinian descent Layla Moran has renewed her call for the UK to immediately recognise a Palestine state, saying Israeli settlement growth "acts like a woodworm" destroying "the foundations of any peace process".
Moran, who is the first British MP of Palestinian descent, made a passionate speech before the House of Commons on Friday on her Palestinian Statehood Bill.
She spoke briefly about her family's own history in Jerusalem, where her mother is from, and how the people coexisted before the creation of the State of 'Israel' and Nakba that unfolded.
"My mother comes from an old Greek Orthodox Jerusalem family. We are proud Jerusalemites and proud Palestinians. Her grandfather was called Wassef Jawharriyeh, and he chronicled what life was like in unique diaries that now act as source material for historians. He told of a Jerusalem where Christians, Muslims and Jews lived side by side in friendship and respect," Moran said.
Moran added, "But those relationships faltered through the Nakba and we ended up, like so many, having to flee our beloved city."
"My grandfather George would tell tales of how when he was a boy, after the bombing of the King David Hotel in 1948, the family sought sanctuary at the Mount of the Temptation in Jericho and lived there for six months. It seems fitting that, as the MP for Oxford West and Abingdon, my constituents also include the people of Jericho, albeit Jericho, Oxford. Above all, my mother would describe the physical and mental suffering and what it was like to be a dispossessed refugee. Those feelings have never left her, nor her brothers nor her sisters."
"I take it upon myself, as the next generation, to carry Jerusalem in my heart and do whatever I can to safeguard Palestine's future."
The Palestine Statehood (Recognition) bill presented by the Liberal Democrat MP will seek to recognise Palestine "as a sovereign and independent state," based on pre-1967 borders.
By recognising a Palestinian state, Moran also wants to see the Palestinian mission in London upgraded to an embassy and given full diplomatic status.
This Bill, Moran said, "does what it says on the tin: it asks the British Government to recognise the state of Palestine, but to do so without any preconditions. In the scant time I have today, I want to make the case for why."
The Balfour Declaration "was a historic aberration, one, that whether we like it or not, altered reality in the region, and played a significant part in the story where peace now has never seemed so more elusive", she said.
Moran added that the UK government had a historic obligation toward the Palestinian people due to this but could repair some of the damage by recognising that, like 'Israel', they were also entitled to a state of their own.
She said her draft law offers something precious to the Palestinians, which is hope, calling on the UK to follow in the footsteps of 138 other countries which also recognise Palestine.
Further defending the bill, Moran said recognition of Palestinian independence and sovereignty would allow Palestine to become a UN member state which would help it raise its own funds, rather than rely on foreign aid and taxpayers' money in 'Israel'.
Moran's speech also shed light on recent violence in the occupied West Bank, with 89 Palestinians killed by Israeli forces and towns subject to pogroms by settlers.
"The current Israeli government whose cabinet includes convicted criminals is deeply problematic," Moran said, adding "those politicians pose an existential threat to Israel as a democracy as they try to emasculate the judiciary, and I have been heartened to see the protests both in the UK and in Israel on that point."
Moran also warned that, contrary to previous governments in 'Israel' which tended to merely turn a blind eye to settlement activity, the current government led by Benjamin Netanyahu has made settlement construction and expansion a pillar of domestic policy.
Far-right National Security Minister Itamar Ben-Gvir and Finance Minister Bezalel Smotrich both live in settlements on occupied land and are darlings of the settler movement.
Settler violence continues to pose a grave threat to Palestinian lives and dignity, with the MP giving the recent pogrom in the town of Huwwara as an example.
"I ask the Minister to look at what happened two weeks ago in Huwara, where violent settler groups ransacking the village were egged on by Cabinet Ministers in Israel. That cannot be allowed to continue," Moran said.
"We need to focus on the settlements, because those encampments have led to huge tensions. Palestinian people, especially young people, are increasingly despondent and desperate."
"Settlement proliferation acts like a woodworm that riddles the foundations of any peace process or viable Palestinian state. The international community, frankly, sits on its hands. There is occasional condemnation, but my question to the Government and other Governments is, "What are you actually going to do about it?" It is no longer enough just to tweet about it. We must do something."
Moran warned of a third Palestinian intifada, or uprising, if 'Israel' is not held to account for its ongoing aggression in the occupied territories.
Taking this into consideration and "with the absence of a viable peace process," Moran said it was "only fair and only right that Palestinians are given their own state".
"There is no one thing which is going to fix this problem, there is no act that is going to erase what has happened in the past 100 years," she continued.