Colonial settlers raise Israeli flag in Al-Aqsa Mosque ahead of far-right "Flag March"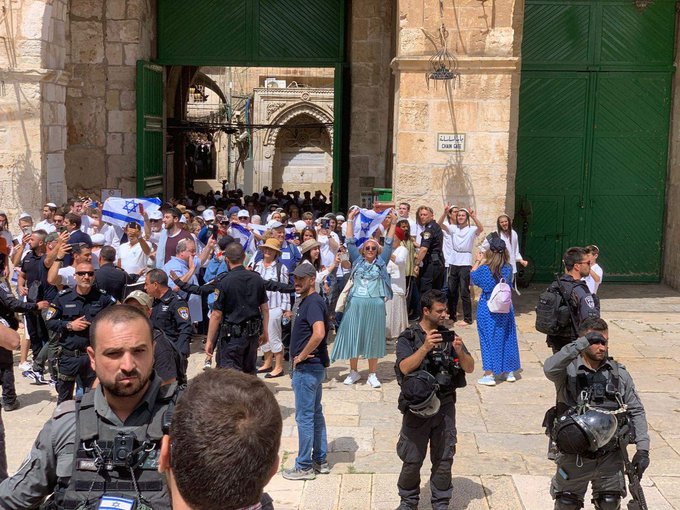 Occupied Jerusalem- Hundreds of Israeli far-right activists and settlers raised the Israeli occupation flag during their today's earlier raid of Al-Aqsa Mosque ahead of the mass "Flag March" in occupied Jerusalem later in the day.
Palestinians in the mosque were assaulted by Israeli forces, who tried to empty the courtyards of Muslim worshipers to make way for the settlers.
Around 20 Palestinians had been arrested while at least 1,600 heavily protected settlers toured the courtyards of the mosque between 7am and 11am local time and later between 1:30pm and 2:30pm, local sources reported.
Earlier, Israeli forces stopped Muslim worshippers from entering the mosque ahead of dawn and noon prayers.
According to local sources, all men under the age of 40 were turned back, while some elders and women were also denied access.
During the five hours of incursions, some settlers were seen performing Talmudic rituals, singing and dancing inside the courtyards of the mosque, which violates international agreements over the status quo in al-Aqsa.
They also raised the Israeli flag in groups for the first time in recent memory, without interference from the forces.
Video footage also showed Israeli youths tearing down and burning the Palestinian flag after taking it down from a Palestinian woman.