Defending Palestine and al-Quds is obligatory on all Muslims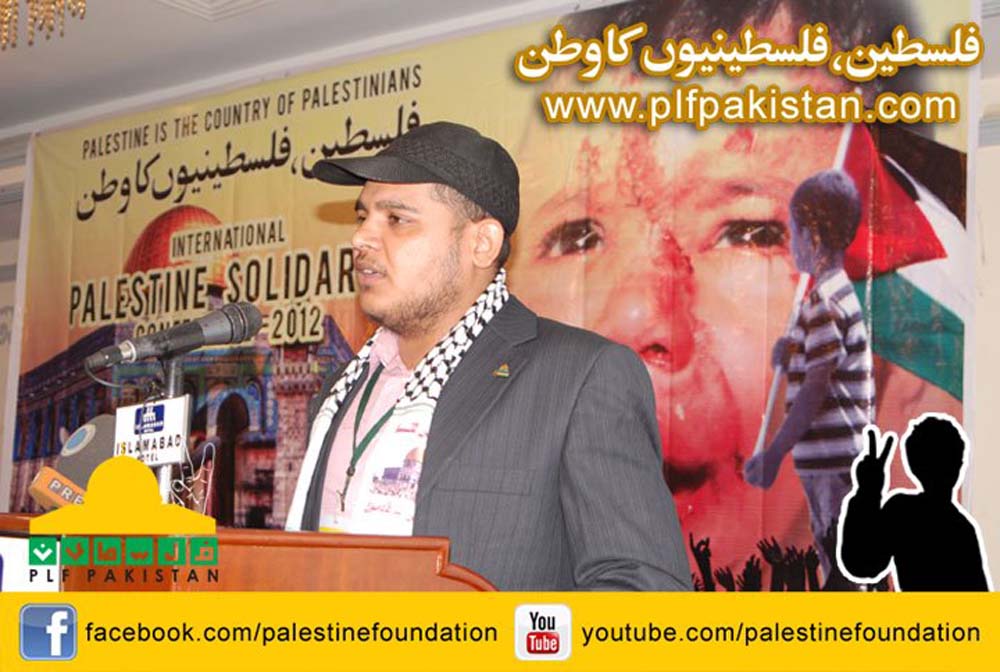 By Sabir Karbalai (Secretary, Palestine Foundation of Pakistan)
Palestine is not only an issue between Palestinians and Israel but it remains an issue of all nations of Middle East also. Since third holiest sites of Islam
and first holiest sites Christianity are situated in Palestine, the issue pits Muslims and Christians of the world against Israel. Hence, keeping Palestine issue alive is obligatory on all Muslims and Christians also. It seems that United States and the members of European Union and Israel are trying to divert the world attention from this issue by understating the importance of the issue. They try to keep it limited to an issue between Israel and Palestinians. Greater Israel poses a geo-strategic threat to all nations of the Middle East. Israel was imposed on Palestinian land near Suez Canal and she controls main sea routes.  Israel has occupied East Jerusalem where al Aqsa mosque and al Quds are situated. Extremist Jews set Aqsa mosque on fire. Sanctity of Aqsa mosque has been violated time and again. Israel wants to destroy more than 3,000 sacred sites of Islam in al Quds. Hundreds of thousands of Palestinians have been forced to live in exile and another hundreds of thousands have been killed and injured. Children, women and elderly Palestinians are also the victims of Israeli brutalities. Therefore, Palestine is a human issue and Israel poses threat to humanity. Keeping in view of facts, it becomes quite clear that Palestine is not an issue between al Fatah-led Palestine Authority and Israel and they can sort out the dispute through mutual talks. Well-educated people should not fall to the propaganda that Israel should return to pre-1967 borders and then the issue will be resolved. In fact, Israel never existed on the land of Palestine even before 1948. Israel is name of an illegitimate occupation of racist Jews or so-called Zionists. They were brought from their countries of origin across the world. Therefore, just solution requires no entity called Israel. It is holy month of Ramzan and all Muslim adults hold fast in this month. They should pray for an end to illegitimate occupation on Palestine. They should give importance to the Palestine and Palestinians in prays.      
 On the one hand, enemies have tried to tarnish the image of Palestine and Palestinians and understate the plights they are suffering from. And on the other, a brave and intrepid man Imam Khomeini appeared on the scene of the world politics. He highlighted the issue of oppressed Palestinians in Iran, Iraq, Turkey and France. This great leader of Islam called Israel number one enemy of Islam and Muslims. Imam Khomeini appealed to the world people and Muslims in particular that they must observe last Friday of Ramzan as International Quds Day and stage protest on that auspicious day. He revived this day to express solidarity with people of Palestine. He declared it a day of jihad against the world's oppressors including United States and Israel. Non-racist Jews have also opposed the establishment of Israel. They have condemned the massacre of Palestinians. They have formed organisations and work in many countries against Israel. They work against Zionists and Zionists also are working in all over the world. 
Zionism: 
Zionism is name of an ideology. The term is coined in the name of Zion, a hill or rock in Jerusalem. Zionists want to control the world through establishment of their government in Jerusalem.
This conspiracy came into light after The Protocols of Learned Elders of Zion was recovered. However, Zionist ideology is based on Theodore Hertzl's philosophy. He dreamt of Jewish homeland. It is said that modern Zionists have planned to destroy Muslim world in collusion with Christians. In second phase, they will destroy Christians also. Zionists expanded occupation by Jewish settlement in Palestine. In 1948, Zionist organisation Haganah massacred Palestinians and forced remaining Palestinians to live in exile. Palestinians call that day as Youm-e-Nakba. Israel also killed several Palestinians in Sabra and Shatila camps. Israel imposes wars on Lebanon in 1978, 1982 and 2006. Israel imposed wars on Palestine in 1948, 1967 and 2008. Israel attacked Gazans in 2008 and has maintained a siege from 2007 to date. Israeli forces attacked Freedom Flotilla in 2009. 
Palestine issue and Pakistan:
  It is a positive policy that government of Pakistan has not recognized Israel so far. People of Pakistan love Palestine and Palestinians very much. This pressure from people also makes the rulers not to recognize the illegitimate state of Israel.  However, there remained some persons who tried their level best to contact Zionist regime through backdoor channels. Pakistan came into being in the name of Islam and Islamic ideology. Zionists occupied Palestine to establish a "Jewish" homeland there. Islam is a religion of peace and sanity. Unlike Pakistan, Israel's original ideology is not based on Judaism but Israel is a Zionist project. Therefore, its culture is based on what Palestine has been experiencing since 1940s. Israel detests Pakistan and ideology. Pakistan has become a nuclear state and Israel and its allies dislike this fact. They have used their proxies to divide Pakistanis and rule here through their proxies. They want to control Pakistan affairs so that Pakistanis should not pay attention to Muslim world and in particular Palestine issue.
Last Friday of Ramzan is Quds Day, Allah's and his Prophet (PBUH)'s Day and a Day of Islam: 
Palestine issue was put into cold storage since Arabs lost to Israel in successive wars since 1948 war. Israeli forces were considered invincible. This impression made almost all Arab governments to admit Israel as an invincible force. Even Yasser Arafat had to come to conclusion that talks instead of resistance should be held with Israel. Due to Israel's power and talks between Israel and Arafat, Muslims attention was gradually diverted from the issue. Gradually, minds were set to recognize Israel as a state because of its invincibility and defeats of Arabs and Muslims. Under these circumstances, Imam Khomeini appeared on the scene and he revived the otherwise dead issue of Palestine. He voiced protest against Zionist atrocities. He supported intifada against Israel. His bold stance created a wave of Islamic awakening. He called Israel a cancerous tumor that should be cut off. Credit goes to Imam Khomeini that on his appeal Quds Day was observed in Iran first and then this day was being observed in Africa, Europe, America and Asia. All Muslims express their dislike and anger against United States and Israel. All Muslims mark solidarity with Palestine. Whole of the world holds conferences against Zionist Israel's crimes. Boycotts of Israel and its goods are held. 
Quds Day and Duty of Muslim Ummah:
 Hazrat Muhammad (PBUH), last Prophet of Allah, had said that he is not Muslim who gets up in the morning and he doesn't think about the conditions of Muslims. It is possible that Imam Khomeini's movement against Zionism and Israel is based on this saying of the Prophet (PBUH). In view of saying of Hazrat Muhammad (PBUH), it is obligatory on all Muslims to act upon the appeal of Imam Khomeini. Otherwise, their prayers and fast in Ramzan could go in vain. We all should feel the pain of Palestinians. It is in the interest of the Islamic Ummah and Islam itself that Muslims must establish unity and voice their united protest against Israel. Down with USA and down with Israel are the slogans that must be raised by all Muslims. Muslims have witnessed that Israel has not only occupied Palestine but Israel has continued the occupation of Syria, Lebanon and Egypt. Israel has imposed wars on all Arabs and Muslims. To weaken Muslims is the target of Israel. Muslims are duty bound to give a tit for tat response to Israel.