Delegation of Palestine Foundation Pakistan meets President Karachi Press Club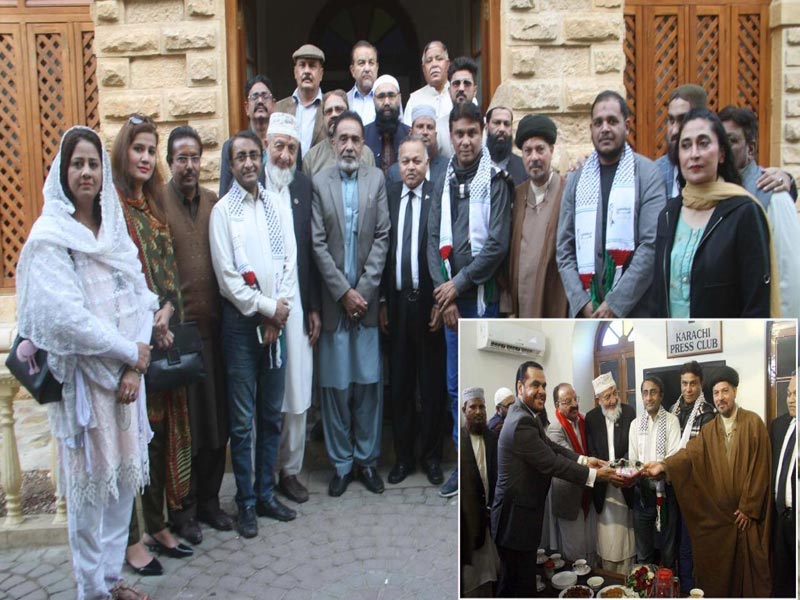 Karachi(PNIC) Palestine Foundation Pakistan's Guardian members including Ex-Member of Parliament Muhammad Hussain Mehnati, Ex-Member of Sindh Asselbmey Mahfooz Yar Khan, Allama Qazi Noorani of JUP, Pir Azher Ali Hamdani of PMLN, Israr Abbasi of PTI, Moulana Baqir Zaidi of MWM, Major (r) Qamar Abbas, Matloob Awan Qadri of APST, Syed Shabbar Raza of JAP, Chairman of PILER Karamat Ali, Sadiq Sheikh of PMLQ, Masroor Hashmi of ASC during the meeting with newli elected president of Karachi Press Club Imtiaz Faran and Secretary Arman Sabir said that the struggle against Zionist oppression in Palestine would continue and Pakistani nation strongly supporting the Palestinian cause and resistance.
During the meeting leaders said that US administration not only involved in the conspiracy against Palestine but also against Pakistan.
US-israel and India nexus is activated in the region against south Asian peace. They added:
PLF leaders and KPC members emphasize that Palestine is the homeland of Palestinian and remain with them. They also condemn the assassination of Gen. Qasim Sulaimani and Iraqi forces commander Abu Mahdi Mahindas who was martyred in Baghdad in a terror attack by US forces.
The participants prayed for the martyred people specially for Gen.Qasim Sulemani and Abu Mahdi during the meeting
Talking to the delegation of the Palestine Foundation Pakistan, KPC president Imtiaz Farran and Secretary Arman Sabir said that, journalist community is facing Zionist terrorism in occupied Palestine. Israeli regime is violating all international laws. They announces support for the Palestinian cause as usual and assured the Palestinian Foundation Pakistan of all possible support. The Palestinian Chafia also be presented to KPC President and secretary with a special sign of Palestine on the occasion.
Qazi Zahid Hussain, Amber Nazir, Saleem Qadri, Tajwar, Saloomi, Aman Kakakhel, Imran Shehzad and others were also present in the meeting.