Despite Israeli restrictions, thousands of Palestinians perform Friday prayer at Al-Aqsa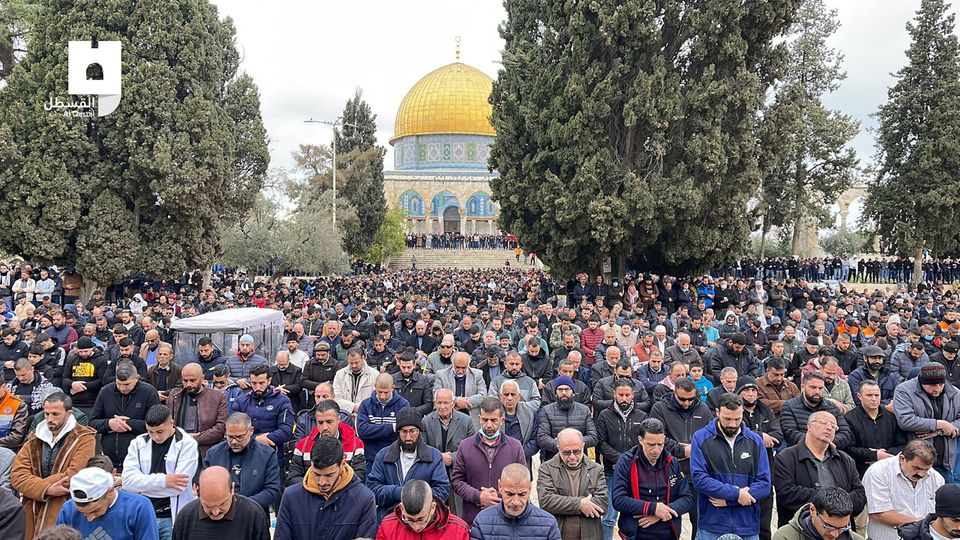 Occupied Jerusalem – Over 50,000 Palestinian worshipers performed Friday prayer at Al-Aqsa Mosque in the occupied city of Jerusalem.
Local sources said that despite the Israeli restrictions, nearly 50,000 people performed the Friday prayer at the courtyards of the Al-Aqsa Mosque.


Earlier today, well-armed Israeli occupation forces obstructed the movement of dozens of Palestinians heading to the Al-Aqsa mosque, searching them, harassing them, and inspecting their ID cards
They also prevented dozens of Palestinians coming from the occupied West Bank from entering and praying in the holy site.
Hundreds of Israeli colonial settlers, backed by forces, organized a provocative march, earlier today, behind Bab Al-Mughrabi Gate, one of the Gates of the Old City of Jerusalem and is under full-Israeli control, and also danced in a provocative way at Bab Al-Qatanin area.
Every Friday, thousands of Palestinians stream to the Al-Aqsa mosque, the world's third-holiest site for Muslims, to recite the Holy Quran before performing Friday prayer.
The Palestinian worshipers are always provoked, assaulted and detained by Israeli forces stationed at the gates of the mosque and deployed in its courtyards.
The occupation forces facilitate and protect the Israeli settlers' incursions to the mosque which has been intensively allowed by the occupation authorities since 2003, despite repeated objections and warnings by the Palestinian religious authorities as the visits provoke worshippers of the mosque.
Since the start of 2021, 34,562 settlers broke into the holy site, setting a new record, as in 2020, 19,000 settlers broke into the mosque and 29,700 settlers in 2019, according to Al-Qastal, a Palestinian network hub for Palestinians in occupied Jerusalem.
Jews refer to the area as the Temple Mount, claiming it was the site of two prominent Jewish temples in ancient times.
The complex also includes the Church of the Holy Sepulchre, one of the most sacred Christian sites in the world.