Dozens Israeli settlers storm archeological site of Sebastia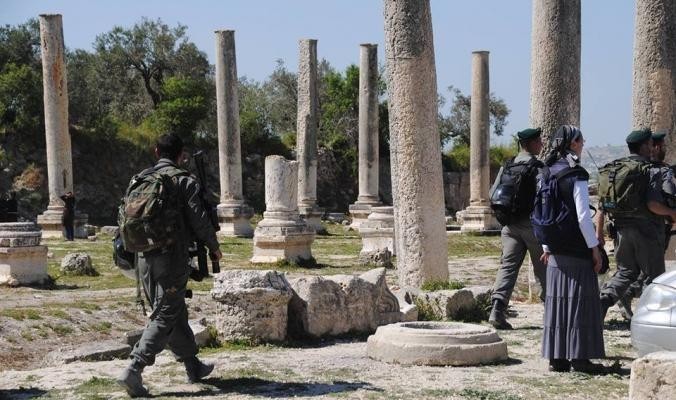 Nablus – Dozens Israeli settlers, backed by forces, stormed the archeological site of Sebastia in Nablus in the occupied West Bank, earlier on Monday.
Local sources said dozens of Israeli colonial settlers forced their way into the site under the protection of the Israeli forces, who deployed earlier today at the village entrances and proceeded to close the site, preventing Palestinians from accessing it, to make room for the settler intrusion.
Sebastia is an ancient town dating back 3,000 years. It extends over 5,000 dunums [1,235 acres] and is inhabited by 3,500 people. Herod the Great named the city Sebaste — meaning Augustus — in honor of Roman Emperor Augustus Caesar in 27 B.C.
The city, famous for its dozens of Roman archaeological pieces and sites, continuously faces attacks by Israeli settlers and the Israeli forces, who have their eyes set on its archaeological sites.
The settlers repeatedly raid the archeological site of Sebastia as Israel's archeological activities in Palestinian territory aim to extend the policy of dispossessing Palestinians of their lands and cultural assets.
There are nearly 700,000 Israeli settlers living in 256 illegal settlements and outposts scattered across the occupied West Bank, including East Jerusalem. Israeli settlements are illegal under international law.