Extremist Israeli settlers vandalize Palestinian vehicles, write racist graffiti in Salfit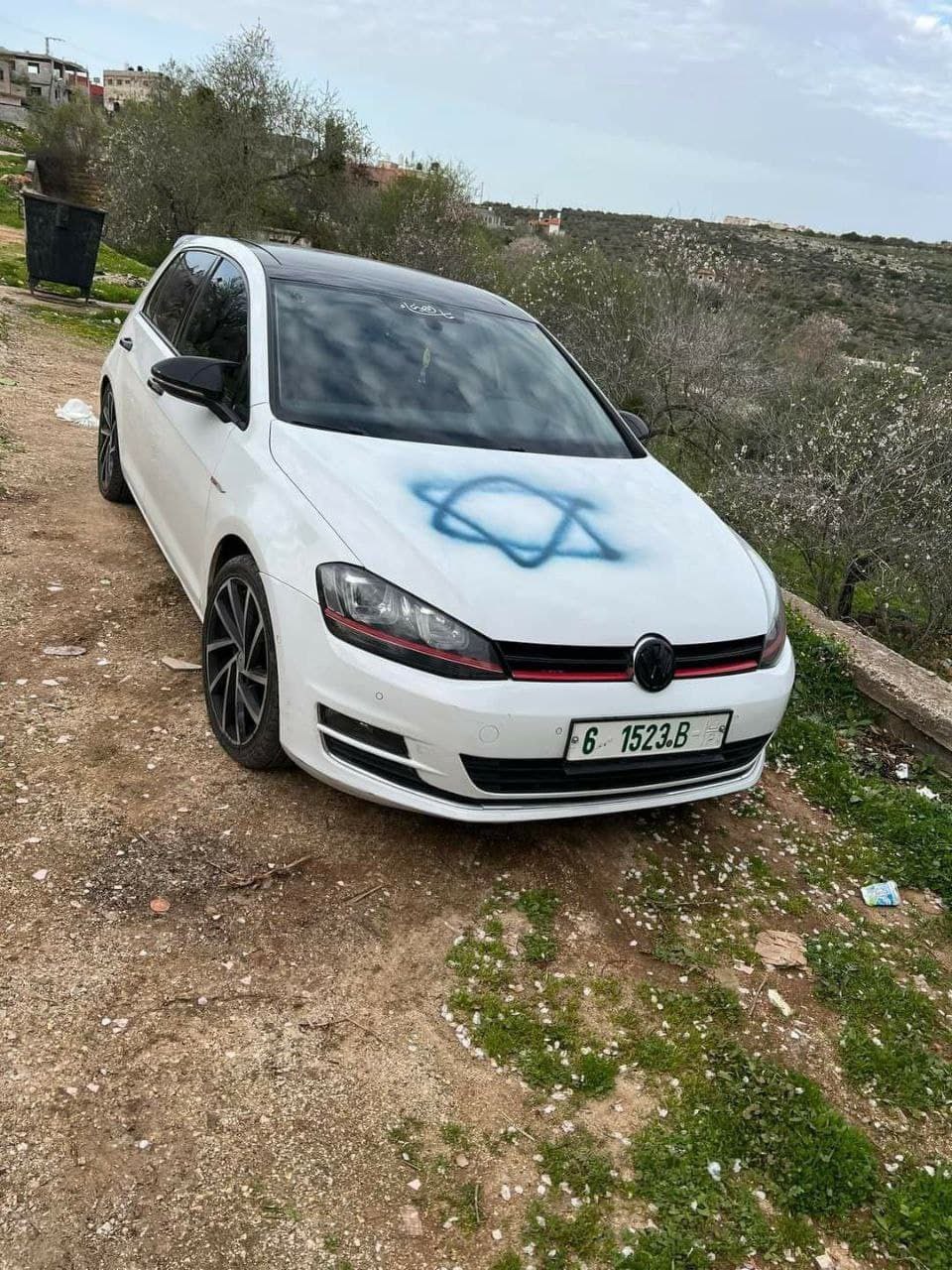 Salfit – Jewish extremist members of the anti-Palestinian Price Tag terror group on Wednesday morning vandalized several Palestinian-owned vehicles and spray-painted them with hate graffiti in Iskaka village, east of Salfit in the occupied West Bank.

Local sources said that a group of Israeli fanatics sneaked into the village during the early morning hours, slashed tires of 11 Palestinian-owned vehicles, and spray-painted them and walls of houses with hate graffiti in Hebrew.

Pictures taken from the place of the incident shows the hate graffiti which the settlers spray-painted, including the star of David.


Incidents of vandalism and attacks against Palestinians in the West Bank are commonly referred to as "price tag" attacks.

Price Tag is an anti-Palestinian Jewish group that routinely attacks Palestinians in the occupied territories and the Green Line.

The Israeli occupation government still refuses to label it as a terrorist organization and considers it only as a group of vandals.

There has been a sharp spike in settler violence against Palestinians and their properties in the occupied Palestinian territories.

The violent acts include beating, throwing stones, issuing threats, torching fields, destroying trees and crops, stealing crops, using live fire, and damaging homes and cars.

In the first half of 2021, 416 anti-Palestinian incidents perpetrated by extremist Israeli settlers were reported – more than double the figure for the first half of 2020 and more than all of 2019.

Of the 416 incidents reported between January and June of 2021, there were approximately 139 incidents of vandalism, stone-throwing, assaults and so-called price-tag incidents

In 2019, there were 363 incidents and 507 reported in 2020.

Regarding Salfit, there are 18 Palestinian communities in Salfit compared to 24 Israeli settlements between residential and industrial areas. The percentage of lands allocated for Palestinian construction in the province is only about 6% of the total area while 9% are allocated for the Israeli settlers.

The Israeli occupation authorities continue to confiscate more lands of Salfit in order to expand the Ari'el settlement and build dozens of new settlement units on the Palestinian lands.

The occupation authorities and its settlers seized more than 5,000 dunums in order to enlarge the Ari'el settlement and steal the lands of the citizens adjacent to it.

Ari'el is considered one of the largest settlements in the West Bank and it was built on thousands of dunums of Palestinians' lands.

Salfit is choking from the large number of settlements and industrial zones on its lands, as they exceed the number of villages and towns of the city.

There are nearly 700,000 Israeli settlers living in 256 illegal settlements and outposts scattered across the occupied West Bank, including East Jerusalem. Israeli settlements are illegal under international law.