For 30 consecutive days, Palestinian prisoners in Israeli prisons continue civil disobedience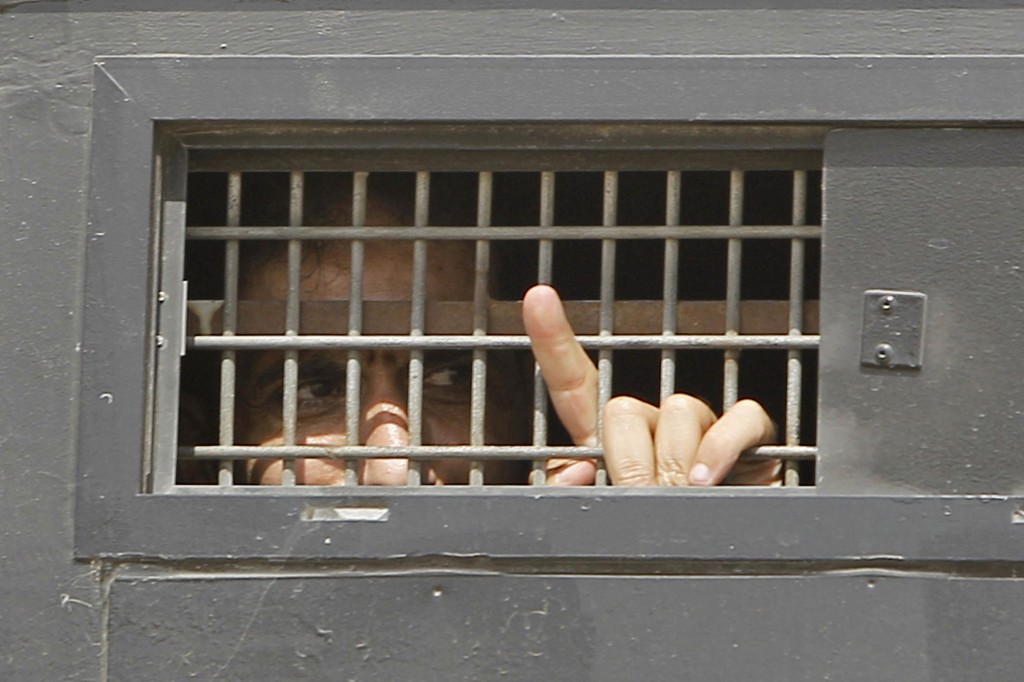 For the 30th day in a row, Palestinian prisoners in Israeli prisons continue their mass civil disobedience actions in protest against punitive measures imposed by Israel's new far-right government.
Last Friday, following the Friday prayers, Palestinian prisoners in Israeli occupation prisons protested at the yards of the prisons while wearing the "Shabas clothing" or prison uniform.
Yesterday, the Palestinian prisoners carried out nighttime protests in their cells while chanting "freedom," echoing a +90-year-old call for liberation launched by their ancestors before their execution by the Colonial British on what was called "The Red Tuesday." Since the "Red Tuesday" in 1930, the struggle for freedom has been ongoing. Borrowing the endless anger of that day, Palestinian prisoners declared Tuesday as "Red Tuesday" and called for making every Tuesday a day of popular support in the battle they have been waging for 30 days.
They were heard yesterday chanting, "We will not die and we will not be defeated despite the darkness of this hardship… We will rise in protest as our people have always known us with heads held high, declaring our fight against any submissiveness or surrender. We refuse humiliation."
The Supreme Emergency Committee for Palestinian Prisoners Affairs announced on February 14 the start of civil disobedience in response to an ongoing repression campaign carried out by the Israeli prison administration, including reducing the hours in which Palestinian prisoners can use the shower area to only one hour a day.
Civil disobedience by the prisoners includes the closing of the different prison sections, stopping all aspects of daily life, wearing the prison uniform, and refusing to undergo the so-called daily security check-up.
According to the Palestinian Commission of Detainees and Ex-Detainees Affairs, the civil disobedience measures will escalate to an open-ended hunger strike beginning on the first day of the upcoming fasting month of Ramadan in late March.
Early in February, Palestinian prisoners in Israeli occupation prisons issued a message to their people urging them to get ready for a significant uprising against the oppression campaign launched by Israel's extremist National Security Minister Itamar Ben-Gvir.
Ben Gvir announced on January 8 his decision to cancel a policy that allows any lawmaker in the Israeli Knesset to visit Palestinians in Israeli prisons.
Since then, the Israel Prison Service (IPS) has begun moving inmates and transferring them between the 20 prisons used exclusively for Palestinian political prisoners.
In January, approximately 140 Palestinian prisoners were transferred to the infamous Nafha prison which is considered one of Israel's most severe for Palestinians.
"Our only demand is freedom," the Supreme Emergency Committee for Palestinian Prisoners Affairs said in a statement in February. "Everyone must get our message and hear our voice, for we can no longer tolerate the violations being committed against us day and night."
"This strike, bearing the banner of freedom or martyrdom, is a strike that will be undergone by every capable prisoner regardless of what faction they belong to," the committee added.
"The amount of aggression we have been facing since the start of the year requires all of our people to support us with all means possible."
In early February, Ben-Gvir ordered the closure of Palestinian prisoner-run bakeries in two Israeli prisons.
His office said in a statement that the move was aimed at denying "benefits and indulgences to terrorists" in 'Israel', which it said were denied to regular prisoners. Palestinian prisoners in Rimon and Ketziot security prisons operate in-house bakeries that provide bread to other inmates.
On March 1, the Israeli Knesset passed a bill that will legalize the death penalty against those charged with "terrorism offenses." The bill was approved in its preliminary reading with 55 votes to nine.
According to the bill, a person who "causes the death of an Israeli citizen when the act is carried out from a racist motive… with the purpose of harming the State of Israel and the rebirth of the Jewish people in its homeland," should face the death penalty.
There are currently about 4,780 Palestinian prisoners, including 160 children, 29 women, 914 administrative detention, and five Palestinian Legislative Council members held in Israeli occupation prisons.