Genocide in Kashmir and Palestine is result of criminal silence of International Community: Dr Sabir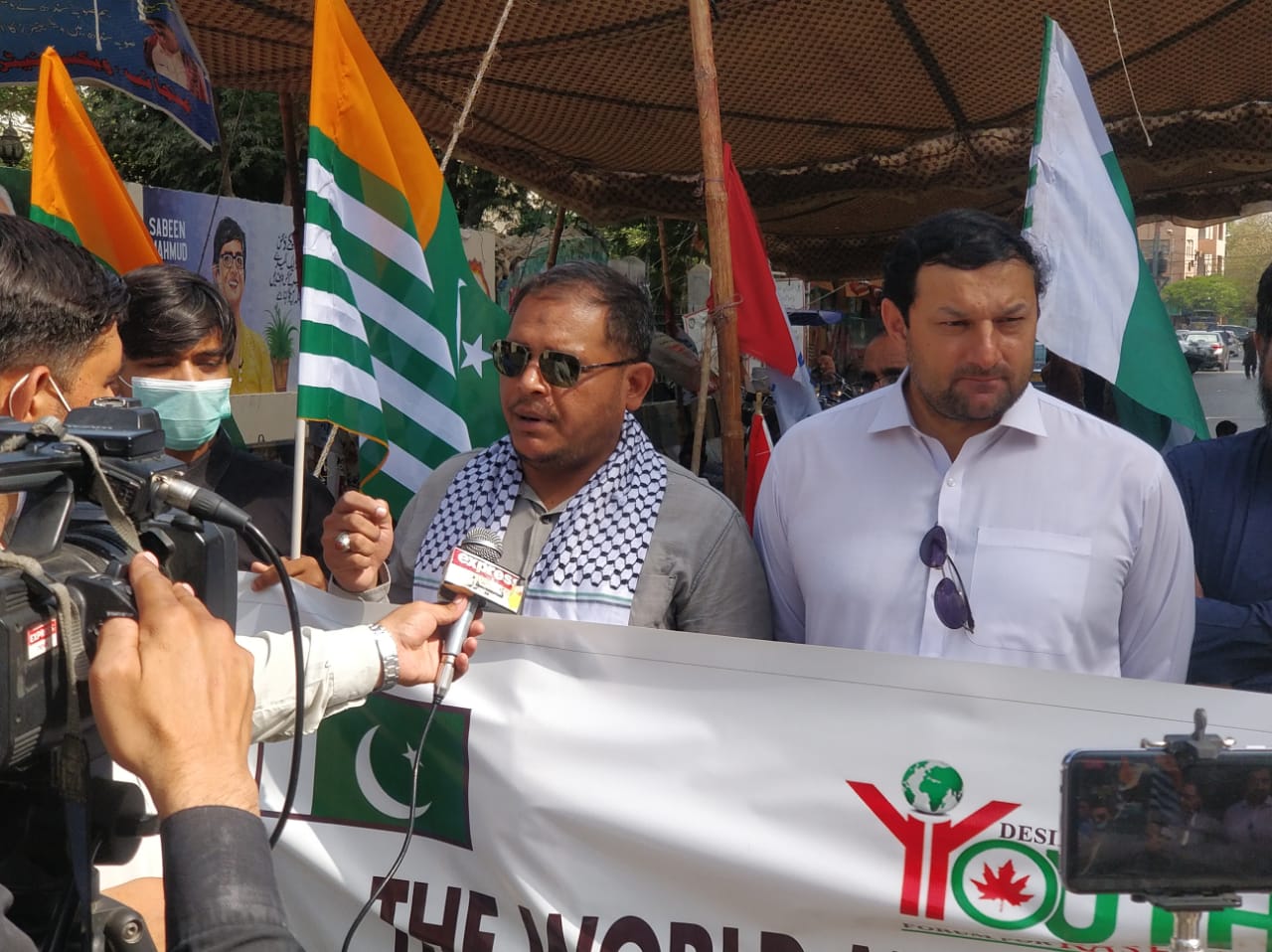 KARACHI (PNIC): The Youth Forum of Kashmir organized a protest outside the Karachi Press Club on Friday against Indian atrocities in occupied Kashmir. Hundreds of young people, including members of civil society and leading leaders of human rights organizations, took part in the protest. Protesters held banners and placards with slogans expressing solidarity with the oppressed Kashmiri people. Placards and banners also carried pictures of Kashmiris martyred and injured as a result of Indian state terrorism in occupied Kashmir.
Addressing the protest, prominent Kashmiri leader Sardar Nazakat said that the government of Pakistan and those in power demanded that the Kashmir issue be included in the top priorities, adding that Kashmiris sacrificed everything for the future of Pakistan. He further said that if the government of Pakistan wants to establish trade relations with India, there is no objection in doing so but no work will be allowed to be done leaving Kashmir issue behind.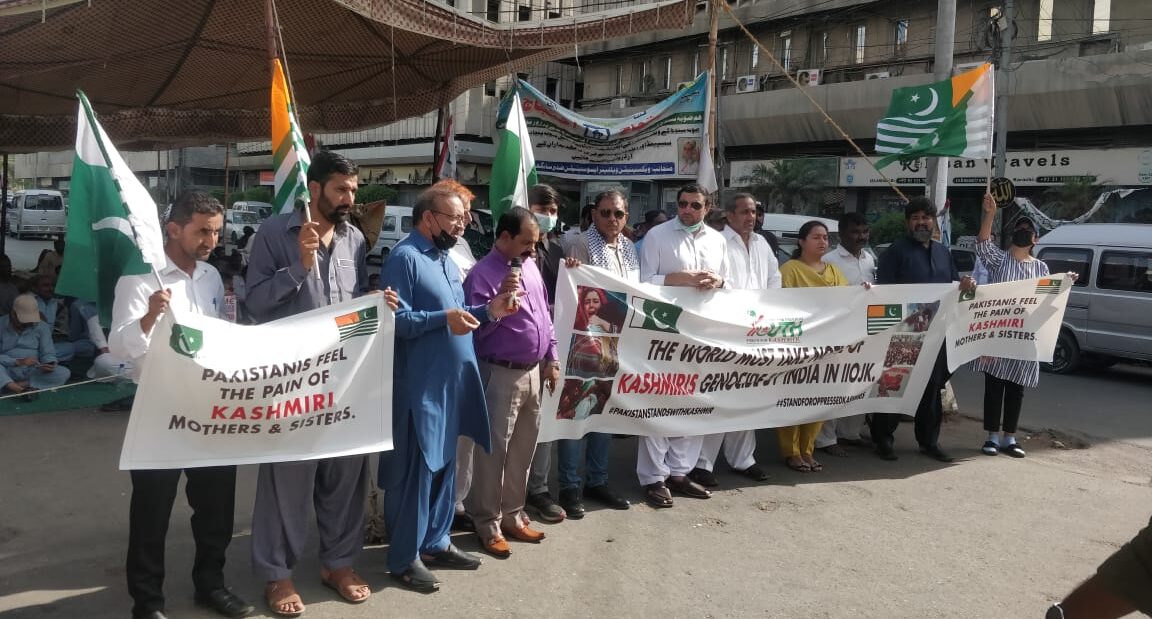 Addressing the protest, Dr. Sabir Abu Maryam, Central Secretary General of Palestine Foundation Pakistan, said that the two most important issues in the world are Palestine and Kashmir. He said that the indifference and criminal silence of the international community, especially the United Nations, has promoted the evil old America and its illegitimate children, Israel. The indifference and criminal silence of the international community has led to the fact that issues like Kashmir and Palestine have been unresolved for seventy years. He said that Occupied Palestine is under the control of Zionist occupiers and similarly Indian state terrorism is going on in Occupied Kashmir. Stories of US-sponsored persecution are being told in both Kashmir and Palestine. He said that the sacrifices of Kashmiri people would not be forgotten. He said that Palestine Foundation would continue all possible efforts and cooperation for Pakistan-Kashmir and Palestine cause.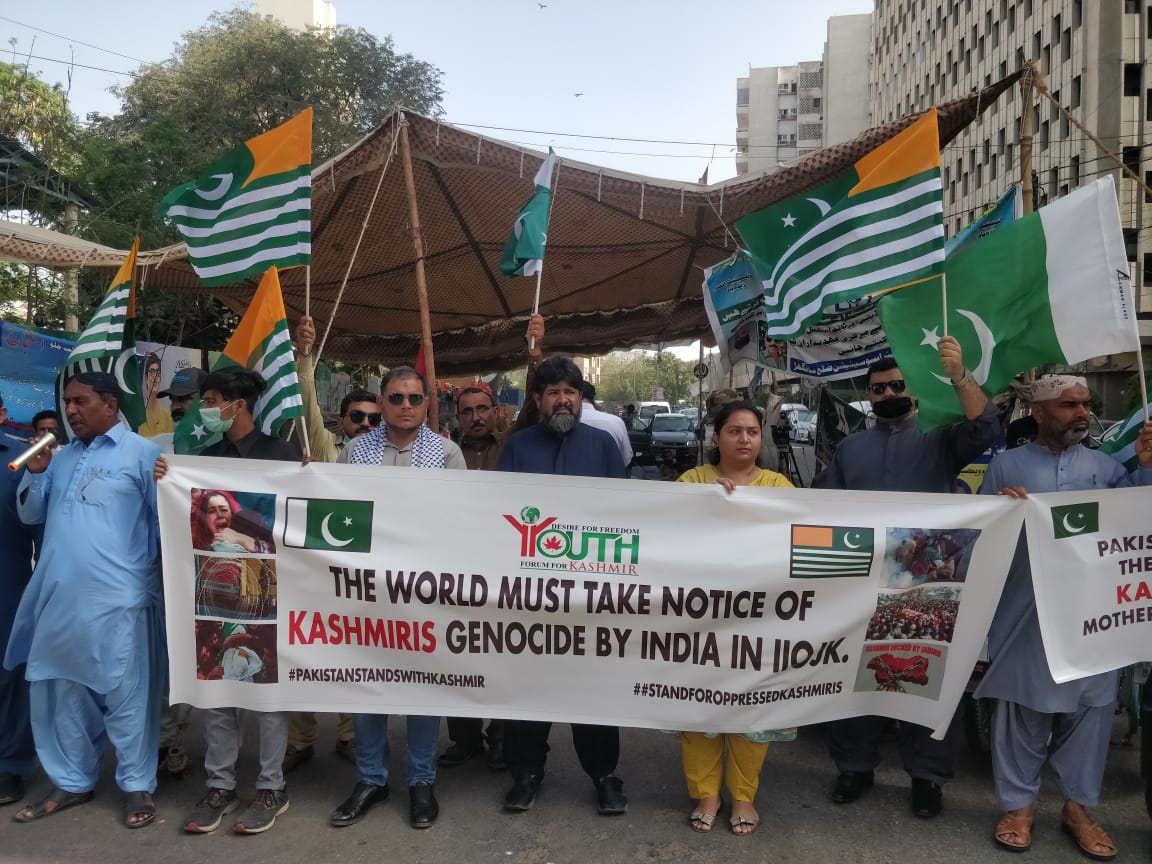 Leader of Kashmir Committee Asif Saduzai, Jamshed Ahmed, Sana Ahmed of Human Rights Council, Bashir Saduzai, Cecilian James and Bishop Gulfam Javed also addressed on the occasion. Demonstrators chanted slogans in favor of Kashmiri people and strongly condemned Indian state terrorism against Indian atrocities. Long live Pakistan and long live India. Freedom is the right and our right to freedom.