'Global March' set to mark Palestine Land Day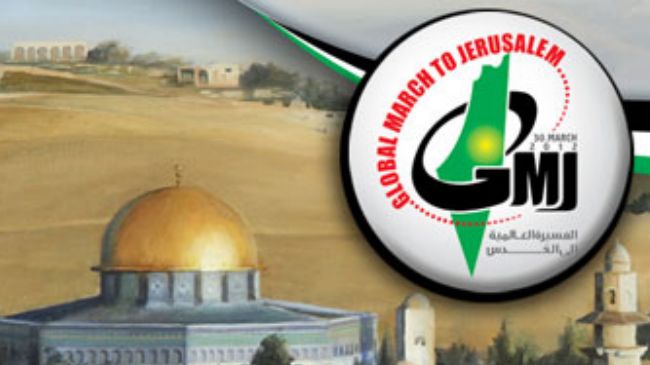 Hundreds of organizations and committees from all over the world are set to launch a global initiative to demonstrate solidarity with Palestinians and to mark the Palestine Land Day. The event called the 'Global March to [East al-Quds] Jerusalem' aims to voice the international support for the liberation of Palestine and to protest "the Israeli regime's crimes not only against Palestinians but against all humanity".
Several marches will be staged by the participants from around the world towards the countries that neighbor Palestine, namely Jordan, Egypt, Syria and Lebanon, aiming to get to the closest possible point to East al-Quds (Jerusalem).
The global marches have been scheduled to be held on March 30, which marks the 36th anniversary of the Palestinian Land Day, in several countries including Jordan, Syria and Lebanon.
The event's International Central Committee (ICC) consists of 35 members representing the five continents and is tasked with organizing the march.
The initiative will also include mass protests in front of the Israeli embassies in the capitals of different countries as well as demonstrations in the main public squares in the big cities of the world.
Thousands of Palestinian refugees and more than 150 international figures will also take part in the event.
According to the official website of the 'Global March to [East al-Quds] Jerusalem', the organizers of the event "aim to make this march a turning point in the nature of the confrontation, with the occupation having to face millions of protesters and demonstrators demanding Freedom for Palestine."
On March 30, 1976, Israeli troops killed six Palestinians during a protest against the Israeli occupation of the Palestinian territories.
Since the occupation of East al-Quds (Jerusalem), Israel has been trying to change the identity of the city through measures that include building illegal settlements for Israelis, the eviction of Palestinians and the demolition of their houses.