Global March to Jerusalem Celebrates Land Day at Lebanese-Palestinian Borders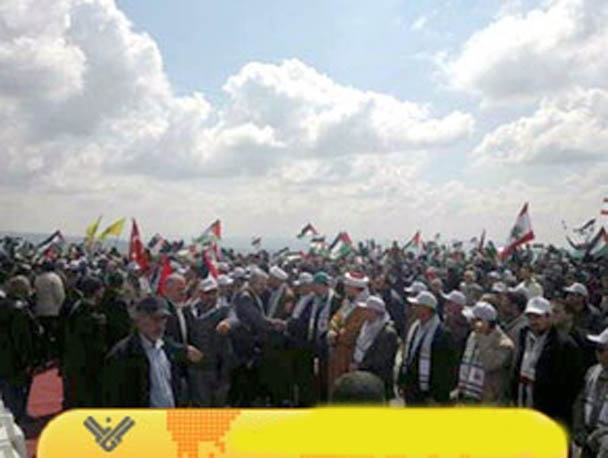 Land Day and Global March to Jerusalem ceremonies were launched Friday in Lebanon, after participants gathered at Beaufort Fortress in the Southern Lebanese village of Arnon, near the borders with Palestine. Friday prayers at the scene were followed by the ceremony activities, starting with the arrival of international delegations coming from Arab and foreign countries to participate in the event, Al-Manar Website correspondent Mohammad Alloush reported.
Waving Palestinian flags and singing Palestinian national songs, participants chanted slogans of death to Israel and support for the Palestinian cause, and lifted a large banner reading "Global March to Jerusalem, the world's people want to liberate Jerusalem."
The demonstrators delivered speeches on the occasion stressing that the issue of Palestine will remain the nation's first cause of priority.
Intensive masses from Asian countries of India, Malaysia, Indonesia, Azerbaijan and many other states attended the march, alongside Arabs, Iranians and Turks activists. The most prominent were the anti-Zionist rabbis of "Neturei Karta".
The Lebanese army conducted intense security checks and barbed wires had been installed around the gathering courtyard.
Similar protests were held in the West Bank and Gaza. While organizers said the events would be nonviolent, Zionist army and police were girding for trouble after similar demonstrations last year turned deadly.
Thousands of Palestinian demonstrators clashed with Zionist troops at a West Bank checkpoint of Qalqiliya Friday as hundreds more gathered by Jerusalem's Old City to mark Land Day.
Tensions were high at the Qalandia checkpoint, just north of Jerusalem, as a handful of Palestinian youths hurled rocks and set tires alight, with Israeli troops firing a barrage of teargas, rubber bullets and stun grenades against the protest.
Troops also fired a foul-smelling liquid called "skunk" into the crowd, an Agence France Presse correspondent said. By 1100 GMT, around 30 people had been treated for teargas inhalation, Palestinian medics said.
At least a dozen rallies were held across the occupied territories, AFP reported.
In annexed Arab east Jerusalem, around 400 demonstrators waving huge Palestinian flags gathered outside the Old City near Damascus Gate. However, another hundred or so people gathered by Lion's Gate, where Zionist police arrested four people, and another two were treated by medics after being injured by police batons, an AFP correspondent said.
The main Land Day march took place in the Arab 'Israeli' town of Deir Hanna in Galilee, with another march scheduled in the southern Negev desert.
In anticipation of mass protests, the Zionist occupation army imposed a 24-hour closure on the occupied territories late on Thursday, barring Palestinians from entering the entity, excepted for humanitarian reasons or medical emergencies.