#GM2J – Hundreds participate in the "Global March to Jerusalem" in London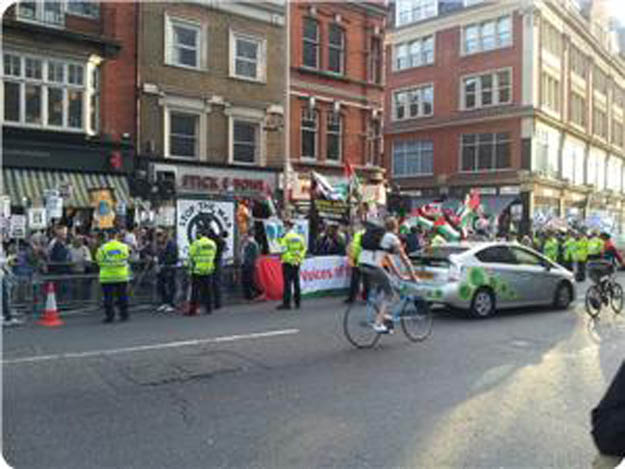 LONDON,  Hundreds of people participated in in a demonstration outside the Israeli embassy in London as part of the activities of the "Global March to Jerusalem", which took place in about 80 cities around the world. The rally was organised by the Palestinian Forum in Britain, the Association of the Palestinian Community in the UK, the Muslim Association of Britain, Palestine Solidarity Campaign, Stop the War Coalition, Islamic Forum of Europe, British Muslim Initiative, Viva Palestina and Friends of Al-Aqsa. Many other organisations supported the demonstration.
Speakers at the rally emphasised the dangers engulfing Jerusalem in terms of ethnically cleansing the holy city of its indigenous population and trying to obliterate its character. They also talked of Jerusalem as being central to the Palestinian cause.
People of different faiths, different political persuasions and different ethnicities participated in the demonstration and called for an end to occupation of Jerusalem and other Palestinian lands. Participants chanted "free, free Palestine", "from the river to the sea, Palestine will be free", "1,2,3,4 occupation no more.. 5,6,7,8 Israel is a terrorist state", "Zionism .. Terrorism".
Participant raised Palestinian flags and placards supporting Jerusalem and the Palestinian cause and called for boycotting Israeli goods as a way of supporting the Palestinian cause.
About two dozen Zionists, probably embassy employees, raising large Israeli flags mounted a counter demonstration for about an hour.